About a month ago, City People held a bridal exhibition at Terra Kulture (fab place) in VI, Lagos, Nigeria.
The event went really well and was very well-attended…
If you are a budding designer, exhibitions are really a valuable avenue to network and show-off your brand.
Anyway, check out some pics from the event!
Designer, Lanre Da Silva Ajayi (I LUV her clothes with a feverish passion…she is too fab!)
Various designers featured in this exhibition, so here are the rest of the wedding dresses by other designers –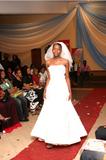 Flowers and other wedding accessories/decorations were also featured –

*Many Thanks to purephoto for the pics
I am soo proud of Nigerian creativity…for those who haven't been back for a while…this is just a regular Lagos Saturday afternoon activity….Nigeria has sooo much potential and I'm very glad that we are beginning to leverage it….
Thanks sooooo much for all the comments and for spreading the word! MUAH!
What do you think of the wedding dresses, flowers, exhibition idea? Let us know!