By Louisa Olubukola Kinoshi, BN International Scene Editor
It's that time of the year again—December when many Nigerians abroad flood back into the country to visit family and friends. The time period has become to Nigerians what summer at the Hamptons is to New Yorkers. It's a must go, must be seen time of the year.  While taking advantage of the social scene, also realize that this month can be an opportune time to network.
Here are some tips on making quality connections for your professional and personal endeavours this month.
1. Research. Before you leave for your trip it would be beneficial to do some desk-side research on new developments in the country. Having at least basic background knowledge on recent political, economic andsocial developments will enable you to have productive conversations with people you meet.  Also research companies that you are interested in for job or investment opportunities. Continue reading Bella Naija for Nigerian lifestyle news and for daily political updates, try e-punch, The Punch's free online access to its daily newspaper.
2. Prepare. Do not leave without a set of business cards, an updated resume, CV or bio. Make sure to request your business cards from the office ahead of time.  Students can request business cards from their university by consulting with the career services office.
3. Be equipped.  It is tempting while on vacation to leave everything that remotely reminds you of work, do resist and bring your laptop and in some cases, blackberry along. You never know but you might have an unexpected opportunity to share a presentation with a potential investor or employer. It is also very convenient to be able to stay connected and accessible at all times and with your blackberry you can check your mail in real time. This will come in handy when NEPA takes the light or when you get stuck in 3 hour traffic. Do NOT however bring sensitive or classified documents with you on your trip.
3. Dress appropriately. Bring along business casual attire and sensible shoes as well. Also, try to keep your hair style conservative.
4. Pre-network. Make sure to call your friends and family and let them know when you are going to be in town.  Make a lot of effort to meet up with as many people as you can. Let them know what you are up to and find out who else they know. The best way to network is by going through friends of friends.
5. Attend events. In addition to get-togethers, parties, and socials, there are going to be a networking focused events all throughout December. Here are a few must attends in Lagos: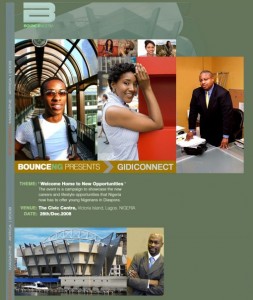 GIDICONNECT is a networking event BounceNG is hosting on the 28th of December 2008 at the Civic Centre, Victoria Island, Lagos. This event focuses on the wealth of Career/ Lifestyle opportunities in Nigeria and how young Nigerians abroad can develop skills that will make them marketable in the increasingly competitive job market in Nigeria today. Panelists are successful Nigerians who once lived abroad, gained and improved their skills whilst abroad and still came back home to harness these skills in the Nigerian economy. They represent various industries including Telecommunication, Oil and Gas, Banking & Finance, Civil Service, Entertainment and Manufacturing.

 

 

Panelists include:

Nike Ogunlesi (MD, Ruff'n'tumble)
Bimbo Fisayo (Founder, CTC International Schools )
Adekunle Adeosun (Head of Corporate Banking, UBA)
Professor Toyin Ashiru (SABIC, Saudi Arabia)
Tara Fela-Durotoye (MD,House of Tara)
Olufemi Faseun (Head of H.R STANBIC IBTC)
Akin Osuntoki (RICHARDSON OIL & GAS)
Lanre Da Silva Ajayi (LANRE DA SILVA FASHION)
There will also be a fashion show with Beth Modelling agency,Toju Foyeh and Syndicate Denim
Other great networking events to attend include:
Lagos Recruitment Expo 2008 provides a great opportunity for you to meet employers who represent a wide range of industries, and in some instances obtain interviews with them. If you make a favorable first impression chances are that you will be invited for an interview later on.

Location: New Wing, Federal Palace Hotel, Victoria Island, Lagos
Date: Wednesday, December 17th 2008
Time: 10am – 7pm

The Recruitment Expo is only open to those candidates that receive an invitation via email from WazobiaJobs.com or Minerva Recruitment Consultants.

 

Nigeria's Business and Technology Seminar

Hosted by PrimeCo Hall and the Nigerian Reunion Corporation (NRC)

Date: December 17th

Location: Eko Hotel, VI

This event will bring together industry leaders in targeted Nigerian markets and Internationally based Nigerian professionals seeking to become service providers or investors in Nigeria.

 

 

 Have more tips or know of any other events post your comments below!