There's inauguration fever in the USA as we countdown the days till Pres-Elect Barac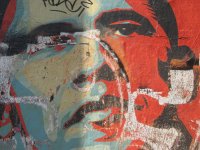 k Obama is sworn into the White House and President Bush is booted out. It has been estimated that over 5 million people will descend upon Washington D.C. in order to be a part of this historical moment, and Nigerians are certainly going to be a part of the action. Nigerians who have usually stayed away from American politics were engaged more than ever in the Obama election campaign.
A star studded team of Democrat leaders and policy experts discussed the implications of the Barack Obama Presidency for Africa at the 2009 THISDAY Awards/Festival of Ideas at the Transcorp Hilton Hotel in Abuja on Wednesday. Former Democratic Party chairman Howard Dean said that Barack Obama will will focus greater attention on Africa. "He will see an increased emphasis on Africa, not just because Barack Obama is an African American but because he hired some people in key positions who know and have worked on African issues," Dean said.
Nigerian fashionista Chalya Shagaya is one of the organizers of the International Inaugural Ball on Saturday January 16th. At the ball, there will be a Fashion Showcase by Project Runway's Korto Momolu-Briggs.  "Korto is Liberian by birth. She like Deola Sagoe and a few other African designers have a collection inspired by Barack Obama's Victory and race for change during the campaign. Korto will be presenting her Yes We Can Inaugural 2009 Collection," Shagaya tells BN. She also notes that, "as Africans we should care because it has gone beyond 'American Politics'! It is history that someone with direct relations to Africa is going to head The Free World."
The Honorable Ojo Maduekwe, Minister of Foreign Affairs Nigeria and Dr. Susan Rice, Former Assistant Secretary of State for African Affairs and nominee for the Office of United States Ambassador to the United Nations will be present at the Africa Inspire Inaugural Event hosted by the Smithsonian National Museum of African Art. President Yar'Adua is also slated to give a video address.

The African Immigrants Movement for Obama, an Obama for America Grassroots Organization that harnessed the interest of the African Immigrants Communities across the United States of America will be hosting the All Africa Inaugural Ball on Tuesday January 20 2009 at the National Press Club in D.C. The theme for the ball is "renewing the spirit of the community" and a portion of the $150 tickets will go towards charities and scholarships.
Even though tickets for these events run from $150-$500+, we should remember that this is a once in a lifetime opportunity. In the words of Shagaya, "Even more exciting is the opportunity this historic time will bring to all of us as black people and every human regardless of race, creed or class who dare to dream." Well said! Well said!