By Louisa Olubukola Kinoshi, BN International Scene Editor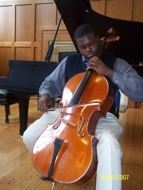 Take classical music mixed with hip-hop and sprinkle in some gospel and that's Kevin Olusola's "Beatbox Cello KO". Olusola is a young and gifted cellist who has been featured on PBS "From the Top" at Carnegie Hall. Olusola reminds me of Miri Ben Ari as he skillfully mixes cello harmonies with rough beat box sounds.
The current Yale student is currently 2nd place in the Indaba Music Celebrate and Collaborate music contest. The winner will have the opportunity to record with world renowed classical music artist, Yo-Yo Ma in a special one-on-one collaboration! Kevin describes his work as a sense of this world's chaotic and tumultuous pace of life, "To me, it was as if an ethereal, heavenly Savior was giving peace to a downtrodden, restless world," he states in his profile. Please vote for Kevin at the Indaba website.  Watch Kevin below beat box to Beethoven's "Fifth Symphony".
[youtube]http://www.youtube.com/watch?v=ShlSuMhqPH0[/youtube]