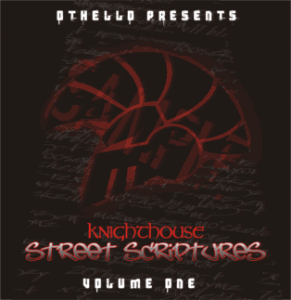 By BN Assistant Editor Wana Udobang
It's not very often that we get to hear the freshest and most talented of Naija's young hip hop community all in one album. Thanks to the Knighthouse crew there is always a first time and it comes to the streets of Lagos as a new album aptly titled KNIGHTHOUSE SCRIPTURES.
This album unleashes artists, both new to the game and old to the grime. With all spanking brand new tracks it is slated to become the soundtrack for every thorough breed Naija hip hop fanatic.
The compilation boasts fresh new acts like the motor mouth that is Mo cheddar, dancehall queen Nyore, spitfireing rapper Teeto, Q-gen , and Othello. We get to sample the vocal prowess of both Phisayo and Ay'esha. Also present on the role call is Blaise, Kell, Straitbuttah, Loosekaynon , Rooftop MCs, Ill bliss and the award winning MI . But most importantly, no Naija hip-hop album can be complete without being sanctified by the lyrics and flow of rap virtuoso and punch line guru MODENINE.
The first single blazing the airwaves at the moment is the dance tune "Purple". The track features Nyore, Kel, MI and our lil rapress Mo chedder. Other songs available for sampling are "Drums", "Hate" and the rap-rock track "Cracks". The crew have been nominated for a future award and claim that the this album is just a slice of many more things to come.
Check them out on myspace HERE
Hate feat. Othello, Ill Bliss, Aye'sha

Drums feat. Kel, Shuki, Ill Rhymz, Mo'Cheddah