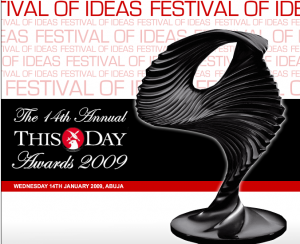 The 2009 Edition of the ThisDay Awards had a very different aura. The annual event now in its 14th year has always been considered a 'serious' awards ceremony but this year, organizers took things up a notch.
– First up, they moved the event to Abuja – away from majority of the socialites and 'party-riders' of Lagos
– Then they invited major political heavyweights – granted previous editions of the event have featured the likes of Vicente Fox (former President of Mexico), Gerhard Schröder (Former Chancellor of Germany) etc… but this year, they unleashed the bigger guns such as Former US President Bill Clinton and UN Secretary-General Kofi Annan.
According to ThisDay, 'The Festival of Ideas aims to further good governance in Nigeria and throughout Africa by addressing issues concerning democracy and democratic institutions; strengthening leadership; and addressing poverty.' The conference focused on how to promote investments in Nigeria and in other African nations.
The event –  'Festival of Ideas' included a pre-awards discussions and panel sessions on various topics including the 'Implications for Africa of Obama's inauguration', 'Ideas on Governance and Infrastructure' which tackled questions on the challenges facing Nigeria as it moves to consolidate democracy, enthrone sound governance practices and seek the right framework for building infrastructure to ensure and sustain economic growth etc..
Top US Democrats and Republicans were well represented with President George Bush advisor Karl Rove, Former Florida Governor Jeb Bush, Democratic strategist Donna Brazile, former White House chief of staff Andy Card, and outgoing Democratic Party chairman Howard Dean all being present. Various local business and political leaders including ex-Cross River Governor Donald Duke, Governor Gabriel Suswam of Benue State and Governor Bukola Saraki of Kwara State, Oba Otudeko etc.. were joined by international business leaders including Bill Mundell and Liling Chen of the Peoples Bank of China.
The most riveting and heated discussion was on the implications of the Obama presidency for Africa. Democrat, Howard Dean was of the opinion that 'There will see an increased emphasis on Africa, not just because Barack Obama is an African American but because he hired some people in key positions who know and have worked on African issues' while Rove strongly disagreed, 'Africa was not at the center of American political dialogue this year' Rove said. "Sure, Barack Obama talked about the genocide in Darfur but gave no indication of what he will do differently than the current administration," Rove said, referring to the war-ravaged province of Sudan. "He, like the current administration, decried (Zimbabwe President Robert) Mugabe, but he did not talk specifically what he will do differently," Rove said. "He talked about Somalia and the desire to have civil government, but again did not talk specifically about what he will do differently than the current administration."
The event was hosted by CNN's Lola Ogunnaike and senior strategist for the Democratic Party in the United States of America, Paul Begala. Entertainment was provided by Lionel Richie and Dare Art-Alade.
Winners
Nigeria's Global Business Champion
Dangote Group
The Dangote Goup was founded by Alhaji Aliko Dangote who is the President of the Group.  The Dangote Group has operations in Nigeria and several other countries in West Africa. Dangote controls much of Nigeria's commodities trade through his corporate connections. With an estimated current net worth of around $3.3 billion, he was ranked by Forbes as the 334th richest man in the world as of March 5, 2008, making him the richest African citizen  and the second richest black person in the world.  The Dangote Group, originally a small trading firm founded in 1977, is now a multi-billion naira conglomerate with operations in Benin, Ghana, Nigeria, and Togo. Dangote's businesses include food processing, cement manufacturing, and freight. Dangote recently acquired 45 per cent stake in South Africa's cement firm, Sephaku Cement, a subsidiary of Sephaku Holdings Limited.
Nigeria's Global Banking Champion
Zenith
Established in May 1990, Zenith Bank has grown to become one of the biggest and most profitable Nigerian brands, with a shareholder base of about one million and an extensive operation covering Capital Market, Trust Services, Registrar, Medicare, Pension Custodian, and Insurance.
Zenith Bank has in just 18 years built a reputation as a market leader, delivering over 322 per cent in returns to investors in the form of capital appreciation, dividends and bonus.
Zenith Bank's impressive performance over the years has earned it excellent ratings from local and international agencies. Standard and Poor's currently rates the bank BB-, which is the highest ever assigned to any Nigerian bank. Also, Fitch Ratings currently rates Zenith Bank AA- (National) while Agusto & Co., Nigeria's foremost rating agency, has for the ninth consecutive year rated Zenith Bank Triple Aaa.
Banker of the Year
Erastus Akingbola
A consummate banker, the Managing Director/Chief Executive Officer, Intercontinental Bank Plc, Akingbola is also the President of the Chartered Institute of Bankers of Nigeria (CIBN). He leads a stable board at the bank.
Akingbola has a strong pedigree in banking spanning over 34 years of continuous banking experience. He began his career with Barclays Bank (Union Bank) in 1971.
He is an Associate, Institute of Bankers (AIB) London; Member, Nigerian Institute of Management (NIM); Fellow, Chartered Institute of Bankers, London; Fellow, Chartered Institute of Bankers of Nigeria; Fellow, Chartered Institute of Management; and Fellow, Institute of Chartered Secretaries and Administrators.
Bank of the Year
Diamond Bank
The bank won because it still rewards shareholders in spite of the lull in the stock market. Diamond Bank gave its shareholders both bonus and dividends in the last financial year.
With the following subsidiaries (Diamond Pension Funds Custodian Limited, Diamond Mortgages Limited, Diamond Securities Limited, ADIC Insurance Limited, Diamond Bank du Benin), Diamond Bank has succeeded in creating a financial supermarket where all financial transactions can be conducted under one roof. Recently, the bank also blazed the trail in providing convenience for its customers with the launch of its BancAssurance Services.
Most Improved Bank
Bank PHB
It won for beefing up its assets to the tune of N1.038 trillion for the 12-month period ended June 30, 2008. This was 172 per cent higher than N382 billion in June 2007.
The bank, which last year paid a dividend of N9.1billion that was 100 per cent higher than the N4.5 billion dividend paid out in 2007 and 623 percent higher than the N1.25 billion paid in 2006, paid dividend on the new shares issued in its initial public offering (IPO) in 2007 despite the fact that the money raised from that offer was yet to be fully put to work in the bank's operations.
Best Bank Payment System
Access Bank Visa Card
It was the first bank in Nigeria to be issued EMV certification for the acceptance of all card transactions on all the Automated Teller Machines (ATMs) both on VISA International and inter-switch electronic payment platform. It is also the first to introduce VISA International Credit cards in Nigeria with operability in all ATMs, PoS and online platforms with VISA access over 170 VISA certified nations.
Company of the Year
Guinness Nigeria Plc
Guinness has been a consistent leader in the brewery industry in terms of product innovations. As a quoted company, it has been the highest priced among the eight firms listed in the breweries sub-sector of the Nigerian Stock Exchange (NSE). In terms of dividend payout, Guinness has been rewarding investors with special dividends and bonus issues over the years. It paid a dividend of N8.849 billion for the year ended June 30, 2008. This translates into N6.80 per share. The company had ended the year with a net profit of N11.86 billion, up from N10.69 billion in 2007.
Brand of the Year
Glo
Glo is unarguably the no 1 telecommunications brand that survived in the market despite all odds. As at the time it came to live in July 2003, it was doubtful if a wholly Nigerian brand can survive the heat. The question that was being asked then was that what magic it would spin to make consumers prefer it to the two existing operators.
Glo however came with a surprise when it announced per second billings, which the existing operators had earlier said was a no go area in Nigeria for at least a decade. All these notwithstanding, it rolled out with per second's billings. Within a few months, it revolutionised the Telecommunications market and forced other operators to bend their rule. They joined the queue and began to offer per seconds. Five years down the memory lane, Glo's profile has continued to rise.
Product of the Year
Dansa Juice
Dansa Foods Limited has 5,600 hectares of plantation that is used for the cultivation of pineapples and oil palm, while the pineapples would serve as raw materials to the Dansa Foods, the oil palm would provide palm nuts for a proposed modern palm oil processing mill and refinery in the area.
Dansa Juice is currently available in different flavours of fruit juices in tetra packs for local consumption and export.
Oil and Gas Company of the Year
Oando Plc
Integrated solutions energy provider, Oando Plc is an indigenous dominant player in land and swamp water drilling business, petroleum products marketing and natural gas business.
Its upstream subsidiary, Oando Energy Services, a leading integrated oilfield services company is investing $500 million to acquire drilling rigs in the next five years – having already acquired two swamp rigs for upstream operations in the Niger Delta, as part of the expansion of its services to operating companies in the country..
With a yearly revenue target of N40 billion from its gas business, Oando has over 70 customers in Lagos, with Dangote Companies alone paying N250 million annually for their gas consumption.
ICT Company of the Year
Visaphone
Visafone Communications with Jim Ovia, the Banking wiz kid as Chairman is a new telecoms operator that has been making waves in the country. It received its Unified Access Service Licence as a telecom operator from the Nigerian Communications Commission (NCC) on August 1, 2007 and made strategic acquisitions to enhance its geographical spread.
In less than a year after commencing operations Visafone has crossed a subscriber base of one million largely enabled by its aggressive entrance and ability to put its mouth where its money is by giving Nigerians value for money.
Airline of the Year
Arik Air
It pioneered the prevalent trend in the aviation industry for the operation of modern aircraft by domestic carriers and broke the 20-year old jinx of the inability of Nigerian airlines to acquire new airplanes.
It acquired a succession of new planes and thereby set a high jump for other operators that strove to meet the taste of Nigeria's flying public who had developed a predilection for modern aircraft.
The airline started operation with brand new aircraft and thus started the rebirth of Nigeria aviation industry. Today it is anathema for any Nigeria airline to acquire any plane that is more than 10 years old. In fact, every airline worth its name aspires to acquire new airplanes.
CEO of Year
Tayo Aderinokun
He is the Managing Director/ Chief Executive Officer of Guaranty Trust Bank Plc, which he co-founded with the former CEO of the bank, Fola Adeola. The bank has rapidly taken the leading position in terms of integrity and quality service. It has also grown in leaps and bounds – rewarding shareholders over the years with both bonus and dividends. It is also one other the most capitalised banks in Nigeria.
Entrepreneur of the Year
Oba Otudeko
A highly successful Nigerian entrepreneur, Ayoola Oba Otudeko chairs the board of a number of companies including Honeywell Group of Companies.
He is a Non-Executive Director of First Bank of Nigeria, PLC. He was installed the 16th President of the Nigerian Stock Exchange (NSE) on 8 December 2006.
He is a fellow of the Chartered Institute of Bankers, United Kingdom, Institute of Chartered & Corporate Accountants with honours, U. K, Institute of Chartered Accountants of Nigeria, and Associate member, Institute of Chartered Secretaries with honours, U. K.
Hotel of the Year
Federal Palace Hotel
Uniquely suited to meet international corporate and leisure needs, the new Federal Palace Hotel is owned by The Tourist Company of Nigeria Plc.
The rating of the hotel where Nigeria's independence declaration was signed in 1960 has improved tremendously – thanks to a joint venture between Sun International and Mr. Goodie Ibru-led Ikeja Hotels Plc.  (the only quoted hotel in the floor of Nigeria Stock Exchange).Recently, Federal Palace Hotel recorded a turnover of N1.4 billion for 2007 against N1.2 billion in 2006.
Insurance Company of the Year
Staco Insurance
Staco Insurance Plc, formerly known as Standard Trust Assurance Company Limited, is one of the leading exclusively non-life risks underwriting company in the company. Last year, during its recapitalisation and insurance consolidation programme, it acquired another insurance company and thereafter listed its shares on the Nigerian Stock Exchange (NSE).
The company has since grown bigger and repositioned to take advantage of emerging opportunities in the economy.  It has also diversified into sub-regional insurance market and has set up a subsidiary in neighbouring countries.
The company has rewarded its shareholders bountifully over the years with dividends and appreciation in share prices.  The company's stock is one of the few companies quoted on the floor of the Nigerian Stock Exchange that kept their share value intact during the bear run on the market.
Pension Fund Manager of the Year
IBTC Pensions
Stanbic IBTC Pension Managers (IBTC Pensions) is a licensed Pension Fund Administrator (PFA) set up with the primary objective of delivering pension fund administration and management services to both private and public sector employees.
The company boasts of an experienced management and an excellent heritage, being a joint venture of four major financial institutions.
Regulator of the Year
National Pension Commission
National Pension Commission (PenCom), was established by the Federal Government in line with relevant provisions of the Pension Reform Act, 2004 to carry regulatory oversight over the newly created pension sub-sector in Nigeria.  Since it started work in 2004, the regulatory body has licensed five Pension Funds Custodians (PFCs) and 25 Pension Funds Administrators (PFAs) and has supervised the transfer of accumulated pension assets in the old pension dispensation to the licensed PFCs for safe keeping for the beneficiaries while supervising the contribution by both workers and their employers in tune with the provisions in the Act.
Govt Agency of the Year
Federal Inland Revenue Service (FIRS)
The FIRS has carried out a revolutionary campaign in the tax collection system that has helped in increasing the revenue profile of the federal government and is set to lead an even bolder campaign as the Yar'Adua government makes tax revenue a major source of income in 2009.
Young Manager of the Year
Ladi Balogun
He is the Managing Director/CEO of First City Monument Bank Plc – a bank he has nurtured to its present financial standing in the banking industry. He successfully took the bank to the capital market pre and post-consolidation. He began his banking career with Morgan Grenfell, one of the most prestigious investment banks in the United Kingdom from where he joined Citibank , New York . He sits on the boards of First City Asset Management Limited, City Securities Limited, CSL Stockbrokers Limited, Primrose Properties Limited and Interswitch Nigeria Limited, Nigeria 's first national payment switch. He is also a member of the advisory committee of SME Managers, Nigeria 's leading SME Venture Capital Fund Manager and Ogun State Development Trust Fund Committee.
Equity of the Year
United Bank for Africa Plc
UBA was one of the surprises in the market in terms of dividend and bonus issue this year. The bank had last May announced an interim dividend of N0.25 per share and a bonus of one share for every two shares already held. This boosted shareholders' holding by 50 per cent automatically. When the bank announced its full year results recently, it also declared a final dividend of N0.75 and another bonus share of one new share for every four shares held. UBA stock is also one of the most actively traded.
Photo Credit: Sunday Aghaeze & Deola Art-Alade
News Source: Star Tribune & ThisDAy