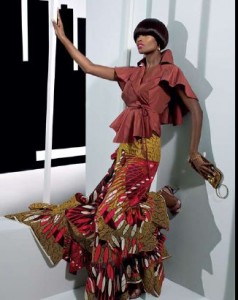 We told you about the Vlisco Fashion Academy some weeks ago and now the finale is here! On February 22 at the Eko Hotel, Vlisco Nigeria will host a fashion competition that will transform the life of one lucky winner at its inaugural fashion design contest. The lucky winner will showcase her/his work alongside established Nigerian designers Odio Mimonet, Tiffany Amber, Jewel by Lisa and Lanre Da Silva. Hair, make up and models will be provided by Sleek; logistics will be provided by Avis Nigeria.
The front liner designers are creating a special collection with the Urban Beat theme in line with Vlisco's current collection. Odio Mimonet promises to show "an all new street credible collection – referencing the traditional African woman" made from Vlisco Real Dutch Wax. Lanre Da Silva is also working on a fresh vintage inspired collection for the show and says she's always happy to "support growth in everyway, be it talent hunt or empowerment. Anything that comes with development with a positive, I am all for it. If I had been given this sort of opportunity at the start of my career, it would have done a lot for me. The Vlisco platform alone, with such high reputation over the years would have really helped in highlighting my creative talent and putting it in the spotlight."
The Vlisco Fashion contest is a test for creativity and the best use of local material as well as a launch pad for the lucky winner's fashion career. From the pool of applications following the successful Vlisco Fashion Academy in December 2008, eight finalists have been chosen so far for the contest. The finalists are Chisom Ogundu, Bimpe Adebambo, Zainab Hamza, Jemimah Otagada, Doro Udeh Oghene, Ejimadu Ifeanyi and Chinenye Obi.
"It was tough to scale down to the final list from the long list. We parted with a lot of gifted designers but our criterion was very strict. We wanted people who could be creative with locally available material and we are very pleased with the designers in our final list" says Omoyemi Akerele- Fashion Consultant to the event.
Vlisco has also built a reputation of being a committed, ethical and loyal partner for local business communities. The Vlisco Fashion Academy was created in line with the company's corporate ethos and the Vlisco Fashion Event is the offspring of the Academy.
The Vlisco Fashion Event will be a first in a series of other capacity building fashion events for the Nigerian fashion industry. The invitation only event holds on February 22, 2009 at The Expo Centre.