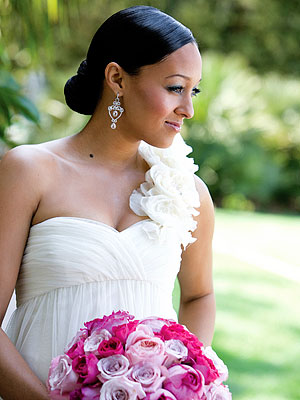 Our wedding day is the day, that most of us women dream about and imagine from time to time as little girls. Not only is it supposed to be the most romantic day of our life, but it's also one of the most important. Due to the significance of this important day, it is important that everything is absolutely perfect. One of the most important things to remember that day, is how one's hairstyle compliments their dress. The way you style your hair, whether you know it or not, determines the theme of your look that special day. To help ease the stress of your big tress day, below are tips on picking and maintaining your hair-style.
1. Booking your hair appointment
On your big day, it is advisable to hire a beauty team that will come to you as opposed to you going to them. Be sure to BOOK your Hair team a month before you Big day, because a month is efficient enough for your hairdresser to clear his/her calendar and devote that entire day or two to you.
2. KNOW WHAT you want
a. Your wedding day is not the day for you to try new hairstyles. AGAIN, I repeat, YOUR WEDDING DAY is not the day for you to try new HAIRSTYLES. I have seen girls that normally have weaves, wear funny looking wigs for their wedding day. It is understandable that you are trying to look your best, but it's safe to go for a hairstyle that you are more familiar with because you have TRIED it and know that it works for you, as opposed to trying something new that might not look great on that day.
b. If you are still thinking of experimenting, be sure to try the LOOK before your BIG DAY.
c. Also be sure to keep in mind that it is very risky to try cutting, perming or dying your hair so close to the date of your wedding. Be sure to give yourself plenty of time to make any changes that might need alteration afterwards.
d. If you are not sure of what hair style you want, tear pictures of looks you love from bridal and hair magazines.
3. What's the weather like?
a. There are many factors involved in deciding what hair-style you pick for you big day.
i. One of the most important things to remember in picking your hairstyle is to know if your ceremony will be indoors or outdoors, as to avoid having your hair ruined by the weather. If the wedding ceremony is going to be outside, then it is a good idea to wear your hair up, that way, if the day is windy, or rainy you still look great in your pictures.
4. Be SURE TO ACCESSORIZE
a. One of the easiest ways to add glamour and sparkle to your big day, is to consider wearing beautiful hair jewellery under your veil; but be sure that your accessory complements your dress.
5. Don't forget your veil
a. Even before you decide on a hair-do, be sure to first ask yourself how you want the Veil to be. Some women choose to go for a dramatic Veil, while keeping their hair simple. Decide on your veil and then pick a complimenting hair-style, be sure not to go for an overkill (Big hair-do, Dramatic veil). If you first picked a veil, take it to your stylist at least a couple of months before the wedding, so that way they can work with you to create a hairstyle that complements you and your headpiece.
6. Matching Bridal train
a. Although it is not mandatory, it is advisable that your bridal train all have similar hair-styles. There should be only one (or two) stars on that day and that should be the Bride (and groom). Your wedding day is your big day, and to ensure it stays that way, be sure to advise that your bridesmaid and the rest of your bridal train all have matching hairstyles, something like the classic Chignon.
7. Invest Wisely
a. Purchasing a $500 weave does not necessarily equal a "NO bad hair day". Remember, the golden rule for that day is to "TRY it before you WEAR it".
8. Use a Familiar Stylist
a. Be sure that the one who beholds your hair is familiar with it and knows what they are doing. You do not want to take the giant risk of using someone who you have never worked with just because everyone else says "they're good". It is also important to work with a stylist that knows how to do your "DO".
9. Last but not least, Remember less is more. Don't make your wedding hair-style a distraction.
COUNT DOWN TO YOUR BIG HAIR DAY
6 MONTHS BEFORE THE DAY: If you have ever thought about changing the color of your hair with the use of hair dye, be sure to do this during this period.
2 MONTHS BEFORE THE DAY: With the help of a knowledgeable stylist, begin conditioning treatments for your hair. This guarantees that your hair is in a fantastic shape for you BIG day!
1 MONTH: This is a good time period to do any last minute trims and cuts; this ensures that you don't have a cut that is shorter than what you envisioned.
1 WEEK: This is a good time period to do any relaxing, texturizing and colour touch up.
3 HOURS: Appropriate time that should be allocated towards hair preparation for the wedding day.
Remember, the hairstyle you pick for your wedding day should make you feel confident and beautiful, because it is all about how you feel that day. Feel beautiful and you will be beautiful.