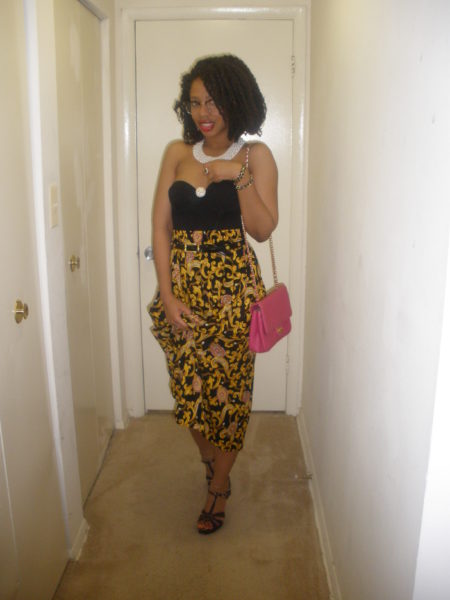 My Style returns this week to the BN style page!
If you are interested in appearing on this page, simply send two pictures of yourself or that of a friend depicting a typical Day and Night Look with a short summary of your style to my mail box: [email protected]
When your entry is approved, you will be required to send in more pictures and personal commentaries on your style or that of your friend as the case may be!
Thanks to those who have participated so far, keep the mails coming. I'm hoping to get more readers participating…and some stylish men too!!!!
Lets remember that this feature is about appreciating an individuals expression through clothing!
BN reader and DIY lover Chioma, redifines style while giving an extensive take on hers which she describes as "spontaneous yet deliberate. It comes naturally yet can be very opinionated. My delivery of style is re-purposed and re-imagined".
WHAT "STYLE" ISN'T: People confuse fashion and style and try to pass them of as the same, but they are not. It's a misappropriation of terms. Style is style; fashion is fashion, true stylistas dance to the beat of their own drum, even when drums are 'so last year'.
WHAT "STYLE" IS:
Independent of Fashion: The definition of true style to me is extension; being able to extend and improve upon a look beyond what the designer intended for it. It is not about price or brands. It boils down to what you do with it. Fashion to me is about the 'what 'and 'where', style is about the "how". I really have great respect and appreciation for individuals who understand this sentiment. There is no item that is stylish in of itself; style relys on how you put things together. Clothes don't have style, the person makes the style. Style goes beyond the hanger you touch -be it in your closet, or shop.
Audacity: Those who have style can choose to ascribe to fashion trends or ignore it. Fashion is not something to be followed sheepishly, it is however, something that is set, for you to select from or totally reject. When it comes to fashion, I don't really care for trends, I keep buying things I love whether or not they are 'in' or 'out'. Actually my personal style comes from my AHD (Acute hoarding disorder), I keep buying things that make sense to me, and I "hoard" them until I feel that they are ready to shine.
Fashion is vastly disposable, so why should I be coerced into subscribing to them if Today's "it" item is tomorrows 'has been'. I don't want to keep up, I want to transcend it. I don't want to look trend constrained, I want to look timeless. Style is such a personal thing; fashion is mass produced and fickle. It is better to do your own thing and be you than another head count in a pool of fashionistas. Style is letting your imagination run away with you.
Multi faceted: Style is instinctive and spontaneous. It can be deliberate and unprompted, but only a few have it. A few people have asked me to describe my personal style and I always say it is simple and complicated. I deliberately choose not dress like everyone else but the delivery is inborn. It is calculated yet gloriously carefree. Style like I always say is not a privilege, it is a gift, some have it, and a lot don't care to find out. Style is an acquired taste for some, for a few others, putting things together in unique ways comes naturally. It is uncompromising; it is really about being in tune with yourself, knowing and choosing what works for you and leaving out the rest .Style is the very best of self expression; It your own spin to things, the way you see and interpret things. It is about innovation, it is about making something 'better' than you found it.
Individuality: Be yourself, experiment and be creative. You don't have to be cutting edge to be organic. You can look to others and magazines for inspirations, but if you directly copy it verbatim, there is no real creativity in that. I can choose to take on a particular trend or completely ignore it, my choice, and my way. If you follow and ascribe to trends exactly as presented, you will become a slave to them. A literal interpretation of a look comes off contrived and uninspired. Clash the aesthetics, add interest, it is all in the details and delivery. There are no rules; fashion styling should be fun but never desperate. Next time you want to throw away that particular dress because your favorite magazine called it 'so last year', ask yourself what else you can do with it. Style is about challenging yourself; it is how you live your life. There is a lot of ways you can make something better without getting rid of it. Repurpose, Reinvent, Renew.
CHIOMA'S STYLE:  I am not a slave to trends, I simply replenish in the idea of stretching a look and totally transforming and challenging the expectation intended. My personal style is hard to describe or pinpoint and that is the true mystery it, you never know what to expect. The point is never to replicate a trend so I dress in a way that makes me "unplacable"; this is relatively simple to do by just mixing and matching different styles to derive something that at first glance could be considered contradictory with regards to its aesthetics.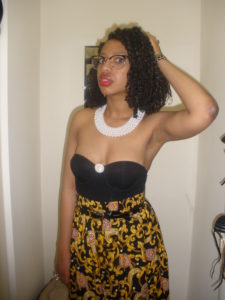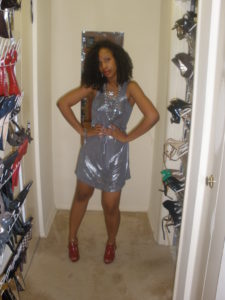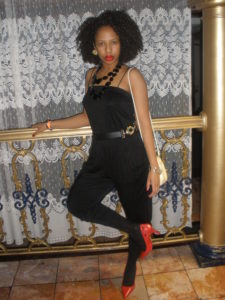 HAIR AND MAKE-UP:
My hairstyle is rather simple; curly and wild.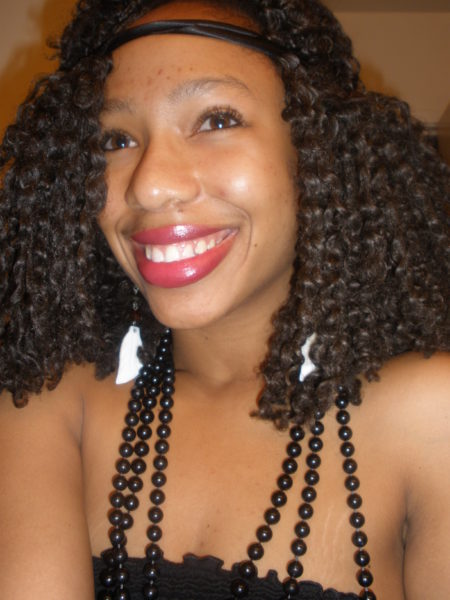 This is probably one of the only times I actually have my hair pulled back to a bun. I wanted the focal point to be on the bold emerald green colour of the dress and the bold accessories. I subscribe to the style theory of more is more, you just need to know when to stop.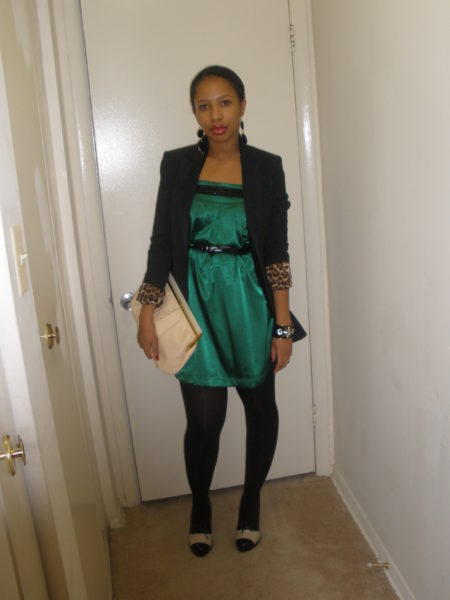 Dress: F21; Leopard Lining Blazer: Express; Oxfords: Cutesygirl Online; Jewellry: Vintage and F21; Tights: Hot Sox; Belt: Random; Bag:Filenes
I am totally uninterested in the art of make-up. For day, a few wipes of mascara and a lip stain or some sort of lip gloss and I am good to go. For night, I use a total of 3 products or less and I am out the door. Eye liner (only when I remember), Mascara and a very red lip. I have actually never worn foundation and I have no interest in starting anytime soon. For skincare, I use a combination of shea/cocoa butter and drink plenty of water. Being a vegetarian apparently helps but you can't quote me on that.
Look :" Bubble Pop Electric"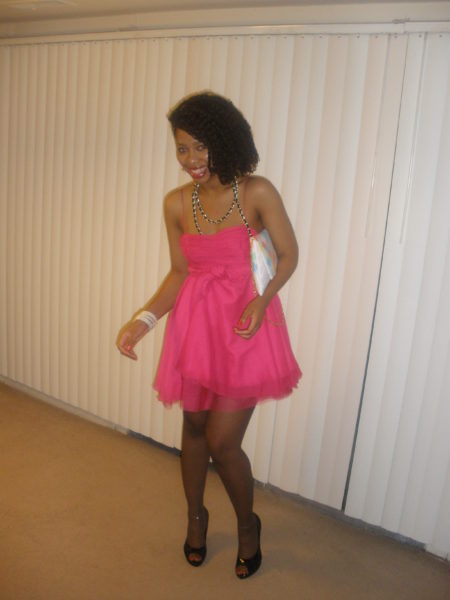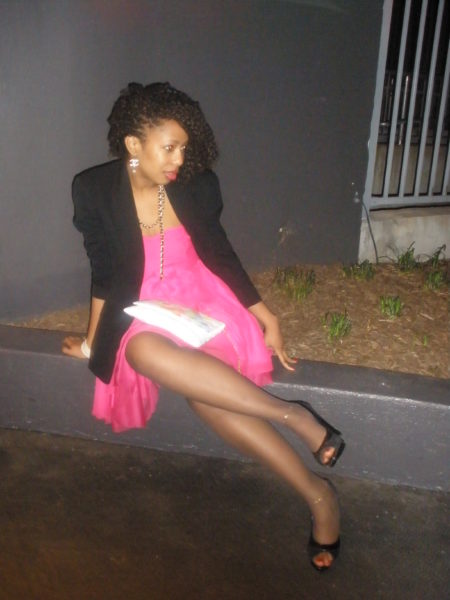 I wore this to my birthday dinner party. I rarely wear dresses off the rack; I do little alteration to them myself by either removing a few elements or by adding onto them. My style mantra is always to improve upon a look. I perceive style to be centered on creativity not labels.
Dress: Deconstructed (by me) H & M; Bag, Blazer: Vintage; Shoes: Bakers; Necklace : DIY, salvaged from an old chainlink bag; Earrings: Chanel
 Look: "Spring Fever"
It takes me a  maximum of about 20 minutes to get dressed from start to finish. It has to look effortless; I only wear what makes me feel good. I love wearing high street pieces and mixing them with more expensive stuff. You can buy stuff for cheap, but you just have to make it look expensive, spend 1 dollar and look like a million bucks. The mistake a lot of girls make when it comes to shopping is buying the "obviously" trendy things from obvious trendy shop; you will end up looking like everyone else.
If you have to buy that dress that scream Forever21(F21), make sure you elevate it beyond the dress mannequin you found it on in the store. You can essentially shop at the same store as everyone else while still maintaining a sense of uniqueness, and it all comes down to styling. This is where things become more tactical. The real fun is in the challenge. Real style has nothing to do with money or designers, it is all about the delivery. You can buy a really expensive dress and still cheapen with the wrong accessories and vice versa.
The point for me is always to style my look out of context, and interpret it my way. I achieve this mostly by altering the shape of the dress in some manner, I hardly ever wear things already made. I pair things together just by adding to it until it makes sense to me.
Adding vintage is another sure fire way of upgrading a look and making it look fresh and unique.
Dress: F21; Shoes: Jessica Simpson; Jewellry: F21 and Vintage
Look: "Altered to perfection"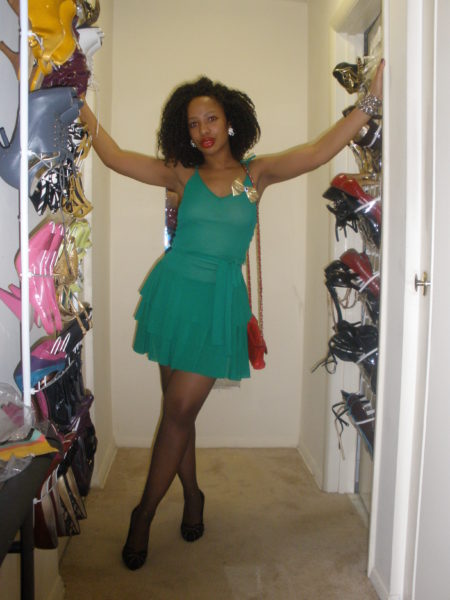 Wearing a green dress that I've had for ages. The dress is actually longer but I pushed it up and tied the sash a few times to make it a bit shorter and flirter. I cut the straps and tied it up. the bow is a vintage bow tie that I pinned to the dress to add a little interest. I wrapped a braided belt around my wrist to finish off the look.
Dress: DIY Hotkiss Dress; Bag,Bow tie,earrings,: Vintage ; Bracelet: Vintage braided belt; Shoes: Abaete.
Look: "Mesh Frills"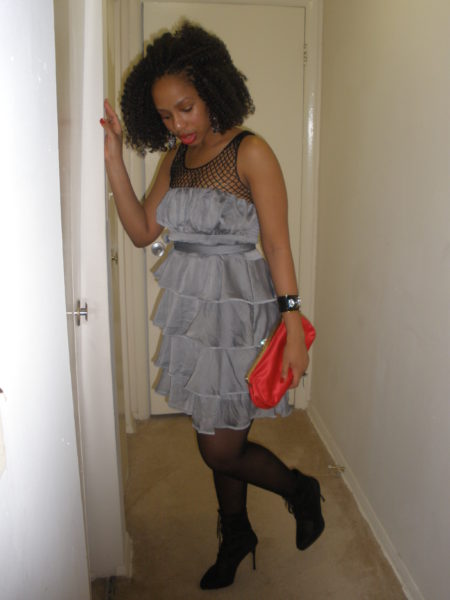 This Dress is actually one of my favourites. The look was achieved by pairing a chain mesh tank underneath the dress. I wanted it to appear as a one piece. I cut off the straps and a cascade of flowers that the dress came with and tied the sash around to hold the bust up.
Dress: F21; Mesh Tank: Vintage Bob Mackie; Shoes: Go Jane;Tights: Hot Sox; Jewellry: F21; Vintage Bag: filenes
Look: This is my rendition of  a "Supahero".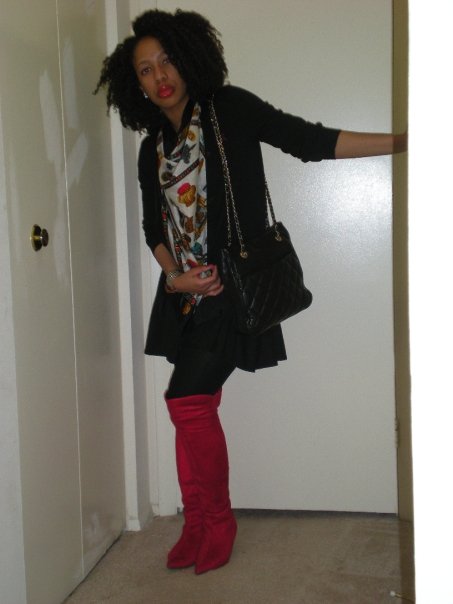 The scarf is my reverse cape; Cardigan:Ralph Lauren; Skirt: Random; Boots: Miss Me;  Scarf, Bag: Vintage.
Look: "Purple Daises"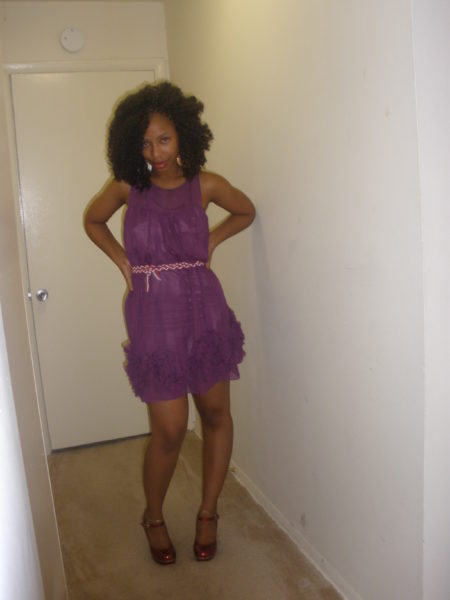 One of my style staples are my gold anklets, I never take them off except to get them cleaned. I 've had them on for about 5yrs.
Dress: Rumours. Beaded Necklace worn as belt. Shoes: Pink Dutchess.
Look: "Goth Glam"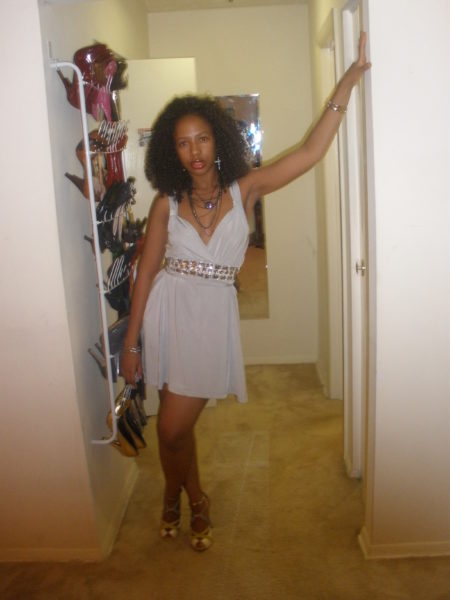 This dress came above the knee, and I redraped it to get a much more flattering shape.
Dress: Filenes. Shoes: Bakers. Jewellry: Express, Macy's and Vintage.
Look: "Laid back Casual"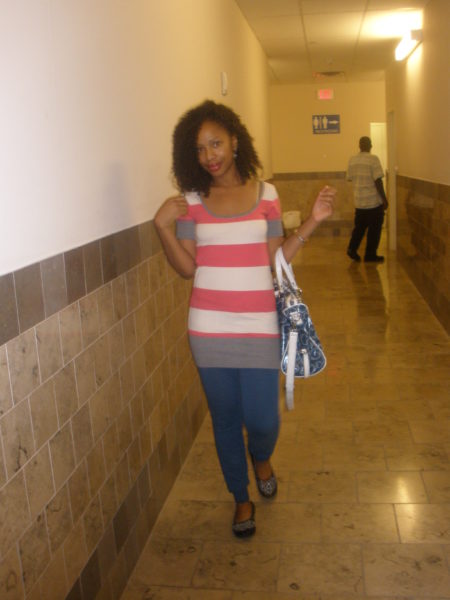 This is what I usually look like on weekends to lounge around and run errands.
Rugby Dress: Gap. Flats: BareFeet. Pants(not jeans): Dex
Look : "Drapery Goodness"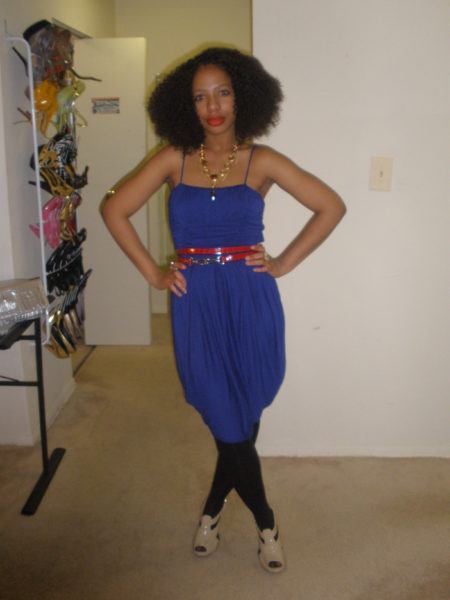 Dress, Ring:F21. Shoes: Go Jane . Tights: Hot Sox. Belt: DIY Guess Bag Strap. Necklace: Vintage from mummy.
Look: "Subtle Sexy"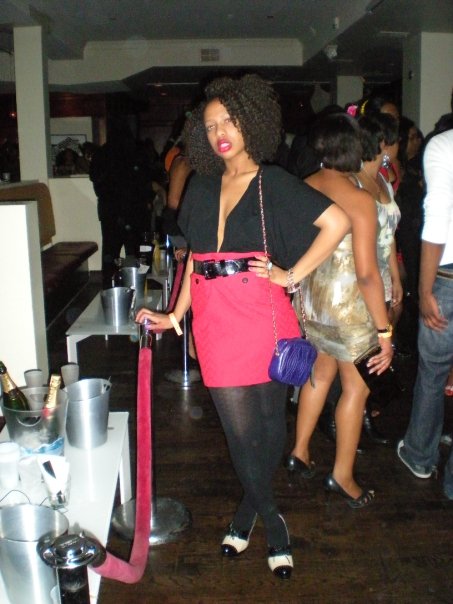 This is my anti freak'em dress… why???because wearing ONLY freak'em dresses to every function is desperate.lol moreover SEXY by force is not the bizness!!! so why Freak'em dress when I can Kill'em soflty.
Understated Sexy is how I roll. If it's too obvious, then it ain't poppin'( lol). I am not a nun, but I ain't a hussy neither I just would rather be stylish and well put together than look placeable and common place. Diversify the definition of SEXY.
This batwing top is actually a tunic (a freak'em dress for some) and it is ancient Max Studio, it is so old that I don't even remember when I got it, but it feels relatively new since this is the second time i've worn it.(story of my life, got to stop hoarding). The skirt is actually Mossimo from 5yrs ago-(another piece I am wearing for the first time after idling away in the closet for what seems like infinity)- it actually sits below the waist and slightly above the knee but I hiked it up with the patent belt which I salvaged from some old trousers.

The chain link purse is Vintage. I 've got a thing for chain link anything, and if it's vintage, then baby…you have me written all over it!! The two toned oxfords are just aww soooo HOT in my book, I just love the freak out of them. Red lip… check, red skirt… check, cool hair… check, something vintage… double check….I guess am ready for the disco!!!!
My style staples are :
Tights ( I wear them year round) opaques in the winters and sheers in warmer weather.
Blazers, belts of all shapes and sizes, body crossover bags, quilted vintage chain bags in every color and pretty much anything vintage.
There is no sure fire wire to take the "hooch" out of a mini skirt than with tights, it makes the look so much cooler not to mention classier.
Look: "Punky Nerd"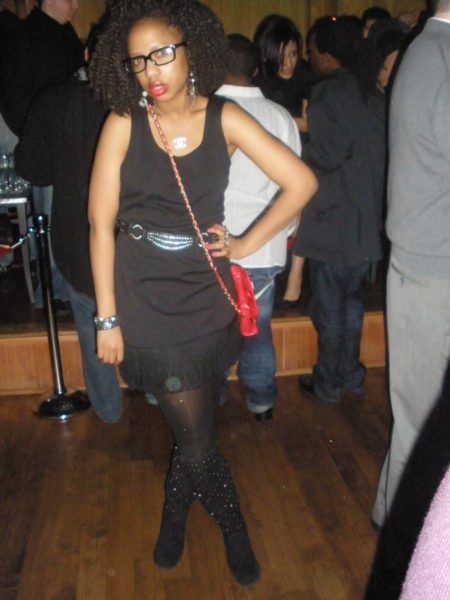 I downplayed the fringe benefits of the dress and took the cool route instead of the obvious flapper-esqe implication of a fringe dress.
Dress: Twelve by Twelve. Tights: Hot Sox. Belt, Bag: Vintage. Studded Boots: Soho Lab
Look : "Modern Traditional"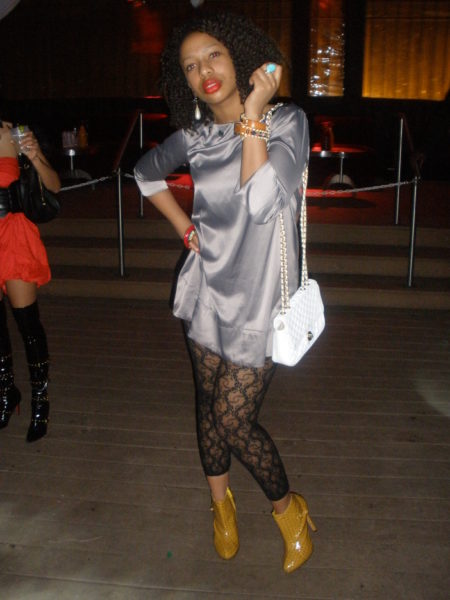 I wore this to an African-attire themed party. I opted for this dress because of its free flowing looseness and also the length. The lacy legging compliments the look, it  makes it look fresher and unexpected. Plus us Nigerians love our Lace…lol. I wrapped a beaded belt around my wrist and topped it off with a huge turquoise floater ring. The bold mustard yellow booties and chain link purse drive this look home. You don't have to wear "traditional" to actually achieve the look of traditional, look beyond the typical.
Dress: F21; Lace tights: LVX; Quilted chainlink bag, ring: Vintage. Earrings:F21; Booties: Cutesy Girl; Bracelet: DIY Vintage beaded belt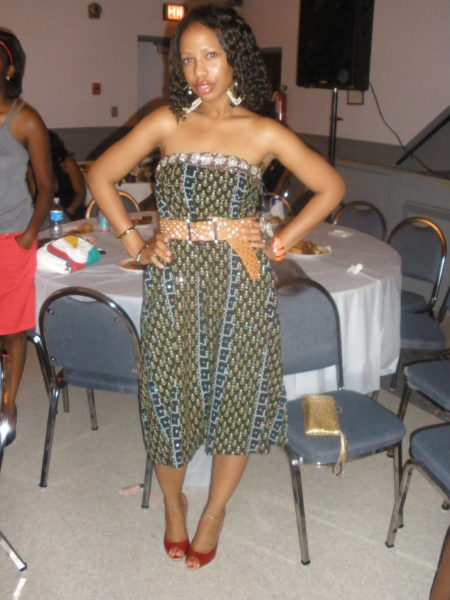 This  second look was also worn at a Nigerian party. The "dress" is actually a long skirt that I customized into a dress by simply adding an enclosure uptop and cinching with a studded belt. By the looks of it, you wouldn't be able to tell that the material isn't really Ankara material. Everything in this look is at least 3yrs old, I never throw anything away or discard things as "last season", I simply wear my clothes when I get around to them and I save them for customization for a whole new set of looks.
Skirt worn as Dress: Yonique; Belt: GUESS?; Shoes:Target; Earrings: Some Random Mall boutique
Look: "Casual Friday"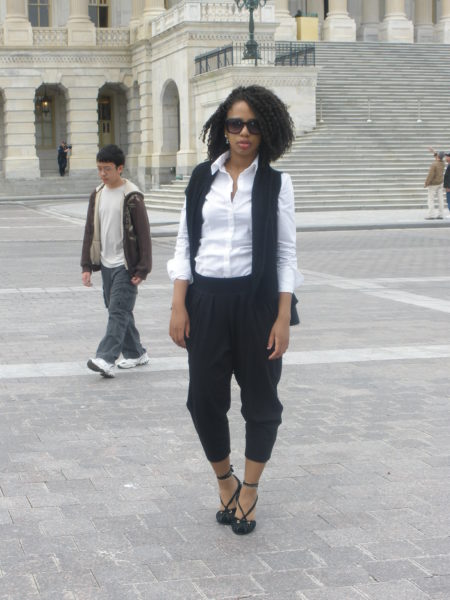 This is what I would wear on a typical casual Friday. I rarely wear denim, and I especially don't wear them on casual Fridays at work. While others, view denim as comfortable, I actually find it quite the opposite. In the past 2 years ,I probably have worn denim for a total of 5 times, this is especially sad since I have more than 15 pairs of jeans collecting dust in my closet.
Harem Trousers: Express; Button Down: Express; Both Shoes: Fly Jane; Bag: Vintage Gianni Bernini
This is a typical night look. I love to look incredibly put together instead of sexy. I love my clothes to be multifunctional so they can easily be repurposed by removing certain elements or simply adding to it. With each look I love to create interest, by having more than one focal point but also trying to project a well thought out and cohesive look.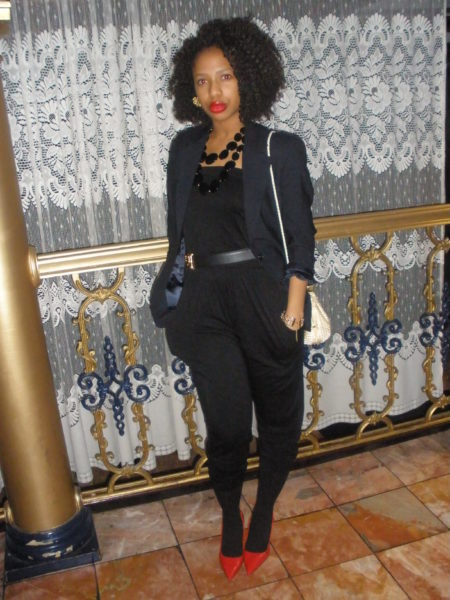 Blazer: Richard; Harem Jumpsuit:F21; Bag: Vintage Talbots; Accessories:Vintage & F21; Pumps:Random
 Look :"Retro Mess"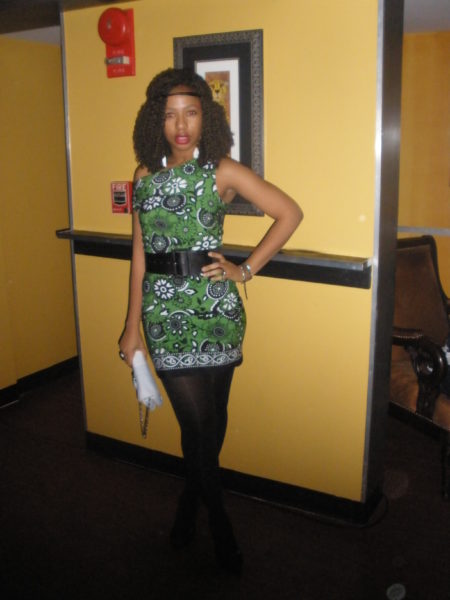 People often ask me if I am influenced by anyone, but the truth is I get inspired by everything. I actually see the elements fall into place as soon as a look at a garment. I buy my clothes based on their potential, not what they look like on the rack. I process the images in my head differently and think of better ways to improve an article of clothing beyond its conventional use.
Take this green dress for example, it is just a simple knee length dress, with nothing going for it other than the psychedelic 70's flowerchild print. By simply hiking the dress up a few inches and cinching the waist with a wide belt, a bodycon dress is born. I pulled one side to the side to get an off the shoulder look that is both fun and fresh.
Dress: Vintage; Belt, bracelet and bag: Vintgae; Earrings:F21; Tights:Hot Sox; Shoes: Bakers; Headband: DIY