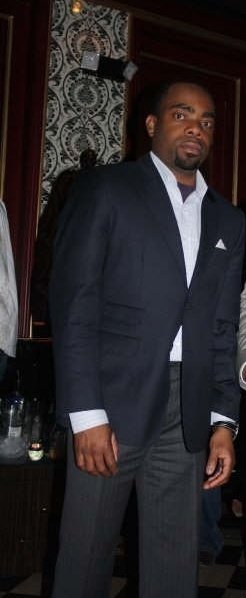 Wole Taiwo is the man  behind Tulé Custom suits. Tulé Custom Suits is a company that specialises in finely tailored custom men and women clothing. Their product line ranges from ties, shirts, suits and topcoats which are "hand sewn to the wearer's body measurement with allowance given in specific areas to allow for a comfortable wear".
An appointment with Tulé suits is a personalised and unique experience: "From the time you meet with a consultant at your home or office, we guarantee a shopping experience that compares to none. A customized garment is a statement of personal style and finesse and at Tulé we make sure your garment fulfils that requirement. Our style consultants will painstakingly take over 26 measurements of your body in order to create the perfect fit. We realize sifting through 1000 swatches can be daunting, and that's why we make sure we take the time to know each client's style and their needs". "For additional personalization, your suit is embroidered with your name on the inside of the jacket and your shirt cuff monogrammed with your initials."
He articulates tailored perfection with this collection. It is clean cut, slick and buttered up with a splash of warm colours; like pink and purple.This collection covers a whole variety of occasions. He demonstrates how his pieces can go from work, to formal occasions and then to casual days which have a rustic appeal with suede and leather textured jackets.
The collection features three-piece and two-piece suits, blazers, ties and shirts from bold colours to strips and displays a bit of edginess with contrast coloured collars.  Catering to the "Chuck Basses" and to the more laid-back style personalities, his collection leaves no area un-covered. He translates the individuality of each piece so well in his collection, which emphasises the 'custom' appeal of Tulé.
 The Collection:
More Pictures from the Collection& Backtage photos:
For more on Tulé Custom Suits, visit their website here.