BN is still on the hunt for BN Naija Divas. We can't let only the fellas savour the limelight. In our request to encourage the next generation of Nigerian Divas, we are introducing musical trio – CHASE. The group consists of 3 young, hip and talented ladies in their early twenties.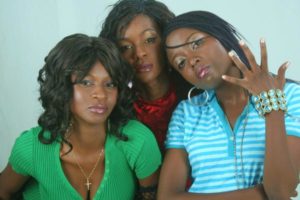 This group was created in January 2009 by Alexander Yangs, (who also discovered KEL amongst others) carrying out a pocket search with a few of the entertainment industry top shots across Nigeria in late 2008 (Abuja, Benin, Kaduna, Lagos) for suitable members. According to Alex 'I carried out an 8 month research project on female groups – exploring why they exist, breakup and rarely blowup and become iconic in Nigeria. Based on positive answers on all fronts and ample knowledge and contacts in the Nigerian music industry, it was deemed fit that this is the right time to meet the need for an iconic female group with well defined policies, and a roadmap for success'
The group has spent the first quarter of this year writing, bonding and presently recording their debut album titled "More + Independent" which will have collaborations with Mo-Cheddah and M.I, and a few international acts yet to be named. The album is being created to push female values backed by other inspirational messages with well crafted songs along with some heavy sound production that can jump a party. For more on CHASE, visit their myspace page: www.myspace.com/chase9ja
About the ladies of CHASE:
Chat Bowsan: born Nov 5th in Kaduna, a final year student of ABU in Zaria studying fine art, last child in a family of six kids. She started developing her singing talent in 1998 in her local church choir & went on to do backup vocals for an Abuja based artist known as "Young Rhaust" under the production of ace producer Jesse Jags. Outside the world of singing, Chat is a Dancer, Sculptor, Painter & writer.
Fatima Sheidu: Born April 3rd in Jos, an Economics graduate & the fourth child of six children, sang her first song at age 9 and went on to harness her musical talent in her local fellowship. She first realized her interest for music performance after playing perfectly the role of ashionye at the 2008 edition of the 'Ambo' House, of which she was amongst the top 8 housemates. Besides singing and acting, she enjoys tennis and aerobics.
Olaitan Olarenwaju: Born March 12th in Lagos, 1st of two girls, she holds a diploma in computer technology from O.A.U and is currently studying Business Administration at Unilag. She Started singing professionally in 2004 as a backup for Stella Damasus band of which she was a member for 8mnths. She has also handled backup for several bands in the gospel music industry, and showed off her versatility when she chanted her native language in the popular club/radio hit "baba Ife". She is passionate about TV presenting and events planning and takes a keen interest in athletics and volleyball.
Have an exclusive listen to their new single – Carry Am Go Feat. MI