The D'Banj HiTV Reality Show – Koko Mansion has been on air for a couple of weeks now. Before the show started, fans had mixed reactions to the concept. Some felt it was a great concept to push the D'banj brand and a new concept in indigenous Nigerian TV Programming. Others felt that it jumped the shark and was simply another example of Nigeria blindly copying foreign concepts. Well, the show is now LIVE and guess what? people are addicted! From the UK to Lagos to Ghana and France, there is lots of chatter about Koko Mansion.
The Kokolettes – Bidemi Jolayemi, Bolanle Okhiria, Chidinma Mbalaso, Chinwe Hilda Ukadike, Chioma Akuezue, Elizabeth Efe Era, Lilian Ebehohon, Mary Osinachi Bruno, Rekana Sharon Ojong, Rita Isoken Igbinedion, Shona Merenu, Victoria Oloye have started building their fanbases. Mary was the first to leave the Mansion and now it seems as though Bolanle is in the lead as a fan favourite but in the house, she is perceived as a threat.
Personally, I think its an interesting concept and the production quality is great. Wish it had more elements of 'Top Model' or 'Project Runway' or even 'Top Chef' as in, more interesting competitive tasks rather than the 'Big Brotherish' watching of the girls conversing in the house. The most entertaining bits so far have been when the girls entertain special guests and when D'Banj drops by to visit. It is event very compelling though and D'Banj is incredibly charismatic!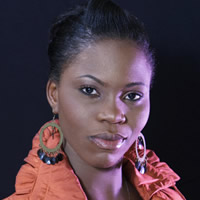 UPDATE: Lilian is officially the first evictee of the Koko Mansion. The bottom 3 were announced by presenter Marian Anazodo and they were Lilian, Rekana and Chioma. The Koko Master – D'Banj who was looking spiffy in his grey suit 'saved' Rekana and Chioma. Rekana was kept in the mansion because of her 'knowledge and pride in her culture' while Chioma was saved because of her musical talent.
So what do you think so far? Who are your faves? What do you want to see more of? and finally what do you think of the first evictee – Lillian?