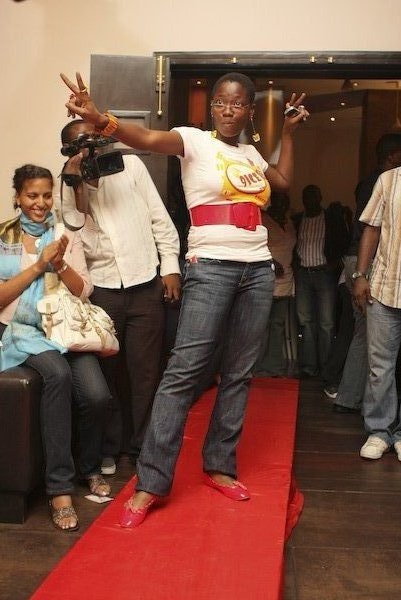 You might have heard her voice on the radio or seen her on TV, perhaps read her blog or spotted her photo on facebook – there are so many facets to Tosyn that its sometimes hard to keep up! Tosyn Bucknor is known as a writer, poet, singer, founder of These Genes project, and general hype lady. She recently added on-air personality at Top Radio to her kaleidoscope of occupations. There are so many facets to Tosyn Tosyn shares her story with BN Assistant Editor-  Wana Udobang
WHAT MADE YOU DECIDE TO START THE THESE GENES PROJECT
Growing up was lovely for me for the most part, but it was not easy growing up as a person living with sickle cell. The physical trauma was bad enough, but there was a lot of emotional ache that came with it, especially as people treat sickle cell as this thing you should not talk about.
I wanted people to actually start speaking about it and stop stigmatizing it as it were. I also wanted people living with the disorder to hear inspiring stories, and also see what it means to live with sickle cell from the mouths of those who actually live with it. Basically, I wanted to do what I do best – Get people talking.
TELL US WHAT LIFE WAS LIKE GROWING UP AS WELL AND IN YOUR SUBSEQUENT FORMATIVE YEARS
The home front was close to perfect because you had the funniest and best dad in the world and the most caring mum in the world , and the most understanding sister in the world too.
But when it was bad, it was bad. I fell ill a lot as a child, and sometimes the crisis would affect me in some physical ways (thankfully, never permanently). I have had a period of my life where I was limping, and then of course, there were the sores…I remember those ones I would get on my feet. Having a crisis or falling ill (pneumonia, Entric fever and Anemia) usually meant hospitals, injections, drips, transfusions, and of course money. So there was a period of my life where I went round feeling sorry for myself, hating God and feeling useless. I never truly shared this with people but thankfully, if you have enough conversations with God, he will keep showing you that you are his child and he loves you. When I realized that, I could either stay rooted in one spot asking questions and being filled with hate and negativity or I could get on living. Life became a lot easier I must confess.
TELL US ABOUT ALL THE OTHER VOCATIONS AND WORKS YOU ARE INVOLVED IN, AND EXPLAIN TO US HOW YOU GAIN FULFILLMENT FROM THEM
People tend to stop and ask me, Tosyn, What do you do? That is because I do a lot of things.
I am a writer- I write for magazines, newspapers and television
I am a singer/ songwriter
I run a social network called S.H.A.R.E and we create avenues for young people to meet other young people, interact, network and express themselves. I blog and facebook like almost no other, I'm a hypeman or a buzzist like I like to term myself. If there is someone or something out there people should know about,I'll tell them. And of course I run These Genes; the sickle cell project.
I am uncompromising when it comes to passion, and enjoying life. I do not think I won't have sad moments, but I don't do anything that won't bring me joy. The fulfillment bit comes from within. when you step back and see what you have done, like meeting Mama Ekundayo, the hundred year old woman who runs an orphanage, that just gives me a level of joy I can't fully describe.
TELL US ABOUT SOME OF THE THINGS YOU HAVE ACHIEVED THROUGH YOUR FOUNDATION
Our biggest achievement is the fact that more people are asking questions and talking about this disorder!
We have succeeded in throwing various awareness campaigns, and i have personally had the pleasure of appearing on television and radio to share my experiences as well as correct some misinformation.
These Genes also gets a lot of people with babies born with sickle-cell calling to confirm if sicklers can actually grow old!
We are always happy to say yes, but to also insist that it is not how long one lives that matters but how well.
WHAT IS THE GREATEST LESSON THAT LIFE HAS TAUGHT YOU AND HOW HAVE YOU INCORPORATED THAT IN THE WAY YOU LIVE?
It is not how long I live that counts but how well. So if I live my life according to their pace, what is my prize in life's meaningless race?
DID YOU EVER FEEL THAT THERE WERE RESTRICTIONS PLACED ON YOU EITHER BY BEING ILL OR BY SOCIETY'S PERCEPTIONS OF SICKLE CELL. IF SO, HOW DID YOU OVERCOME IT?
The only restriction is the fact that most people do not understand that a person living with sickle cell can do anything a person not living with sickle cell can do. The difference is that we have to be more careful.
I can party like the best of them, but I also know I have to rest. I might want to smoke or drink, but I have to think of the consequences. I can go to school and be a brilliant student, but my teachers have to understand that I could miss a lot of classes. Ditto my place of work.
I commend sicklers working in a 9-5 situation because it cannot be easy. How many sick leaves do you get before your bosses' fire you?
You can read more about Tosyn and find out what she is up to on her blog
http://speechgirlbucknor.blogspot.com/
You can also find out more about sickle cell by listening to a young woman's story about living with sickle cell. Check out the Guerilla basement link below to listen to the podcast
http://guerillabasement.blogspot.com/2008/11/me-and-sickle-cell.html
Below is a snippet from Tosyn's debut music video!