It's not that difficult to spot a wedding addict!
We (oh I mean they!) – scour the internet for wedding websites
They have the Bella Naija Weddings page bookmarked
Facebook privacy restrictions can never stop them – if there a new wedding album on facebook – by hook or by crook – they have to view it!
They have back issues of Ovation/City People/Encomium/People/OK/Hello  featuring their fave weddings
Well, we can add one more thing to that list and it is Sugar Weddings! SugarWeddings.com is an innovative online wedding magazine aimed at changing the face of weddings in Nigeria. The site aims to bridge that gap by providing a great selection of vendors which can be reviewed online by users and allow others make informed decisions about the vendors they decide to use. Site users can also keep up to date with the most exciting wedding trends like destination weddings, themed weddings, and more, as well as get some inspiration from real weddings features, all of this with one click of the mouse. Below are some of the recent weddings that Sugar Weddings has covered – absolutely beautiful! BN will be periodically updating you on what's hot on Sugar but if you've got a sweet tooth for weddings, it might be best to bookmark it.
________________________________________________________________________________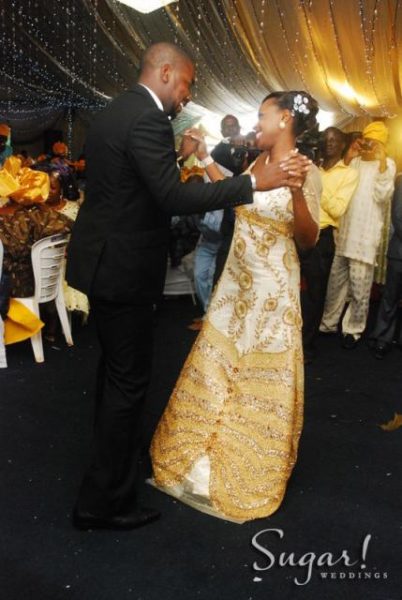 Yeside and Jibola Laguda
A meeting at a mutual friends' house in Lagos, swiftly followed by a proposal late last year led to the delightful union of Yeside and Jibola Laguda. The engagement ceremony was held at the University of Lagos events hall on the 30th of July, 2009 while the blissful reception was celebrated on the 2nd of August, 2009 at the KFA Events Centre, Lagos.
The bride, a Lagos based fashion designer and her entire bridal train looked stunning in designs by her label, MyQ. The reception marquee was splashed with shades of gold, blue and white a perfect blend with outfits worn by the entire wedding party. The food was marvellous, the drinks kept flowing and the music kept guests on their feet late into the night. For the full wedding scoop, head over to SUGAR WEDDINGS
________________________________________________________________________________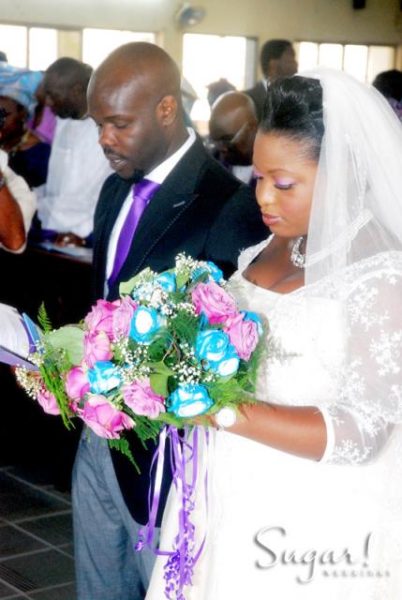 Damola and Debisi
A chance meeting at a party three years ago between Damola and Debisi ended up in a wedding celebration filled with a lot of joy and love. The two day celebration started with the traditional wedding (engagement) held at All Seasons Plaza, Ikeja where both families glowed in colourful aso-ebi combinations of green, gold and baby pink. The festivities continued with the church ceremony at Hoares Memorial, Yaba and ended with a bang as guests danced non-stop to the DJ at the reception which took place at Adrao International School, VI. For the full wedding scoop, head over to SUGAR WEDDINGS
________________________________________________________________________________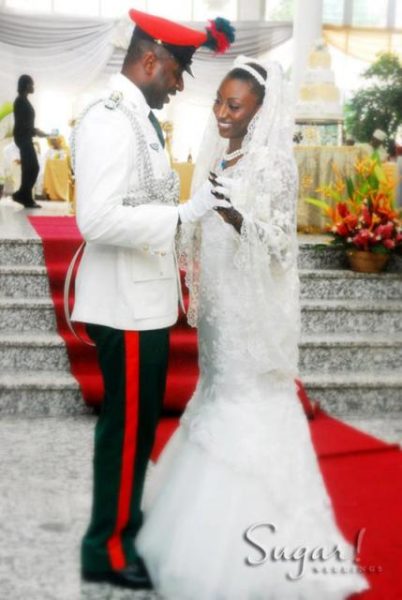 Mimi and Mohammed
Love knew no time or place for Mimi & Mohammed. They met each other over a decade ago at A-level school in England. However, the sparks didn't start flying just yet, it took a friendship that spanned years, lasted across continents and, gradually blossomed into full blown love for each other. On an early Tuesday morning, Mohammed showed up at Mimi's door in his full army regalia, one knee on the floor with an engagement ring in hand. The rest as they say is history.
Their elegant reception was held at the Yar Adua center in Abuja. Colours of the day were gold, silver, and white from the brides side and, fuschia and green from the grooms. With combined ancestries of Efik, Fulani, Igbo and Hausa from the couple, their celebration of love was truly a melting pot of cultures. Starting with the nikkai which took place in Yola (pictures not included) and ending with an Efik 'coming of age' ceremony hosted by the bride's family. Theirs was truly one to remember. For the full wedding scoop, head over to SUGAR WEDDINGS