Would You Try This At Your Wedding?
Watch the Youtube video where the bridal party danced down the aisle to a hip hop beat.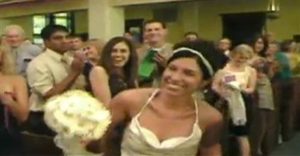 I am sure loads of you would have watched  the Youtube video of  Jill Peterson and Peter Heinz  with their bridal party dancing down the aisle to Chris Brown's Forever.
This viral video has caused a major sensation on the world wide web, with more than 16 million hits to date.
It seems modern brides are adding a special touch to their weddings and this is definitely a trend to watch out for.
[youtube]http://www.youtube.com/watch?v=4-94JhLEiN0[/youtube]
So would you try this out at your wedding?