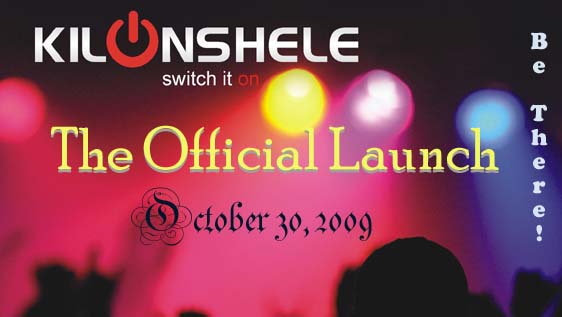 Kilonshele Entertainment Limited will officially launch their website www.kilonshele.com with a free concert on the Ground floor of the Silverbird Galleria, Ahmadu Bello way, Victoria Island on 30th October starting at 6pm. A press conference will be held at the same venue in the morning of 30th October at 11am.
Kilonshele is the company behind the new entertainment and sporting events online ticket shop, www.kilonshele.com. The event will formally introduce Kilonshele's online service to show promoters, brand managers of different corporation, and the general public.
The company has adopted two campaign themes: "Live can be fun" and "Don't gate crash" to drive the message of the need for individuals to rest and its immense benefit to their health and general well being. The "Don't gate crash" theme emphasizes the need for the general public to buy their ticket for major shows and cinemas in the convenience of their home or any where they are located. With Interswitch, Visa, eTransact, and/or Mastercard, fans can purchase at www.kilonshele.com rather than queuing to get ticket of events at the gate. Likened to eBay and other world reputed e-commerce websites, www.kilonshele.com also offers advertisement and promotions, a database for hip events in town, and all information one needs regarding any entertainment or sporting event.
Owen Gee will anchor the show and render some rib cracking jokes in what will appear a very colourful outing. Lined up to perform at Kilonshele Entertainment Limited's launch concert are Dorcas Yeboah and Annette Cookey, that rocked MTN West African Project Fame Reality Show, AY.COM of "pass me your love" fame, Kela, Sliq Metalliqa, Lineo, Mudina and a host of others.
A strictly by invitation After Launch Party will follow after the "Switch It On" concert at AQUA 27, located on the Island.
Please call Renny Akande on 08073233265, 07029089927 for more information about the launch.
________________________________________________________
Post sponsored by www.kilonshele.com