It's 5 Day of Bella Naija Presents 25 Days of Christmas
Wow! Congrats to all the winners so far, we are getting slightly jealous! Maybe we want to keep some of these fab prizes for ourselves…..but we wont do that. Its all about YOU!
Remember to join BN on our social networking platforms:
Click for Facebook
Click for Twitter
________________________________________________________
Today is all about Ruff 'n' Tumble.
Ruff 'n' Tumble is a gold standard, a pioneer in the Nigerian fashion business!
From humble beginnings making children's pyjamas, the brand has grown from strength to strength. Today, it is a proudly Nigerian clothing manufacturer and retailer.
The Ruff 'n' Tumble story has inspired so many people both locally and internationally.
The brand and its founder – Nike Ogunlesi have been featured on MSNBC and the popular documentary 'Africa – Open For Business'.
The brand continues to deliver the highest quality and creative Children's clothing and is a favourite of many 'mums, dads, aunties and uncles' for their children!
The Ruff 'n' Tumble holiday collection is now selling! From rocking the parties to the more formal celebrations of the festive season, this Holiday Collection is full of the trendiest designs in the world of children's fashion.
When rockin' Ruff n Tumble, tots are guaranteed to be the best dressed!
You can buy Ruff 'n' Tumble at the following store locations.
Ikoyi: 91 Awolowo Road, Lagos | Phone: 01-2701008, 08022081834
Ikeja: 23a Isaac John Street, GRA, Ikeja, Lagos | Phone: 01-2700817, 08033255183
Abuja: Ceddi Plaza, 264 Tafawa Balewa Way, Central Business District, Abuja | Phone: 08051161416, 09-872040
Email: ruffntumblekids @ yahoo.com
Today, Ruff 'n' Tumble is giving away a 10,000Naira gift voucher towards purchases at any of their stores!!!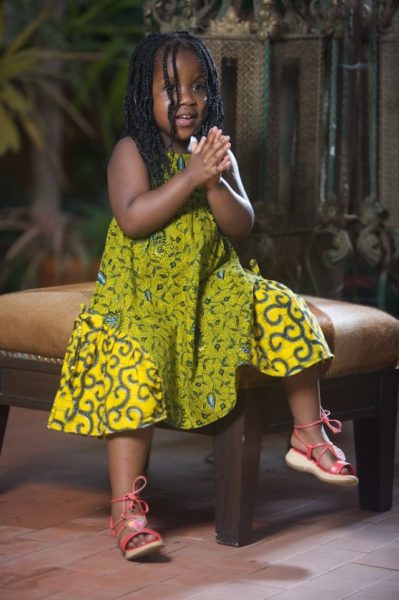 [nggallery id=184]
Ruff 'n' Tumble Questions
How many Ruff 'n' Tumble stores are there in Nigeria?
What year did Ruff 'n Tumble CEO Nike Ogunlesi win the FATE Foundation Model Entrepreneur award?
What is the name of the MSNBC special feature that Ruff 'n' Tumble was recently featured? Clue – BN Careers Section….
Steps to Enter
Answer the easy questions
Send entries to [email protected]
Subject Line: Ruff 'n' Tumble
Entries should be received before 11:59AM (Eastern US Time) – Today 5th of December
Good Luck! We can't wait to read your submissions!
Terms & Conditions for Ruff 'n' Tumble Contest
Entries are open to all BN readers but prizes can only be retrieved in Lagos and Abuja, Nigeria.
Contest is only valid where contest terms do not contravene local laws
There is no cash alternative for prizes
Entries should be submitted to [email protected]
Only winners will be contacted
To promote transparency and fairness, winners names will be published on BellaNaija.com
One prize per person throughout duration of promotion
We will work towards ensuring that you receive your prize expediently.
______________________________________________________________________
Yay! We have a winner – Mej John Obada
Answers:
(1) 3 Stores
(2) 2005
(3) Dollars and Danger: Africa, The Final Investing Frontier – Entrepreneurs.