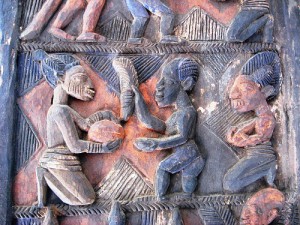 You know her as the Bookaholic but Temitayo Olofinlua writes about a variety of subjects. Her essay "Fear — The Enemy of Gender Equality" has been chosen as one of the finalist picks for the WLP Youth Essay contest.
A woman's fate is determined by men and women who play God. Her first gift is a doll-named-Baby with which she rehearses home maker, wife and mother. She is groomed to be a 'proper woman' — the silent one when the men are talking. All these in preparation for her husband's house; is that not where all 'good' women end? A woman's worth is defined first by her father, then her husband and last by the children she bears.
Head over to the WLP website to read the full essay and show your support by leaving a comment! The blog entry that generates the most substantive comments will receive a special Audience Choice Award.
Click HERE to read Temitayo's article
Photo Credit: Zug