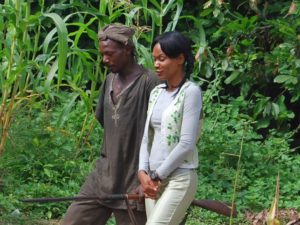 We've been loving Funmi Iyanda's new show "Talk With Funmi" ever since it started a few weeks ago. Last week's episode was titled "9ja Hip & Hopping". Funmi chatted with ID Cabasa and 9ice. It was really engaging and gave real insight into the lives of these talented young men.
This week, Funmi experiences simple village life around the beautiful Idanre Hills, Ondo. In turns amusing and poignant, the villagers show her around, giving an insight into their lives and aspirations – She goes hunting, learns about palm wine, and special mysterious powers.
Later Funmi confronts newly installed Governor, Olusegun Mimiko, with her findings.
Watch Talk With Funmi Every Sunday on Africa Magic at 6pm.
You can check out Funmi's behind the scene's diaries on her blog: http://fiyanda.blogspot.com
[nggallery id=209]