In the spirit of Valentine's Day gifting, a few brands have decided to hold contests, others have created special Valentine's Day packages.
See below for information.
Note that these contests are not being run by Bella Naija, therefore we are not involved in the picking of winners or redemption of prizes
_____________________________________________________________________________________
What Lies Beneath Presents "A Valentine's Day Treat"
Roses are red, violets are blue reveal to that special someone What Lies Beneath You!
Luxury lingerie brand, What Lies Beneath will be offering one lucky Bella Naija reader a special Valentine's Day treat.
The winner will receive a WLB gift bag with lingerie from WLB accompanied by a box of chocolates and other complementary gift items.
Simply email a ten word "poem" with the words "What Lies Beneath" included to [email protected] and a winner will be picked from entries received.

Terms & Conditions
Winner must be over 18 years old
Entries close on the 12th of February 2010
No cash alternative for prizes/returns or exchange
Gift can be picked up at Leila Fowler in Lagos, Nigeria no later than Feb 14th.
_____________________________________________________________________________________
This Valentine, Deinté wants to make someone's valentine day a special one to remember. The lucky contest winner will receive an "18 KARAT GOLD JEWELRY PIECE" from Deinté
FORMAT FOR SUBMISSION OF ENTRIES (On this Event Fan Page Wall/ if you have a lengthy story email it to [email protected])
Name:
Year of Worst Valentine Experience:
Worst Valentine Experience Story:
RULES OF THE CONTEST
THEME: "Valentine's day: Worst Valentine Experience "
1) Have to be a fan of DEINTE's fan page
http://www.facebook.com/pages/DEINTE-18Karat-Jewelry-at-its-finest-EngWed-Rings-to-Marry-For/277459802399
2) Must be able to pick up winning prize from store's location in Lagos, Nigeria
3) All the entries must be submitted to the "Win a 18 Karat gold jewelry piece from DEINTE this Valentine's Day! event section of the Deinté Fan Page" wall or emailed to [email protected]
4) No Deinte staff or any member of their family are eligible to participate in the contest
5) Must be 21 or older
6) Deadline to post your entries on this event wall: 02/13/2010, 11:59pm GMT(+01:00) West Central Africa
VOTING
The entries posted on the wall will then be transfered to the photo area as they come in. You can have people join Deinté Fan Page and vote for you or the best "Worst Valentine Experience" in the to Photo Area of the Fan Page. Everyone could vote by adding a comment to the stories in the photo area.
Deadline to vote: 02/13/2010, 11:59pm GMT(+01:00) West Central Africa
One winner will be selected based on the most number of votes; one vote per person please
PRIZE
Female: Pair of 18 Karat gold Italian designer earrings
OR
Male: 18 Karat gold Italian designer bracelet
_____________________________________________________________________________________
CaxtonAlile Sweet Lovers Contest & Customized Card Service. See below for details on contest and [email protected] or 0808 385 8148 for details on the customized card service.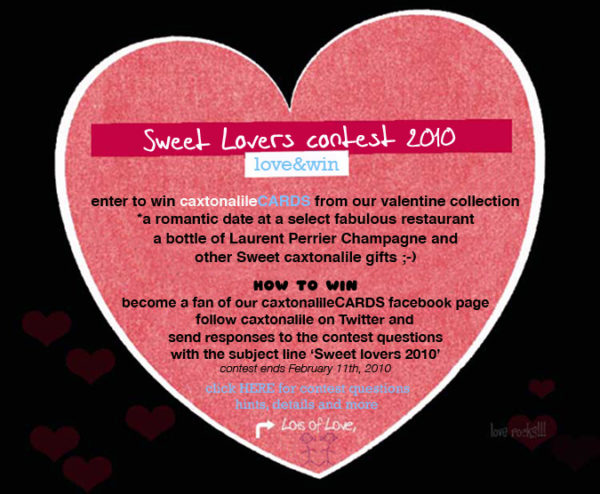 _____________________________________________________________________________________


BLACK AND WHITE IS THE NEW RED THIS VALENTINE
"Hi guys, valentine is here again and I am sure you are wondering what gift to buy for your loved ones. Will it be a perfume, flowers, shirts, ties, shoes etc. I am sure we all have these items and can get them at anytime. At some point the perfume will finish, the tie or shirt or shoes will either be out of fashion or wear out.
Why not dare to be different, and try something new. Give a gift of creative and professionally taken black and white photos to your love ones, with a creative make up artist to make them look extra beautiful. All you need to do is buy a gift voucher for one of our packages, and you are one step away from wowing your love ones. The photograph will be well framed or stretched. The images will last for years and can be passed on to generations when you are older.
Photographs well taken can only appreciate, and will immortalise the memory of you at that time and the event that took place. imagine looking at those images 10years down the line, I am sure it will seem like yesterday when you were maybe 21 looking like a diva that we will make you look like on that day"
For more information on where to get your gift voucher, please contact
Tunde Owolabi through facebook, or send an email to [email protected] or [email protected]