On Thursday, 18 March 2010, the Abule Book Club and Cassava Republic Present a reading of Tropical Fish by the author, Doreen Baingana at 4.30pm.If you missed the award winning author of Tropical Fish: Tales from Entebbe Doreen Baingana when she was in Nigeria in 2009, here is an opportunity to hear her read from her debut novel.She will be hosted by us (the Abule Book Club) operating out of Abule, a new cafe serving up coffees as well as organic treats and juices, within a quaint and homey ambiance that is tailored to support a lifestyle geared towards health and tranquility.Abule is located at The Life House, 33 Sinari Daranijo Street, Off Younis Bashorun Street, Off Ajose Adeogun Street, Victoria Island.Entry is FREE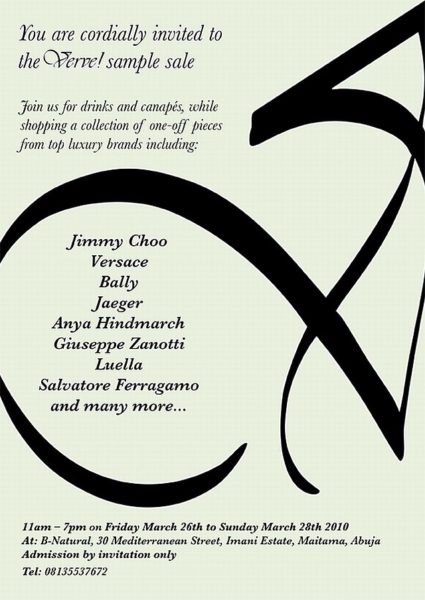 You are cordially invited to the Verve! Sample Sale.
Join us for drinks and canapes, while shopping a collection of one-off pieces from top luxury brands including:
Jimmy Choo
Versace
Bally
Jaeger
Anya Hindmarch
Giuseppe Zanotti
Luella
Salvatore Ferragamo
and many more…
Date & Time: 11am – 7pm on Friday March 26th to Sunday March 28th 2010
At: B-Natural, 30 Mediterranean Street, Imani Estate, Maitama, Abuja
Tel: 08135537672
www.twitter.com/vervesamplesale
___________________________________________________________________________________________
THE BOLD AND BEAUTIFUL (TBAB) YOUTH FASHION FORUM 2010
TBAB is an opportunity to realize your dream of becoming the next fashion icon and to share your unique fashion style with the world. This forum promises to offer leverage to anyone with dreams of excelling as a; FASHION DESIGNER, FASHION PHOTOGRAPHER FASHION STYLIST, FASHION MODEL MAKE UP ARTIST, SPECIALIST BODY ARTIST.
For more information, visit the website

___________________________________________________________________________________________
On Saturday the 20th of March 2010, Phenomenon, an upscale unisex boutique will be opening a store in the Garden City of Port Harcourt at the Genesis Centre.
PHENOMENON is one of Lagos finest fashion forward unisex boutiques and has been in existence since 1999, with its flagship store located on Awolowo road in Ikoyi and a branch at the ultra modern Palms shopping mall in Lekki. It is well known for unique and exclusive designer fashion, matching any other boutique in Europe . Phenomenon stocks a wide range of designer brands such as Christian Louboutin, Alexander McQueen, Giuseppe Zanotti, Sergio Rossi, Viktor 'N' Rolf, Louis Vuitton, Paul Smith, Billionaire by Angelo Galasso and many more.
Come Saturday the 12th of March the Genesis Centre will play host to the crème de-la crème of Port Harcourt ociety as Phenomenon throws opens its doors with hors-d'oeuvre and cocktails .
DETAILS
Date: Saturday, 20th March 2010
Venue: 1st Floor Genesis Centre, 52, Tombia Street, G.R.A Phase 1 Port- Harcourt.
Time: 2 – 8PM
RSVP: 08023288648
For press inquiries, contact The Socialyte PR – 08039456987
___________________________________________________________________________________________
Teniade Olafisoye, jazz singer, and artistic director behind the House of Makeda, would be opening her flagship store this weekend. A truly unique, Afrocentric and iconic brand, the story of Makeda is quite biblical. Makeda , was the Queen of Sheba who journeyed to Solomon's kingdom in search of knowledge and wisdom. Her un- assuming fashion style and delicately outlined silhouette, stood her out at every royal court sitting. To this end, Teni would be bringing Sexy back from the past with the theme – "Queen of Sheba, baby" in the grand opening of the – Iconic House.
There would be an unveiling of beautifully chic and timeless 9 piece collection of black dresses. The African lifestyle house would be opening on Saturday 20 to Sunday 21 March: 1 – 6pm each day
Venue:No. 7 Manuwa St, off Keffi St, S.W Ikoyi.
RSVP: 07056289509/08057511922
Admission is free