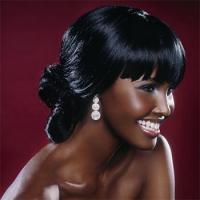 Engagement ring, wedding, asoebi, wedding dress, veil, groom, 'wedding colors', bridesmaid. If you are in your twenties or thirties. These are words you surely hear almost everyday in one context or the other. Maybe your friend is getting married, maybe your mom is going on about her friend's daughter who just met this wonderful guy and is getting married (*hint hint* – Why do African mothers think they are subtle? – really they are not) or maybe its YOU. He has proposed and now you are getting married (Congrats!). You are so happy, excited and can't wait to show off your ring and change your facebook status!
However, it hits you that you have a wedding to plan. Sigh! Back to reality.
One of the hardest things for most brides is finding THE wedding dress. Your showstopping, stunning wedding dress. Even if you are not one of those girls who has fantasized about how you would look on your wedding day, its still a big deal.
That is where zuriBelle comes in, Rotola Ogunye consults with brides all over the world to help them find their dream wedding dress. Rotola shares the zuriBelle story, tells us all about the wedding trends for 2010 and answers those burning questions that all intending brides want answered!
The zuriBelle Story
By establishing zuriBelle, Rotola Ogunye has been able to reignite her long love for bridal couture. Although she is professionally trained as an Engineer (Bsc Rutgers University NJ), and has worked in several leadership capacities at the largest telecom provider in the US, her passion has always been centered on every aspect of Bridal Design.
While completing her graduate studies in Management, working full-time in New York City, and planning her nuptials, Rotola found the continuous search for her desired bridal look a major strain on her time. "I had a certain vision and worked very hard to stay focused – time and in-store sample availability were the most challenging factors during this period."
In the following years, Rotola received many similar requests from friends now spread throughout the world. Like most brides-to-be, they had highly specific taste and limited resources in both product selection and time. After completing and sourcing several looks, the joy evident in each Bride was the confirming seal that Rotola needed to turn this untapped niche into zuriBelle. With the help and keen business sense of her Husband Deji, zuriBelle has become a strong force growing rapidly within the Bridal Industry.
Rotola's drive is to continue to positively impact and style brides internationally – "A woman's bridal style should be a true extension of her individuality, story, and aspirations. My goal with zuriBelle is to ensure that the realization of every bride's vision is completely uncompromised"
The zuriBelle Experience
The zuriBelle experience is very unique because of the dynamic nature of what we offer. We consult with brides on their entire look and work to tie this into the theme of their wedding. We have access to a large network of designers in different price ranges, and can direct our brides accordingly. We are extremely detailed in our consultations, and ensure our clients are completely covered from gowns, shoes, veils etc. Our philosophy is highly centered on staying informed on latest trends in the Bridal Industry, and ensuring a stress-free experience for our clients. We find ourselves planning other parts of our clients' weddings because of the high level of information, and expertise this team has. zuriBelle also caters to prom clients and provides stunning evening dresses.
Wedding Trends for 2010
Unlike a couple of years ago, where busy pick up skirts were huge, most designers are simplifying their designs by employing more of a vintage edge to accentuate woman's curves with flattering dropped waists and better fitted garments. Shorter dresses are also coming into play as reception dresses, and birdcage veil detailed with pearls, feathers, crystals are popular this year as well. The long cathedral veil was seen a lot this past wedding season but this new season we are going to be seeing a lot more of the shorter veils. This is a great compliment to the short dresses but also look great with formal gowns. Metallic toned dresses are also big this year for bridal parties (golds, grays, platinums, bronze etc).
Just Got Engaged! Now I Need to Find my Dream Dress
First thing is to give yourself time. It's surprising to me that many Brides that call the month before their wedding, having left this element of their day to the last minute! I still can't wrap around waiting so close to the date on such a Momentous event of one's life to get one's dress. In order to have all the options and not have to compromise, Brides need to remember that most Designers work on an average of a six month lead time. We're able to do short-notice orders, but in those cases, we're limited to in-stock items etc. Also, do your research by visiting different websites (i.e. brides.com, sugarweddings.com, etc and stay true to your aesthetic identity. Also, trust your instincts and stop dress shopping once you've decided and bought your gown.
Price Points
We've sold dresses over $5,000 and we've also sold dresses in the $1,000 range. Our most common price range is $1500 – $2500.
Do I Look Beautiful in This?
We try to be as honest as possible to our clients. We truly become like friends to most of our clients, and work so closely that they comfortably trust us in this regard.
Covered Up and Chic
Churches are getting even stricter with brides as its great that brides now have several stylish alternatives. Fancy shrugs are huge this season for cover ups. We stock different options such as boleros, embellished tailored wrap-around jackets, etc. We research cover ups that will accentuate the gowns our clients are in and not just cover them up.

Popular Brands
Brands like Pronovias and Maggie Sottero are very popular among Nigerian and Ghanaian Brides. Maggie Sottero uses a lot of the Bling Factor, so I think the appeal lies in that. Many Modern Nigerian and US Brides are going with Pronovias because of their focus on accentuating women's curves.
Dress for Rent?
I understand the financial appeal but not a huge fan of rental. Most gowns have been altered to accentuate the individual bride. In most cases, you can tell when inadequate/no alterations have been done to a gown. With rentals, it'll be difficult and almost impossible to continually do alterations effectively. There's also a romantic/intimate attachment of brides with their dresses, and I feel renting something worn by someone else takes some of that intimacy away. There are so many dresses across different price points, you will be surprised at what you can find.
Mum, the Bride and the Wedding Dress
Your Mum has most likely dreamed of Your Wedding since your birth so try to find a happy medium. There's a comforting/satisfying feeling when a Mom looks at a Daughter on her Wedding Day with pride and adoration. It's just the thing she needs while embarking on the journey ahead. I therefore think it is important to please Mum too (within measure). So be honest with Her, but also keep an open mind – Some Mom's have great style too! ….and of course always be respectful when breaking the news, because you ultimately have to be happy with your look.

After the Wedding
So wedding day is over, flew by didn't it? Probably by the end of your wedding night you couldn't wait to get out of that heavy dress and you were just over it from being so tired! Then the next morning you see your beautiful dress laying there and you think "Awwww I want to wear it again!" . Well you could consider doing a photo session afterwards with your dress, something more casual and fun. A lot of brides are starting to do "trash the dress" photography sessions after the wedding. You don't have to literally trash your dress but it's a photo session where you can go out in a much more relaxed environment with your husband and have fun taking pictures with your dress. Whether it be rolling around in the sand at the beach, jumping into a pool or the ocean, some couples choose to get extreme with this session and actually do trash the dress, but you can pretty much go to whatever extreme you feel comfortable in! You can consider taking your dress with you on honeymoon and most resorts will have a photographer on premise and do a photo session at your location! Another more rewarding idea that I personally prefer is to donate your Dress to someone less privileged! Zuribelle is working to begin a charity program, to encourage brides to donate their dresses to the less fortunate. I also know many people that re-sell their dresses to consignment stores.
From Idea to Business
In order to create zuriBelle, I had to increase my general knowledge of Bridal Design and continually stay abreast of trends in the industry. I regularly attend events such as the National Bridal Market, Bridal Fashion Week to stay
informed. A key part of what we do is Customer Service which I've learned from my previous corporate work experience, and educational background in Business Management. The key is to continue to remain current and connect with my clients to help them creatively. We have also established Retail Partners in Nigeria and in the US who can take orders, share our catalogues, and give more information in regards to our products. We are also currently in talks with some great African Designers such as Kosibah, looking to offer their master pieces to our clients. It's a growing process, and although we're happy with the progress we've made, there's still a lot of room to expand. Finally, we have established the zuriBelle Design Suites to increase intimacy with our clientele; at these events, our clients will be able to view Gown and Accessory Samples, ask questions, get ideas, in a comfortable and contemporary environment. The ultimate goal is to provide a luxurious bridal experience to our clients all over the world.
Advice for Brides
Keep an open mind, never forget the joy of the day, and don't be afraid to be unique. I get some Brides that ask for the same dress that they saw on someone else – not a good idea – It should be all about YOU. Please give yourself time; Your dress should be one of the first things to handle, not the last. Remember that it's an expression of who you are, and you don't want this to be compromised. And – Call zuriBelle! You wouldn't be disappointed.
zuriBelle hosts their first Design Suite in Lagos. This is your chance to get personal attention of the fashion experts in putting together your wedding, evening or prom ensemble. Enjoy exquisite sample selections from the 2010 collections of world acclaimed designers such as La Sposa by Pronovias, Winnie Couture's Diamond Label, Priscilla of Boston, Allure, Jovani & More. This luxurious event will also feature gorgeous shoes, accessories, and decadent sample treats and cake consultations by the lovely Tayo of Buttercups.
Space is limited. Appointments are being scheduled (highly recommended). Please call/text 08033341358, email [email protected], or facebook page (zuriBelle) for an appointment and to register on our guest list.