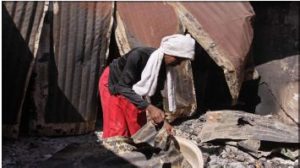 The situation in Jos is simply tragic. Someone needs to explain exactly people have decided to slaughter their Nigerian brothers and sisters because we can't seem to find any plausible reason. Some Nigerians have started putting together various schemes to get much needed relief to Jos. Here are some below. Email us if you have a legitimate scheme that will help bring relief material and funds to Jos.
___________________________________________________________________________________________
Help the survivors of the Jos massacre by sending your donations to www.laserenegivesback.eventbrite.com. Visit our facebook events page to see how past relief missions were conducted. All proceeds will go directly to providing much needed relief materials to those who need it most.
FACTS
* January 2010: 460 left dead in ghastly clash between Muslims and Christians
* March 2010: Over 400 people, the Fulani massacred mostly women and children in retaliation for the January riot.
* The government is yet to prosecute the perpetrators of this crime
* Relief efforts are almost non-existent
* Survivors need the most basic amenities such as food, water, mattresses, bed sheets, pillows, mosquito nets, medical care…etc.
* We need to do something to ensure that this does not happen again.
**Disclaimer: very gruesome pics inside, but this is the reality the survivors are living in today**
To view more pictures of the situation in Jos, please visit this website: http://www.anglicandioceseofjos.org/dogo.html
These survivors do not just need your money, they also need your prayers and support.
For more information, or if you are interested in volunteering, please contact us at [email protected]
Give with a generous heart…Thank you!
___________________________________________________________________________________________
THE EVENTS
""United through Adversity"" is the theme of the events we have put together to spread our message of Unity as well as raise awareness and assistance for those affected by the recent violence in Jos.
There are a number of events we have designed to ensure we achieve our objectives of creating awareness, spreading this important message and directly help those affected by the violence.
– Celebrity Paintball Competition
– Benefit Concert
– ""Drive to Jos""
– Benefit Song/CD
1. CELEBRITY PAINTBALLING COMPETITION
We shall arrange a celebrity paintball competition and promotional event at Gorilla Games at Abuja Gardens – the first ever paintball facility and event in West Africa. This is an event designed to create interaction between the celebrities and their fans. Gorilla Games have pledged to donate a portion of the proceeds towards the ""United through Adversity"" campaign.
2. BENEFIT CONCERT
This event is to be held in Abuja, our nation''s capital and will feature a host of talented and established artists willing to lend their voice for the cause. Our aim with this event is to spread our message, raise funds and donations for the people affected as well as raise awareness using entertainment and the power of celebrity to connect with and unite different generations of Nigerians for a common cause.
Scheduled artists
Nigeria''s acclaimed: Tuface Idibia, Asa, Nneka, Dbanj, M.I, Chocolate City, Jeremiah Gyang, Show Dem Camp, Lami, Sound Sultan, 9ice, Banky W
Plus, new artists: Lynxxx, DK, Benny P, Pype, Beazy, Timi Dakolo Opportunity for other artists and record labels to show case.
3. ""DRIVE TO JOS""
After the concert and other activities, we intend to embark on a ""Drive to Jos"" with all interested parties. It will be a delegation of artists, performers and people with a philanthropic persuasion who will all drive to Jos on a tour bus to Jos.
The entire journey to Jos will be filmed both on the tour bus and in the city itself.
Aim of Jos visit:
1. To go and see first-hand the damage created in the city of Jos as well as visit and supply aid to some of the settlement camps in the area.
2. To arrange sensitization panels and promote the message of tribal unity. ""United we stand divided we fall"".
Note: ""To divide and conquer"" was the standard practice of the colonial masters.
4. BENEFIT SONG AND BENEFIT CD
1. The artists involved will contribute material for a CD that can be purchased online. Proceeds of which will in turn go towards helping the displaced and homeless.
2. We will work with all artists that participate in the concert and trip to Jos to produce a theme song. This song will reach out to all Nigeria entertainers (in a similar way to the remake of the Marvin Gaye song ""What''s going on"" and Michael Jackson''s Heal the World""). The video will feature footage captured from the philanthropic works done in Jos.
V. HOW TO GET INVOLVED
We are calling on all concerned citizens and organizations to get involved in spreading this message of peace and unity and to actively support us in our endeavors:
DONATIONS
There are a number of ways donations can be made and we ask you to please support us ''in cash'' or ''in kind.''
Extremely important to the cause are cash donations. These will be directly used to purchase Aid materials and develop sustainable programs for the residents of Jos. CASH DONATIONS of at least N2, 000 can be made in cash to our representatives (delivering this signed letter) or by cheques payable to Dojoes Management Ltd.
""IN KIND"" donations can be food stuffs, blankets, building materials etc for the people of Jos
OR
Even accommodation/hotel rooms, airline tickets and or transportation for the Creative Talent foundation team as we go cross country to promote our cause.
INDIVIDUALS
Individuals can donate cash or cheques to Dojoes Management Ltd.
All donations will be recognized and some donors who feel passionately about the cause will be interviewed.
ORGANIZATIONS
Sponsorship – Corporate sponsors and co-branders- can work with ""United for Adversity"" as part of their Corporate Social Responsibility endeavors.
Financial donations
Media partners
Airline and hotel partners
Eateries and other sponsors
————————————————————————————————————–
BRANDING OPPORTUNITIES
1. Branding of paintball venue
2. Branding of Concert venue
NOTE: Venues will be filmed by local and international stations
3. Branding of T-shirts
4. Branding of benefit cd cover
5. Branding of Tour bus from Abuja to Jos – features in all filming
6. Feature at Press conferences
7. Name affiliation and public promotion of partnership with ""United Through
adversity"" campaign.
8. Possibility of backdrop branding in music video
9. Formal recognition to contributors in all event promotion material
Please work with Creative Talent Foundation and our partners:
Dojoes Management Ltd
&
AIPA
To ease the pain and suffering of others in an effective and
innovative way, ensuring that we are
""United Through Adversity.""
Contact:
E-mail: [email protected]
Tosin Adefope-07064455978
Inusa Ubby- 08037015830
___________________________________________________________________________________________
I'm on a Fulbright teaching programme in the US which started in August 2009, and I've been blogging at www.ktravula.com since then. The fund-raising project idea came up in January when I printed the first one of the many photos I've taken of places, people and structures since I arrived in the United States. I'm now auctioning copies of them online with proceeds going to Jos and to Haiti, depending on where the donor wants. So far, since the donation drive began, we've raised $230 (all for Jos) that has already been sent to the Nigerian Red Cross through Access Bank, Nigeira, to help in their relief efforts, and we are in negotiations with Western Union in the United States to make Money Transfer to Jos free of charge as they did for Haiti and Chile.
THIS IS HOW YOU CAN HELP
* Follow Western Union on twitter (http://www.twitter.com/westernunion) and facebook (www.facebook.com/westernunion) and send them tweets and wall posts requesting and pleading that they make money transfer to Jos free of charge from the United States for this limited period of time so that relief can come to surviving victims and their families. Western Union did this for Haiti and for Chile so they can do it for Jos as well, and not only because it is the humane thing to do, but because it fits with their erstwhile dedication to helping conflict zones in the world. If this is done, it would make it easy to assist the Red Cross in Nigeria with finances from this distance without losing much of the money to transfer fees. If even only a dozen people per day tweet and send them Facebook wall posts of earnest requests, it will make an impact and they will eventually budge.
* Go to this page now to see how you can donate and get an artwork for free courtesy of the blogger: http://www.ktravula.com/ktravulaid-for-haiti-for-jos/
* Pray for Jos.
Kola Tubosun is a Linguist on a Fulbright FLTA programme at the Southern Illinois University Edwardsville (Illinois). USA. The twitter page for the blog is http://www.twitter.com/ktravula
___________________________________________________________________________________________
The Nigerian Red Cross/Crescent have set up a Jos relief fund, to which you can donate directly:
ACCOUNT NAME: NIG. REDCROSS SOCIETY – JOS CRISIS RELIEF FUND
ACCOUNT NAME: 0430010005230
SORT CODE: 044080439
BRANCH: ADETOKUMBO ADEMOLA BRANCH, ABUJA
___________________________________________________________________________________________
Industry Nite for Jos
Hypertek Ent/ Now MusiK & G.I.I.V.E Inititaivie present The King of Contemporary 9ja Music 2face Idibia Live in Concert @ Industry Nite! 17/3/10..
Gate Fee: Clothes , food items, Money any thing that can benefit our brothers and sisters in Jos!!
Date: Wednesday, March 17 2010
Time: 7-11pm
Location: Tribeca, Victoria Island (Opposite Eko Hotel) Lagos Nigeria
___________________________________________________________________________________________