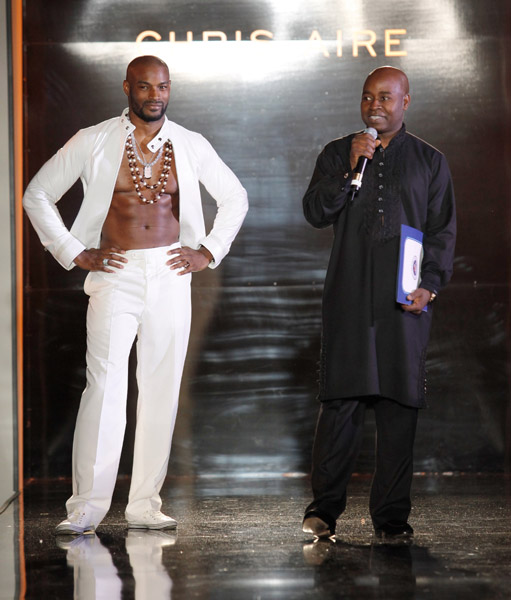 Jewelry designer Chris Aire unveiled a new limited-edition collection of Nigerian gold and gemstone jewelry at an exclusive event in Beverly Hills, California on the 7th of April 2010.The new collection dubbed the "Hollywood Glamour Collection", was inspired by the concept of bringing Nigerian jewels to the world stage. The idea was conceived by Chris Aire and supported by the Nigerian Ministry of Mines and Steel Development including immediate past Minister of Mines & Steel (now Minister of Petroleum), Diezani Allison-Madueke.
The designer behind Chris Aire Fine Jewelry and Timepieces, Aire is using his new collection to pay homage to both Hollywood glamour of the 1930s and '40s, as well as his homeland of Nigeria.
The collection features pendants, necklaces, earrings, brooches and cuff links rendered in gold with gemstones farmed in various regions of Nigeria.
According to Chris Aire, "The purpose of my partnership with the Nigeria Ministry of Mines and Steel is to bring attention to the vast and largely untapped gold and gemstone resources in Nigeria, which I hope will stimulate investments and create jobs to provide additional revenue sources for the country," "All of the materials in my collection were mined adhering to the highest standard of world labor laws."
Pieces in the Hollywood Glamour Collection have been crafted in white, yellow and red gold, the latter a signature metal among Aire's designs. Meanwhile, the designs sparkle with a rainbow of gemstones, from emeralds, sapphires and amethysts to garnets, citrine, quartz, tourmaline, aquamarine, morganite and topaz. Pieces range in price from about $500 to $45,000.
Supermodels including Jessica White, Tyson Beckford and Noemie Lenoir modelled the pieces while celebrities including Oscar winner Adrien Brody, Elise Neal and Eva Marcille attended the event.
The event was hosted by hosted by Cedric the Entertainer while Nigerian superstar, D'Banj gave an entertaining performance. Robin Thicke was set to perform as well, however, he had to cancel as his wife, actress Paula Patton gave birth to their first child (A baby boy named Julian) earlier in the week.
The event also featured a silent auction offering limited-edition Chris Aire pieces, with proceeds benefitting the United States Association for UNHCR, a nonprofit that supports the United Nations Refugee Agency's humanitarian work to protect and assist refugees around the world.
Red Carpet
Video from the "Hollywood Glamour Collection" show courtesy Fashion TV

Photo Source: Zimbio
News Source: Chris Aire & National Jeweler