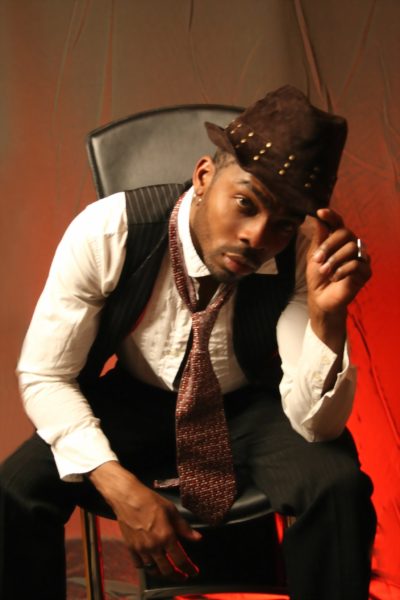 Here at BN we draw attention to people who are doing something extra in their careers and Tori Famuyiwa is one of them!
Currently a resident of New York City, and with a resume full of notable work experience and accomplishments in the fashion retail industry, Tori left the corporate world and his job at Victoria's Secret as their Visual Director where he worked with all the super models in all the campaign's between 2008 and 2009 in search of something more.
It was his thirst to be independent that led him to a job in the fashion industry while as a student, and because he was doing what came naturally to him, he was able to successfully joggle between work and school and gradually climb to the top in his career where he proved he indeed had 'Something' to offer.
Styling was something he picked up somewhere along the way, but it soon became a passion of his which he is looking to pursue full time as a fashion and personal stylist with the anticipation to expand his territory by going transcontinental and dipping his foot back in the pool of Nigeria's growing economy.
Filled with excitement for what the future holds, and with the plan to come back home and contribute his expertise to the Nigerian fashion Industry, BN talks to Tori Famuyiwa on the journey so far and life after Victoria's Secret.
How it all began:
Ijeoma Ndekwu: What was your first job?
Tori Famuyiwa: My parents sent my elder brother and I to the US after I graduated from the International School Ibadan (ISI) in 1994. We lived on the Eastern Shore of Maryland and this was where we attained our first jobs without the knowledge of our father who didn't want us working so we could focus on our studies. But we were itching to be independent like the young adults we watched on TV shows like A Different World. I got a job at Kmart and because I started out in a community college (Chesapeake College) it helped ease my transition into my new environment and I was able to balance work and school. In Kmart I didn't work in the fashion department but I managed the garden shop, electronic department and the hardware department during my year there. I put flair into my visual displays, which my supervisors observed and mentioned that I had 'something' but they couldn't quite put a finger on it.
Work History:
IJ: When did you start working in the fashion retail industry?
TF: After getting my Associates of Science I transferred to Towson University in Baltimore, Maryland and that's where I got my first taste of the fashion world. I started working at Eddie Bauer as a Sales Associate and within 3 months they made me a Visual Specialist. I was responsible for implementing window changes, was part of the team that flipped the store out seasonally and lastly, I had to teach the rest of the staff the company standards. Thing is, it all came very easily to me; I went to school 4 days a week, worked 40 hours/week and studied at night after getting off from work which was usually after 11pm. Eddie Bauer's market share started to decline and the hours were no longer available so my boss went to American Eagle and grabbed an application for me. It was a brand new store in the mall and she knew there was a guaranteed hire. I was reluctant about applying because it was not my style at all but I did anyways. It is one of the best decisions I've made as it changed the course of my life.
IJ: How was it like working with American Eagle?
TF: I started out in American Eagle as a Sales Associate and Visual Specialist in 1998 and within months I was made a Key Holder and Visual Supervisor. This position required I carry out the roles I did at Eddie Bauer and a whole lot more; from opening and closing the store to training Associates and Managers in all the Baltimore locations on how to run and maintain the ultimate visual standards without compromising sales. Soon word got out to the District and Regional Managers on the impeccable visual standards I had set.
IJ: You were at University while working with American Eagle, what happened after you graduated?
TF: After graduating with a BSC in International Business and a Minor in Economics, I decided to attend George Washington University, Washington DC to get a Masters in International Business which was something I loved. However, American Eagle offered me a job in their new 3 story flagship store as Head of the DC shopping area in George Town. I took the job and didn't get to start my Masters program. It was a whirl wind working in this location because I got unexpected exposure to all the big heads in the company and I was promoted to the District Visual manager where I serviced the Tri-State Area (Maryland, DC and Virginia). Things were rough and crazy but I maintained my very high standards and was able to get results which impressed the powers that be and was asked to move to New York to open their first true urban store.
IJ: Why did you decide to leave American Eagle?
TF: After 10 years of servicing the company I decided to hang my hat and left while I was the Regional Visual manager for the New York metro area. By the time I left the company I had opened all their flagship and high profile locations all over the country and also in Canada. I left because they kept putting off my job as the International Visual Merchandising Personnel and I didn't feel like I was growing or challenged anymore so I sort out refuge in Victoria's Secret.
IJ: So when did you pick up fashion and personal styling?
TF: It was when I moved to NY I started freelancing as a Stylist and Visual Merchant. Because of the way I presented myself, I was constantly asked by models to put looks together for them for their portfolios. I did it then because it was fun and I got to make great money on the side. I didn't realize that it would open up doors to do more work as a stylist.
Working with Victoria's Secret:
IJ: How long did you work with Victoria's Secret?
TF: I was with Victoria's Secret for a year and two months as their Senior Visual Merchandising Manager/Visual Director (in charge of flagship development and branding).
IJ: What were the roles attached to that position?
TF: My role was to hire the best talent to give Victoria's Secret an edgy and elevated look while working on a new branding strategy. The goal was to appeal to a wider audience while not losing the current market share they had gained over the years. I was to show them how to run an effective high level calibre flagship location ($40 million/year) and then roll out our earning's to the new concept stores we were planning on opening in New York, Hawaii, Chicago and London.
IJ: What was the experience like?
TF: The job was very demanding but I love a challenge and was prepared for battle. I was working 7 days a week from home, the office, the store, on vacations, during dinners with friends, you name it. My work blackberry was on hyper alert and things didn't taper off till 8 months into the job. I hosted and set up all the events with the super models and every single one of them was an amazing success, all the events were televised and/ or published for press. When I started with Victoria's Secret, I experienced a culture shock which I was prepared for but a lot of my superiors had a difficult time adapting to my cut-throat style of management. I didn't suck up to anyone nor did I sugar coat anything that had to be said but I was tactful. That's the beauty in starting at the bottom and working your way up, I never forgot where I came from and I carry that with me. Eventually after I had put in my expertise in opening and running a flagship location, like a well oiled machine they decided to let me go.
The Journey home:
IJ: What made you consider moving back home?
TF: I am thankful for everything I have been able to do up to date and I don't regret any decisions I have made. I decided to come back home because I feel its time. Our generation is doing some amazing things back home and the advancements in a socially progressive direction have been overwhelming but remarkable. In the past our biggest export was the "brains", now it's our Nollywood movies. It's time we bring those exported minds back to help take our country to the next level. I want to be a part of this movement.
IJ: What are you bringing to the Nigerian Fashion industry?
TF: I can make a difference in our growing economy my by bringing a touch of finesse to what exists already. I feel there is some opportunity with styling in our movie and music industry and I want to be able to get our talent to an international competing level. I also want to bring our culture main stream and let people be aware that we are just not a country of touts and terrorists.
IJ: So what's next for Tori?
TF: I am still styling and I am working on getting in contact with some of the major Nigerian artists to start working with them and their wardrobes while developing my own fashion line. I hope to be in Nigeria this fall to do some on ground networking.
To view more of Tori Famuyiwa's work: Visit his website