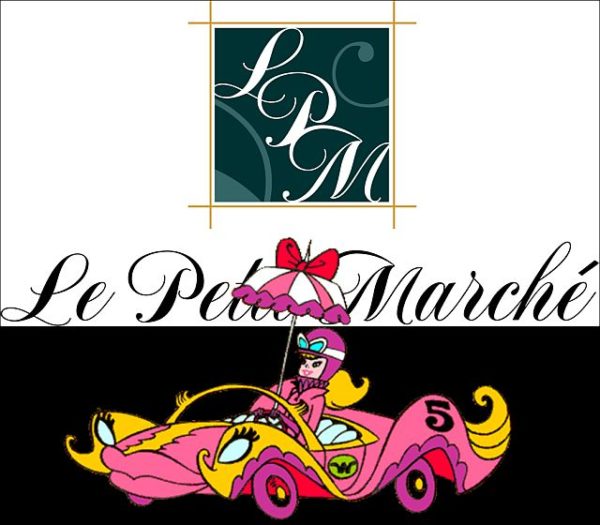 'A piece of the famous London Portobello Market in Lagos' – Le Petit Marché
Lagos' favorite fashion & lifestyle market is back with a BANG this month, LPM has moved house to the uber-fab GET Arena, Lekki! To celebrate they are giving our shoppers an opportunity to Kart and shop!!! LPM will be giving away prizes to the fastest male and female kart-ers!
There are so many shopping options!
Fashion: From independent to high street, hottest trends to vintage; men, women and children will be catered for.
Experience: GET ARENA on the 25th of April 2010 from 12 noon till 6pm. – GET offers a combo of the BAR n GRILL, The G Lounge, GOONIES kids, surrounded by the one of the most sophisticated GO Karting tracks you will find anywhere!!
With an excellent menu, awesome cocktails and great music, who says shopping can't be social?
Shopping: It's not just about the clothes. Home essentials, accessories, hair and beauty products are stocked at Nigeria's number one Fashion and Lifestyle Market.
All vendors are given a display space where they present and sell their collections themselves. Vendors are selected according to the originality and quality of their products.
The goal of LPM is to position itself as a respected fashion establishment in Nigeria, not only for end-consumers, but also for fashion merchandisers, editors, trend forecasters etc.
So follow the yellow brick road to GET Arena and get your SHOP ON!!!
Come and enjoy the last Sunday of the month with Great STALLS…great MUSIC…great PEOPLE…and Great FOOD!!
For more information about Vendors, stalls or general enquiries please email us at [email protected]
Here is a brief re-cap of some of the vendors to expect this month

High Street – Every store on the high street and then some…Dresses, tops, shoes, bags and more
Grey – Great wearable clothes designed and made by the 'Boy and Girl' of Grey
Akpos Okudu – Romantic, flirty, feminine dresses in lots of bright colours; for the woman who wants to be elegant and confident without losing her soft feminine
Trendy tots – Children's clothes (Newborn to 5 years)
Megatrim – Here at Megatrim corset, we are totally dedicated to waspies and girdles. We pride ourselves upon high standards of the finest quality hooked up corsets and first class customer care. Megatrim waspie is an amazing piece of shape wear. It is basically a very wide rubber band that you fasten tightly around your waist instantly reducing the size of your waist, midriff and tummy.
Megatrim waspie is flexibly boned, which means it should mould itself to your body and not roll up or down. Due to the strength of the fabric and the boning the waspie is also very supportive and so helps with correcting your posture and easing lower back pain.
Lagos Look – Classic Vintage dresses, skirts and tops. For a lady who has style, loves colour and wants pieces that will never go out of date.
Gemrock – Ladies, the time is right to infuse a touch of that Gorgeous Bling into your lives.
Who said the credit crunch had to mean a girl couldn't have her cake and eat it. With our affordable, delicately hand crafted creations you can be the belle of the ball, office or any other soiree a girl chooses to flaunt her rocks at.
Come join us for a Blinging afternoon of Stunning Jewels, Inspirational Chatter and the Launch of GEMROCK…..an explosion of colour, fabulous stones and all things that sparkle that is sure to light up your day.
All that glitters is certainly gold standard excellence with us at GEMROCK.
Each piece has been handcrafted with uniquely sourced exotic beads.
Every single piece is a one off…tailor made for you. Luxury goods at affordable prices.
Platinum and RedGold – Caftans, Evening Shoes, Bags, Clutch Bags, Dresses (Evening Wear), Jeans, Sandals, Covered Shoes, Belts, Perfumes.

Livinia – Livinia Accessories is one of the hottest jewellery outfit in Lagos and we are known for stocking unique and exotic jewellery at very affordable prices. Our jewellery accessories include brooches, earrings, bangles, bracelets, hair accessories, rings and necklaces and they are all smoking HOT!!! Livinia have participated in shoots with Genevieve, True Love, Élan (next), Side view, Exquisite etc.

Stephen and Sarahs – A spanking new brand of Chic, Stylish and Comfortable footwear, produced in Italy from the finest leathers and skins, made especially for you to suit every occasion.
The Closet – Low cost fashion basics; summer dresses from N3, 500
Bebe Graffiti – BebeGrafiti designs ethnic clothes for children ages 4 years to young adults. Each design is geared towards encouraging children to embrace African culture through fashion and view it as hip, trendy and fashionable for the 21st century.
Our mission is to be a trendsetter in childrens wear by providing popular, innovative, edgy and ethnic pieces that effectively help the youth find their unique cultural voice. BebeGrafiti successfully captures the vibe that our youth will go for. No doubt, fashion is the safest sort of rebellion.
Home essentials – We sell a wide range of home products such as vases, flowers, yankee candles, figurines and so on. We sell both wholesale and retail and we do party souvenirs for birthdays, weddings etc.
SoSmith – From the tanneries of Kano, SoSmith brings you the best of Nigerian leather accessories, including bags, clutches, wallets, cheque book holders, belts, cuffs, etc. Designed with simplicity in mind, using the best and most unique leather pieces, the SoSmith range will be a great addition to your collection and are also great as original gift ideas
My dazzle – My dazzle jewelry is handmade, custom made, and custom fitted. Using mainly beads, gold filled accessories, sterling silver and semi precious stones. It offers choices of necklaces, earrings, bracelets, anklets, belly chains, rings and all round body jewelry

CAM CAM Sweets – Confectionary UK and Retro sweets (Haribo, Swizzels, Wham bars, Sherbet etc). Sold in a variety of selection packs of 150g, &500g ranging from N800-N2,000.
Didi Isah by Didi Ocheja – Lifestyle accessories, handcrafted leather goods and jewellery.
Pearl Shop – The pearl shop is an accessories store which specializes in hand – made pearl and gemstone jewellery. We offer pearl jewellery of the highest quality and at a competitive price. Most of our pieces are one of a kind.
Fashion for Life – Clothing is a fresh spin on your timeless classics. The clothing line is exclusively couture, featuring fabrics and materials that in themselves carry a beautiful longevity and design.
Fashion for life has recently introduced a commercial men's line which embodies the afro centric classics, featuring the most exquisite embroidery ever un-imaginable.
FFL also sources some of the most beautiful footwear from around the world,
EMBELL!SH ME – Embellishments for your fabric and tailored pieces in different colours, shapes and sizes. Use these pieces to embellish your neck-line, shoulders, waist-line, hem-line, sleeves and anywhere really…Bling it up, make it fabulous or however you like…..
There's something to suite everyone
Ladera Flats – Handcrafted slippers with an distinct afro-centric theme. They are all made locally from leather and no two pairs are exactly alike. We focus primarily on ladies slippers but we also make a small limited number of men's and can make for children but only on request. We also do special orders for occasions e.g. weddings, anniversaries, birthdays etc. Prices range from N1,500 to N5,000 for our standard designs. Prices for custom orders vary depending on the style and quantity but we do try to stay within our stated price range.
See You on Sunday!
___________________________________________________________________________________________
Sponsored Content