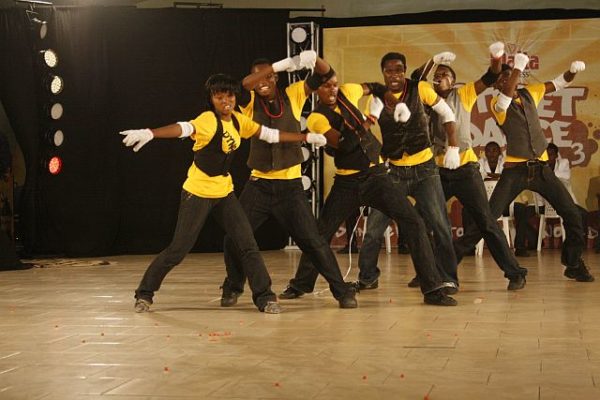 Following the weekly rigours of highly creative and "top of the world" dance step by different dance crews at Malta Guinness Street Dance Africa III auditions held at four regional locations across the country, all the top dance crews selected from the regions (Lagos, Benin, Enugu and Abuja) have arrived at the Malta Guinness Street Dance Africa season III boot camp.
The formal gathering of all the selected eight crews (two crew from each region) which comprises of "SONS OF LIBERTY and MARKSMEN" from Lagos, Abuja "EYE SIX ONE and WATCH IT", Enugu; "LEGACY and XFELLAZ" at the boot camp in Lagos, while in Benin City "FLAMES INSPIRED and SOULJA GUYZ" emerged as winners. All the eight crews for the first time met one another and socialized together under one roof which is the first of its kind in Nigeria.
These selected eight crews had to impress the panel of judges which is made of the dynamic trio, international renowned choreographer Wale Rubber, Kaffy who holds the Guinness World Record by dancing for three days non-stop and frankly speaking Frank, all had to use their wealth of experience in the selection of the final crews that made it to the boot camp.
Aside from the scintillating dance moves and breath taking stunts witnessed at the auditions from the competing dance crews, adorers of the brand Malta Guinness and Malta Guinness Street Dance Africa III are in for another round of "Top of World" performances. The performances to be expected are four dance-offs that are themed, which avails each dance crew at the boot camp an opportunity to showcase their ability to learn fast and creatively solve their assigned dance task.
However to assist these dance crews in perfecting their dance steps and choreography, widely experienced and South African choreographer Simba will be at the boot camp to lend a hand in ensuring that dance performances from any of the dance crew is World Class.
Viewers at home alongside the judges can play a major role in selecting the best dance crews by voting for their choice. Keep watching your favourite Malta Guinness Street Dance Africa III on the following Television channels:
NTA Network –  Saturday (1pm-2pm)
Africa magic – (DSTV) Sunday (5pm-6pm)
AIT Network – Tuesday (6pm-7pm)
STV Lagos – Wednesday (9pm-10pm)
STV Benin – Wednesday (9pm-10pm)
Galaxy Network (Lagos & Ibadan) – Thursday (8pm-9pm)
Mnet (West) – Saturday (7pm-8pm)
Visit www.mgstreetdanceafrica.com or Malta Guinness-Top of the World Goodness for more information and updates.