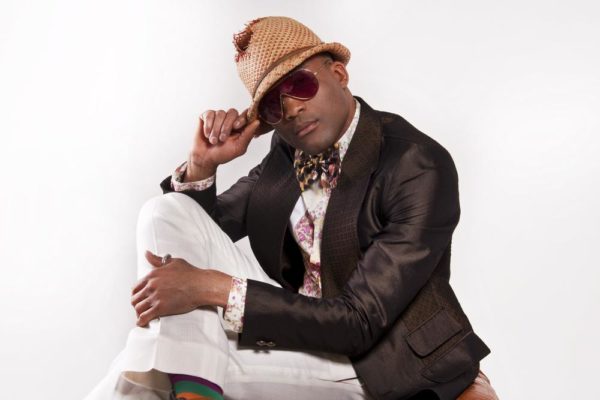 When avant-garde Nigerian designer Emmy Collins shutdown his flagship store on Awolowo Road, Ikoyi, he said goodbye to Nigerian Media and the Fashion Industry. And for the first time, since his decision to live in London full-time, soaking up the inspiration from the stylish cosmopolitan city ….he speaks exclusively to Bella Naija.com
As he reflects on his stay in Nigeria, Emmy talks and he leaves no room for inhibited territories. He openly discusses the Fashion Industry, what it should be and what the Nigerian Fashion Industry actually is; questioning the credibility of the industry's current professionals and laying out the structures that should be implemented if we intend to attain globally recognised standards.
Looking onto the future, there is a lot of exciting stuff in store for Emmy Collins. He is out with his current Spring/Summer 2011 menswear collection which we featured on BN, he recently made his second appearance at the prestigious Pitti Uomo Fashion trade show in Florence, Italy and then, there's the new London store getting prepped up for its debut!
It's all this and more with Emmy Collins! Scroll down for the full scoop:
Ijeoma Ndekwu: Why did you think there was a need to shutdown your Lagos store?
Emmy Collins: One thing I have learnt through experience is how to cut my losses and move on. I shutdown my store because I wasn't deriving any inspiration from keeping it open. I realised that I was getting stale in my ideas at some point and the longer I stayed in Nigeria the worse it became. Basically inspirations were not forthcoming from any quarter. In the UK, I could get inspired simply by walking down a street in the East End of London where there are numerous artistic individuals dressed in their skinny tattered denims and spiky hair or strolling into RD Franks at Titchfield Street or watching the fashion students in their quirky outfits. The noise pollution in Lagos and Nigeria in general just sucks out any inspiration you already acquired prior to getting into the country; it just wasn't the right environment for a creative mind such as mine to thrive. Shutting down was probably one of the hardest decisions I have had to deal with because I spent so much money and energy to launch the store. Secondly, it was supposedly an opportunity for me to rediscover my country after so many years of living abroad.
Now, I could be bitter but I am not, everything happens for reason and I believe that in this instance there is a positive reason. It has taken me a couple of years to be back on my feet again. I am a very determined and stubborn individual.
It was hard, excruciatingly hard at the time but I am glad I took the decision because my career seems to be back on track once more. To operate successfully in Nigeria, you need to be based full-time in Nigeria and sacrifice certain beliefs which I wasn't ready to do and will never do. I kept hearing phrases like "Na Naija Now" every time something negative happened and at some point I swore I was about to go berserk if I heard it one more time. To think that we equate that phrase with mediocrity worries me and I didn't want to be part of it anymore. I feel lucky that I have certain options.
IJ: For the while you were in Nigeria, what do you think of the Fashion Industry?
EC: Wow, what do I think about the Nigerian Fashion Industry?
I could give you the usual cliched answers by saying things are all rosy in the industry, we just need to improve a little but then, I won't be expressing my opinion correctly so I'm going to go out in a limb and tell you the truth as I see it. I know some egos might be bruised by what I am about to say and I might generate some hostility from those who prefer to sweep things under the rug. This might hurt but then it might be what we need to propel the industry back to the right track.
The industry is being run by individuals who know less than nothing about fashion. I mean individuals whose names should never be used in relation to fashion and they know how limited their knowledge of fashion is hence they get a bit edgy and antagonistic when they suspect you are about to call them out. Models would walk into my store on Awolowo Road without any knowledge of their statistics, which is the least any model should know. I have come across fashion journalists who couldn't speak proper English attempting to interview me. Actually, I am happy that I am doing this interview with you guys because you are one of the positives coming out of the industry. I read your website and I must say I'm quite impressed with it hence, I am spilling  out my guts to you now. Since I left Nigeria I have never given an interview and I have been approached several times. When I left I was like, that is it, I am done with this and I'm moving on but then suddenly you realise that just by expressing your opinion you might actually help to make a positive change.
Unfortunately those that actually possess the talent and passion don't have the capital to set up a business and there is no scheme to offer them support as we have here in the UK.I must say I have been a beneficiary of such support schemes and it is always encouraging to know that someone somewhere wants you to be the best you can be.
The mindset at this moment has to be altered. The meaningless fashion shows and fashion awards have to stop and in its place, we should have a proper fashion week as I don't rate what is presently regarded to as a Fashion week. Watching images from these shows and Fashion weeks is always an excruciating experience for me because I know we are not harnessing the talents that abound in Nigeria. We are definitely better than that. I don't mean to offend the organisers of the present Nigerian Fashion Week or Lagos Fashion Week but I am entitled to my opinion. When the authentic Nigeria or Lagos Fashion week happens, even if it is not initially top quality but has potentials and with professionals running it, I will come down and show out of patriotism but, there is no way in the world I will go through aggravations for a show that is going nowhere, whose organisers in my opinion are not big dreamers and possess no passion. Organisers who are in it just for the money and no thought is spared for the designers and models whose talents are putting food on their (organisers) tables.
This is the time we need to sit back and ask why we don't have a Fashion Council in Nigeria to oversee the needs of the designers, models, photographers' et al. This council should be lobbying for financial support from the government if it will be used for the right purposes because fashion provides employment and is very global. It is an effective means to launder Nigeria's tarnished image abroad.
Let us sit back and ask ourselves why our models are all over South Africa modelling? In my opinion I believe it is an indictment on the Nigerian Fashion Industry that these models are abandoning their education to model in South Africa. The difference between the industry in SA,UK et al is that there are individuals who posses enough passion to fight for the industry as opposed to just looking out for themselves and until we have such individuals running the Nigerian Fashion industry progress will be stagnated. I know progress is relative so I'm talking from my perceptive. The individuals and organisations who claim to be working towards the improvement of the industry are actually the bane of the industry. They are just hoodwinking people. These organisations and individuals are simply there for what they can get.
I do apologise if this is not what people want to hear. I know there are some who would deem my answer to be unpatriotic or harsh. I may be wrong but this is how I see it.
IJ: What improvements need to be made to take the Nigerian Fashion Industry to the next level?
EC: The first thing I will suggest is the setting up of a recognised umbrella organisation such as Nigerian Fashion Council or whatever name it may be called with the sole aim of catering for the welfare of the photographers, MUA's, designers,models et al. This council should be tasked with the job of imparting accurate information into those who might be nursing the ambition to get into the industry. Another important task of this organisation will be to set a minimum standard which every designer, model, photographer must attain before getting any recognition. Knowing Nigerians as I do, once these standards have been set they will buckle up. Didn't the banks find N250 or was it N25 billion when asked to do so in order to recapitalise? We thought it was impossible but it happened. We need a Simon Cowell, the real bad guy who will look a model, designer or photographer in the face and say "sweetheart I do appreciate how much you want this but you are not good enough". Sentiments shouldn't have any place in the fashion industry. You are either good or you are not because this is one industry where mediocrity is easily visible.
There should be a proper channel for distributing information. The information out there at the moment is deeply flawed because most youngsters believe fashion offers easy access to fame, glamour and money but that is far from the truth. In fact the reverse is the case; unless you have a sponsor with a deep pocket and I mean DEEP literally, behind you, success comes at snail speed. It took top designers like Valentino, Roberto Cavalli, Dolce and Gabanna et al a minimum of 20yrs each to begin reaping the fruit of their labour. It is rough out there in the industry but it could be very beautiful and could also offer immense wealth and fame in the long run.
Secondly, we need to teach designers how important it is to pay more attention to detail and finishing. The first time I submitted a garment to be vetted, they spent like a second on the exterior and then flipped it inside out and then spent what seemed like ages before giving their approval. Also, we need to realise when less is more; having said that I must stress that I am not a minimalist by any chance. I don't possess all the answers but we need to start somewhere and fast.
IJ: You're launching a new store in London, what should clients expect from the store?
EC: Everyone who is conversant with my label knows what to expect already. An Emmy Collins store is somewhere you walk in to pick pieces that will make you stand out in a crowd but not in negative way. The pieces are quirky, elegant and of course wearable. Mine will be a small East end store with character! This is not your run of the mill store; I couldn't be mainstream even if I try so I just like to be me and keep it original.
Our womenswear range will be incorporated gradually into the range we offer at the store. Due to the fact that my fabric suppliers delivered my fabrics late, just few days back, I have decided to concentrate on decorating the store and deal with the womenswear at a later stage. We will also have a range of Emmy Collins London accessories such as bow ties, ties, cuff links, hats et al. I am considering offering bespoke suit services for men as well.
I know what it has taken me to be able to talk about having my own store so with that in mind I will be in the lookout for upcoming designers whose garments compliment mine to take up concession in my store. I know these upcoming designers need to display their designs somewhere and I will be willing to offer such opportunities.
The original idea is to make our clients feel special and unique when they dress in Emmy Collins garments. My slogan is "Never in vogue, never out of vogue", what I am saying in essence is that if something is not in vogue, consequently it will never go out of vogue. I will not be offering designs that are all over the place and out there. The reason behind this is that no matter how beautifully designed a garment might seem, the moment it is everywhere the quality is devalued. In this day an age of credit crunch every piece you buy should be an investment. You should be able to put it on seasons after and still feel stylish. Often times I have received compliments on outfits I was wearing and inwardly I was thinking "Oh gosh, I am still getting compliment on this outfit 8yrs afterwards". My three watchwords are ORIGINALITY, ORIGINALITY AND ORIGINALITY.
IJ: What's the ambiance you're looking to create in your new London store?
EC: The ambiance will be relaxed, lay back, warm and refreshing. I have finalised arrangement for a top Disc Jockey to come in during the weekends to play some good tunes. Expect to hear some happy house, old school soul, neo soul, and very little rap such as common. I love rap but never play them at a homely or working environment and I don't know the reason for that. Perhaps it is because rap is so now and I am kind of old school. (laughs)
As I did in my store in Lagos there will be colours, colours and colours but if there is anything I have mastered it is how to use colours in an elegant manner. We're hoping the launch party will be at Shoreditch House or somewhere equally fabulous.
IJ: You showcased your current collection in Italy, why not London?
EC: I showcased my current collection in Italy because Pitti Uomo,Florence is one of the major menswear shows in the globe today. It attracts major brands which in turn attracts the quality of buyers I need. However, next season I might check out another fashion trade show called Project in Vegas or Stitch which has been around in London for a few years now but is getting huge favourable reviews. Honestly, the stress of showcasing outside London is enormous so as soon as soon a menswear fashion trade that caters to need of my label comes up in London I will consider it. I love London and will definitely showcase in London. The fabric suppliers for my womenswear were very late this season hence I wasn't able to submit garments to be vetted against the London Fashion Week. Hopefully next season I will be exhibiting at the London Fashion Week even if I don't go on to the catwalk but catwalk is always the aim. I know I am good for the catwalk, In fact every Emmy Collins piece is ready made for the catwalk because they all strong pieces but hey sometimes we don't always get what we deserve in life for some reason however we have to keep on striving till we get what we deserve. I believe I will get what I deserve what I have worked for and dreamt about constantly.
IJ: Your collection was showcased at the prestigious Pitti Uomo Fashion trade show in Florence, Italy. How did it feel to be a part of it?
EC: It felt great to be showing at a great show such as Pitti where brands like Hugo Boss, Nichole Farhi, Baldersirni, Hugo Boss, Cesare Pacioti, et al have showcased at some point and some are still showcasing there. Shows like this is why am in this industry. I remember my mentor pointing out during a Fashion Business Management lecture that every Fashion Designer with a menswear line must aspire to showcase at Pitti Uomo and ever since then it has been my dream to showcase at Pitti Uomo. This is my second time here though; first time was June 2005 when I showcased my Spring/Summer 2006 collection.
IJ: What makes this collection different from your previous collections?
EC: This collection is different from the previous collection but has a few signature pieces infused in it. Pieces like my pin tuck/bib shirts and wide lapel jackets. In this collection there are more accessories like ties, bow ties, scarves, and cuff links. I have more natural colours and black as well in this collection. As always a lot of the inspiration stems from Fela and other seminal artist like Al Green, Jimmy Hendrix etc. But my womenswear collection which I hope will be ready soon is inspired by a gorgeous lady I recently saw at a friend's wedding in Lagos, Nigeria, of all places! (laughs). Earlier on in this interview I was complaining of never getting any inspiration from Nigeria so perhaps I ought to withdraw that statement.
IJ: The collection is dedicated to your late mum, Catherine. How much influence did she have in your idea of fashion and your personal style?
EC: As child growing up I always wanted to look good and my mum went out of her way to accommodate my taste from her meagre income. How I wish I could forward pictures taken when I was just in 2nd year in high school. She definitely had an immense influence in whatever I have achieved in fashion today as it all began from way back then. I feel so sad she isn't around to see the garments as I lost her last June and honestly there have been times I just wanted to pack it up simply because, the one person I wanted so much to say well done son isn't around anymore. Well that is life, you love them and then you lose them. I hope she is taking a well deserved rest now.
IJ: You have plans to visit schools in deprived neighbourhoods in Lagos to motivate kids, where does this passion stem from?
EC: This passion stems from my belief that with accurate information at their disposal and encouragement these kids will stand a better chance of pulling themselves out of poverty. As the saying goes "don't give a man a fish, teach him how to fish". Most of these kids are very smart but they need someone to motivate them, someone to believe in them, someone to tell them they can do whatever they put their mind to irrespective of the financial restraint. Finally someone to say to them "I wasn't born rich either but I don't sit around complaining, I am getting on with it" . They need to know that we can change whatever card life dealt us if we try hard enough. Sometimes all people need to push them forward is just positive words and not money.
IJ: What's currently in store for Emmy Collins?
EC: I have always wanted my own store because I am in a niche market and need somewhere I offer whatever pieces I fancy without being dictated to by the industry or stores and that is about to become a reality. Next in store for Emmy Collins is to get them into stores like Harvey Nichols, Harrods, Barneys, Selfridges etc. We expect Harvey Nichols to view the collection this July and I am discussing with a sales agent with the aim of getting other stores to come over to the showroom/store as we launch it.
IJ: Where do you see Emmy Collins-The Fashion brand in 10 years?
EC: The long term plan is to get Emmy Collins into the big stores in all the fashion capitals of the world. In 10 I see a brand that every Nigerian will take pride in. I want a brand that will be motivational to the kids and aspiring designers. It feels amazing to be representing ones country in the international scene. In the process of inspiring others I inspire myself.
Basically I see Emmy Collins as a successful brand that will demonstrate that you can keep your designs edgy and still be successful just as Vivienne Westwood has demonstrated already.
An Emmy Collins in Sloane Street, London or the 55th in New York wouldn't be a bad idea either. It's all about the mindset. If you want it so badly deep in your heart and you strive towards it, it usually happens.
W: www.emmycollins.com
E: [email protected]