Our Wedding Story is our treasured wedding feature on BellaNaija.com
It is a beautiful journey through the wedding experience of our special couples.
Krystal Orji and Dike Ogwuru were joined in holy matrimony on the 5th of April 2010. Their journey towards marriage can only be described as ordained, as you will see from their story 'It was written'.
Here is Krystal & Dike's wedding story.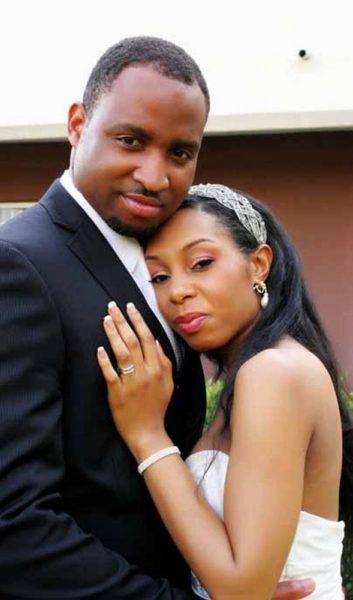 How Krystal & Dike Met
We met summer 2007 through a mutual friend. Beautiful bride Krystal shares that, "I have to admit that it was not love at first sight for me because I just thought…It would be such a perfect match that it definitely can't happen because that will be too good to be true!"
After seeing again about two times, they talked and they clicked! Krystal still thought "No! Too good to be true. One morning a bell just rang in my head and I said this is my husband. I called two of my friends and I told them and they laughed at me and said I should get serious. They too were probably thinking.. Too good to be true"
Dike knew that Krystal was 'the one' ! That day was the beginning of our unstoppable escalating romance that led to our everlasting union.
The Proposal
In their romantic two year courtship, Krystal & Dike shared their love for travel and adventure. They explored all the restaurants within their reach and traveled to several exotic locations for vacations. Krystal always told Dike, "When you propose, I want it to be a surprise. Don't take me on any trip, don't plan anything special that will make me suspect this is the day!"
A surprise, a note, a ring and a YES!
On July 11 2009, I was still in bed sleeping and Dike came into my room looking a bit fidgety, and I thought to myself "doesn't this boy sleep?" He then gave a speech with the most touching history of our relationship and then brought out a crumpled paper with some dates written on them. And I still was a bit confused and I had no idea what was going on. I then realized that the paper was a game we played very early on in our relationship in 2007 where we each wrote down on a piece of paper the dates we expected to get engaged, get married, have a baby etc. And then he pointed to the date he wrote down that he would propose and then went on how he knew even then that I was the one,  he brought out the most beautiful ring I had ever seen and then asked me to be his wife! You can imagine the rest…
____________________________________________________________________________________________
The Wedding
Date: 5th April 2010
Venue:
Church – Our Saviours Church, Onikan, Lagos
Reception – The Law School Auditorium, Victoria Island, Lagos
Colours: Lavender & White
Reception Theme: Winter Wonderland
Bridal Makeup: BMPro
Event Planners & Decorators: Oaken Events
The bride, Krystal was absolutely beautiful in her strapless white wedding dress with an elegant sweetheart neckline and a sweeping train. She was simply stunning! Her intricate crystal and pearl headband, lace bolero (for the church service), veil and crystal and diamond earrings and accessories completed her look. The groom, Dike was dapper in a classic 3-piece suit paired with a white shirt and pocket-square. His groomsmen were in black suits with lavender ties which complemented the bridesmaids strapless knee-length purple dresses while the maid of honour was a pretty one-armed floor-length red dress. Their church ceremony was simply emotional as Krystal & Dike affirmed their love and commitment to each other.
Krystal & Dike's wedding reception was stunning! Wall to wall, pillar to pillar, the venue was completely transformed by Oaken. With draping completely in white to the lavender mood and fairy lights creating a dreamlike effect.
The walkway recreated a stroll through the woods on a winter day with the frosted branches and snowy feelers with candles, an all-white floor and the pond with floating candles and petals. The most amazing finish to the wonderland feel was the stage; From the snowflakes to the lavender coloured lights screened by intricately designed glass. A perfect place for the new couple.
The reception was as beautiful as it was fun as the couple and their family and friends danced and celebrated the new union.
Congrats to Krystal & Dike, wishing them a blessed and happy life filled with everlasting love.
An Everlasting, Destined Love
After our wedding in April when we returned back to the states, he once again brought out his piece of paper and showed me where he wrote April 2010: Our Wedding…
Of course I threw away mine the same day and didn't give another thought to it. Thinking he's just pulling my legs and things will happen when they happen but he kept his sheet of paper and stuck to every promise he made that day in 2007 and that made me realize he is truly too good to be true, and I am lucky to have him!


Traditional Wedding
Krystal & Dike's traditional wedding took place in December 2009 in the bride's hometown.