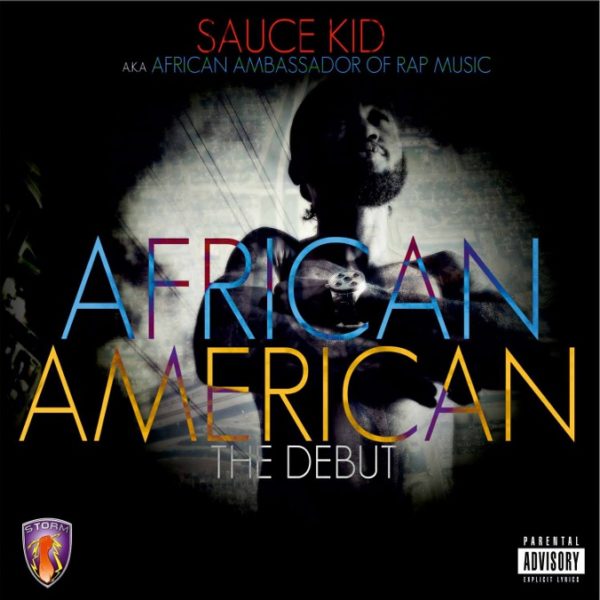 We've heard Sauce Kid on numerous mixtapes, listened to his freestyles and he's featured on some of our favourite songs including the ultra-sexy original version of  "Nobody" with Banky W and the street anthem "Monkey Banana".
More recently, he unleashed "Under G" produced by Don Jazzy, the biggest hit of his career. Now, the debut album by Sauce Kid – African American is here.
Check out the excerpts from the press release by Storm Records below.
**
The Long Awaited Debut Album From Sauce Kid is finally ready, Storm Records is proud to announce that Sauce Kid has completed his Opus and that the final master has been received for The album "African-American", four years in the making this album attempts to show the many sides of Sauce Kid and enables fans and new listeners to connect with one of the most talented rappers of his generation.
Sauce Kid is a renowned MC with the ability to slay all types of beats, he is battle tested on the mixtape circuit and over the past few years has become a professional recording artist. He has been on many stages in America, UK, South Africa and Nigeria connecting with his audience and spreading the gospel as he went through the process to begin to establish himself as one of the key players in Nigeria's emerging Hip Hop Aristocracy. While recording this album which is coming with almost 20 tracks Sauce has stayed busy and collaborated with several major artists such as Eldee, Ikechukwu, Naeto C, Sasha, and more on their projects and also has blessed many an underground emcee with his energy and talent. Last year was set off by the underground banger with the Knighthouse Family where for all the world to see we caught Sauce in his element, and things only got hotter with the response to the massive Street Anthem "Monkey Banana" featuring his righthand man Ghetto P alongside General Pype.
As things were heating up Sauce dropped the first official single from the album, "Na Me Be Fine Boy" to warm responses all over the country and continent and then followed it up with the Don Jazzy helmed "Under G" on this track we see a lighter side of Sauce Kid which plays into his personality and his effortless switch from a fuji-­‐inspired flow to straight up spitting showcase how this unique artist has been able to develop and make his music heard all over the world.
On this album there are some very personal tracks such as "Nejee's Daughter" and then his collaboration with emerging RnB singer and producer Meaku which will certainly leave all the ladies satisfied. On tracks such as "Distribution and Diamonds", he stays true to his core Hip Hop foundations while "Under G" and "Sinzu is Sinzu" show a fusion side where he is embracing his Yoruba culture and those rhythmic grooves to deliver a new fusion on these stand out songs produced by Don Jazzy and Eldee.
The "African American" Album has something for everyone, from infectious grooves to serious mood music, from wordplay to rhyme skills, its all here and in Sauce Kid Nigerian Hip Hop has another contender for the throne, let the people decide, we already know his talent and cannot wait to share his album with the world.
Click HERE to buy your copy on NOTJUSTOK.com
NotJustOk also has an exclusive interview with Sauce Kid, click to check it out
You can also head out for the Album Release Party if you are in Lagos this weekend, click for details
Listen to Sauce Kid – Sinzu is Sinzu
[audio:https://www.bellanaija.com/wp-content/uploads/2010/07/Sauce-KiD-Sinzu-is-Sinzu.mp3]
In Case You Missed It: Sauce Kid – Under G

Brand New Video – Sauce Kid – I Can't Feel My Face