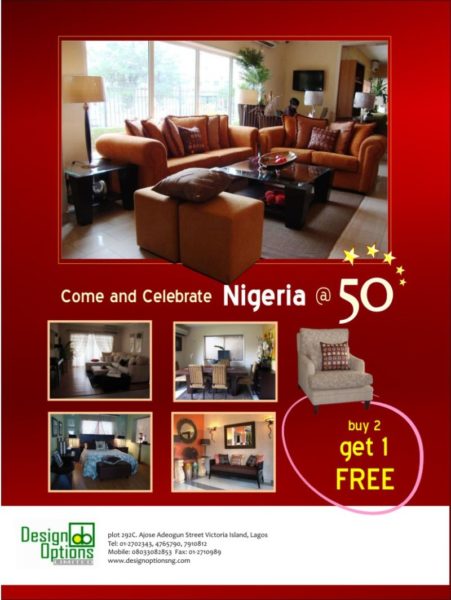 Design Options is a furniture and Interior Design Company with over twenty years experience in exquisite furniture and decor.
In celebration of Nigeria at 50, they will be having a buy 2 get 1 free promo on all their items.
So for those of you moving into a new apartment, getting married, or those that just want to add some colour to your home, don't miss this opportunity to get elegant and top quality furniture.
Hurry now to Design Options pick and choose from exciting and exquisitely made furniture and soft furnishing. This includes beds, coaches, chairs and home accessories such as pillows, vases etc..
Address:
Design Options Flagship Store
292c, Ajose Adeogun Street,
Victoria Island
Design Options – Ikoyi Store
2nd Floor of the Ezzy Living building,
2b Raymond Njoku,
Ikoyi
Take advantage of this opportunity to transform your home.
You can also call 012702343 for enquiries.
___________________________________________________________________________________________
Sponsored Content