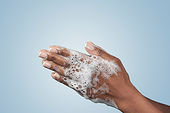 In the past, I was diagnosed with a condition commonly known as the Obsessive Compulsive Disorder (OCD). This diagnosis isn't a mystery to me since I like everything super clean, fresh, and tidy. I don't care if it's fancy – could be a house, a car, clothes, or a person – I only care that "it" is clean. I remember quite clearly that my brother used to get upset with me for tidying his room – he thought that this was an invasion of his privacy while I only wanted to help (myself)… You see, I'd have headaches due to the knowledge that there was one more room in the house that wasn't tidy. So, I'd break in, and fix it up to my taste (yum)!
My sister also suffered as a result of this "madness"! I would tidy our room and lock it up for fear that the bed sheets would be rumpled before bedtime. She'd say all she could to persuade me to let her in but I would refuse. At that point, the tidy state of our room was more important to me than her desire for a well-deserved afternoon nap. It definitely was OCD!
At some point, my mum summoned me for a heart-to-heart talk. She was worried that at the rate at which I was going, I might not be able to function in a relationship with anyone especially the opposite sex, if I insisted that all had to be squeaky clean at ALL times. She explained that we lived in a home and not just a house. I think that the talk was helpful since I eased up on OCD at that point. I started to endure little bits of untidiness here and there and before I knew it, I was (almost) cured.
Although, I now claim to be free of OCD, I am still bothered about "little details" which most people don't pay attention to. For instance – handshakes! I have spent many-many years studying the average person. It's amazing what people do with their hands. If you ask me, I wouldn't mind shaking hands with people only right after they take their bath in the mornings and possibly in the evenings, but I guess that's an unrealistic expectation, especially since my job doesn't entail spending time with colleagues in their homes. I will naturally have to wait for them to come to the office, or meet with them at workshops and conferences, where I will have to nobly take their hands, all under the guise of observing the age-long "compulsory" handshake.
Hands are very useful; I can't imagine life without mine. However, other than the zillions of functions that hands are useful for, I find people picking their noses with them – some dig so deep, I fear that they'll cause a nosebleed; others use hands to scratch their butts in the most awkward way. I have seen people walk out of public toilets without washing their hands while others blow their noses with them or simply wipe the sweat off their faces without resorting to the handwash! All of these "gestures" and much more make me uneasy about the "handshake"… Who needs the extra microbes? This is my trouble with the handshake!
So, obviously, I don't find it pleasurable shaking hands with people. This is not to say that humans should stop shaking hands (…as if I have the power to put a stop to it…). I guess that's a price we all have to continue to pay. However, my own very active imagination causes me to constantly picture where people's hands have been. Therefore, I don't exchange hands except I am pressured to do so. Most times, I keep a good distance and smile instead of extending my hand. Maybe I still have small doses of the OCD… Thank God it's not some form of terminal disease!
___________________________________________________________________________________________ Editor's Note: Obsessive-compulsive disorder (OCD) is an anxiety disorder. Many people erroneously self diagnose OCD. If you have any of the recognized symptoms, please see a medical professional for professional advice.