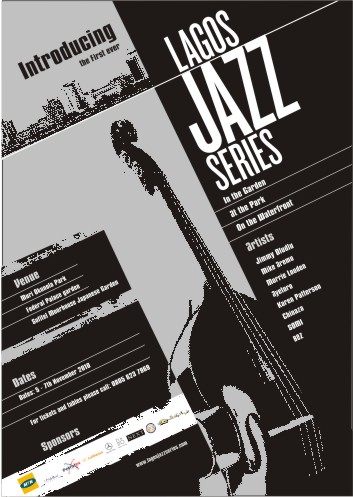 It is a few days to the launch of the Lagos Jazz Series and more exciting details are beginning to emerge. Final details of the lineup have been revealed and it looks wonderful. We are looking forward to jazz in the Japanese Garden at the Sofitel Moorhouse hotel on Friday, by the waterfront at Federal Palace Hotel and especially looking forward to Muri Okunola Park on Sunday. Its going to be a great weekend of jazz.
The organisers announced today, that South African Jazz star Jimmy Dludlu has signed on to perform at the first-ever Lagos jaz Series holding in Lagos this week.
Dludlu, a multiple award-winning musician, who has performed across many continents and headlined dozens of Jazz festivals across the world, will join Nigerians Mike Aremu, Bez, Ayetoro and Chinaza, as well as visiting Somi, Morrie Louden, Karren Patterson and others to deliver what promises to be the Jazz concert of the year.
LAGOS JAZZ SERIES LINEUP
Nov. 5th – Sofitel Moorhouse Hotel
Karen Patterson
Chinaza
Morrie Louden
Tickets – N12,000 per person (N65,000 for a table of 5)
Nov. 6th – Federal Palace Hotel
Mike Aremu
Morrie Louden
Somi
N12,000 per person (N90,000 for a table of 7)
Nov. 7th – Muri Okunola Park
Bez
Ayetoro
Somi
Jimmy Dludlu
N5,000 per person
Tickets can be purchased online at lagosjazzseries.com or at the following locations:
The Hub Media Store at the Palms, Lekki
The Jazz Hole (168 Awolowo Road Ikoyi, Lagos. Tel. 07025595697)
Bang & Olufsen (Plot 1626B, Saka Jojo Street, VIctoria Island. Tel. +23412707244)
The Wine Cellar (61 Abimbola Awoniyi Close, off Kasimu Ekemode Street, off Bishop Oluwole street, VI, Lagos.)
Terrakulture Plot 1376, Tiamiyu Savage, Victoria Island, Lagos
(For corporate bookings and tables, please call 08056237969)
The Lagos Jazz Series is kindly sponsored by MTN Enterprise, Constant Capital and Petrolex. Partners include Lufthansa, The German-Consul General, Noble Hill Wines, Mercedes Benz, Bang & Olufsen, ZK Advertising, Classic FM, NEXT and Bella Naija.
For more details about performers, tickets and locations, please visit lagosjazzseries.com