Nigerian shoppers and wholesale businesses put online spending on the world map via TRUE BRANCHES…the leading service provider headquartered in Chicago USA

www.truebranches.com is a Wholesale/Retail Procurement and Service Company that was launched in 2005 as a solution to tackle the unwillingness and/or inability of stores in the US to process, accept payments for, and ship orders originating from Nigeria. Their customers shop US exactly as conveniently as if they live there.
You can now access great shopping deals in the US in real time. You don't have to worry about safety and authenticity or a lack of variety at your local store. This company really makes it easy, you pay cost, and they charge a very small service fee. Over the last year they have really expanded their infrastructure to include a warehouse in Chicago, new staff, warehouses in Lagos and most importantly customer service. Start shopping all your favorite designers and stores in the US. You should check them out at www.truebranches.com and www.cutiecuddly.com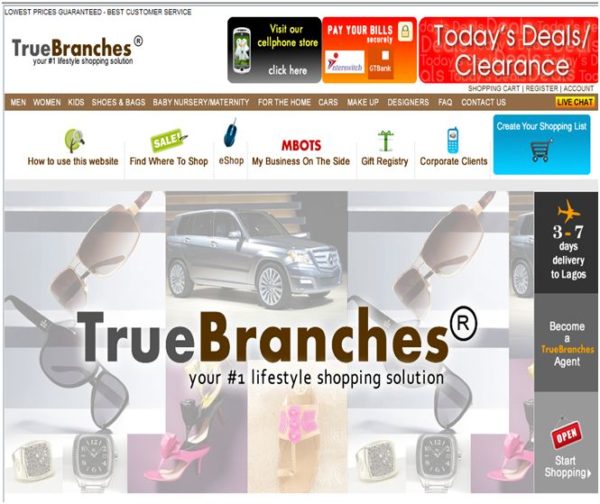 Promotion – Get A 10% Discount and/or Win a $300 Shopping Spree
Bella Naija readers get a special promo, click on this link to subscribe to their newsletter and get 10% off their already low service fees, remember you pay cost and you have access to great deals, cars , designers etc at mind boggling discounted prices in the US
Also join the True Branches Mailing List today to enter their $300 Gift Promo.
Subscribe at www.truebranches.com
**
Contact Details
www.truebranches.com
www.cutiecuddly.com

Chicago/Lagos
[email protected]
[email protected]
[email protected]
+630-854-7107 or 0704-255-9013
[nggallery id=246]
___________________________________________________________________________________________
Advertorial – Sponsored Content