It is a new year and everyone is trying to keep up with their resolutions. Most people want to do 'bigger and better' things than they did last year.
WOW! Magazine stepped things up in 2010 and for their first cover of 2011, they are turning up the heat with this hot cover featuring Nigerian musician, Tiwa Savage.
Tiwa was one of the artistes who made a strong debut in 2010 and in this interview, she shares her plans for 2011, her hopes and aspirations for the future and lots more!
For the cover photo spread, Tiwa wears pieces by young Nigerian designer, Toju Foyeh. Toju and Tiwa collaborated for several winning red carpet looks in 2010 and it seems as though the relationship will continue to bud in 2011.
While Tiwa works on her career in Nigeria, she is also signed on to Sony ATV as a songwriter. She has written songs for various musicians including "Collard Greens & Cornbread" which is featured on Fantasia's Grammy nominated album, "Back To Me". Check out excerpts from Tiwa's WOW! cover feature below.
We love the playful sexiness of the shoot. Very nicely done!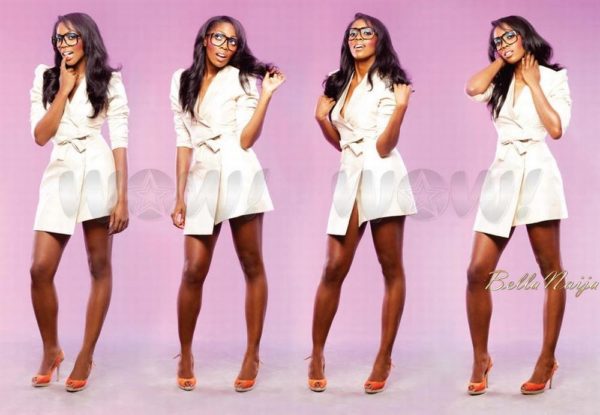 **
There are other exciting features in the new issue of WOW! including an in-depth interview with the  male On Air Personalities from Cool FM. There is also a visually stunning fashion spread featuring pieces from African designers, including Eki Orleans and Samantha Cole.

Credits
Cover –
Photography: Kelechi Amadi-Obi
Styling: Ezinne Chinkata
Makeup: Banke Meshida-Lawal for BMPro
Hair: Bayo for Gorgeous
Fashion –
Photography: Kelechi Amadi-Obi
Styling: Ezinne Chinkata
Makeup: Chichi for Faceville
Hair: Bayo for Gorgeous
'The Cool Gang' Feature –
Photography: Moussa Moussa
Wardrobe: Ouch
Makeup: Chichi for Faceville
Location: D'Marquee