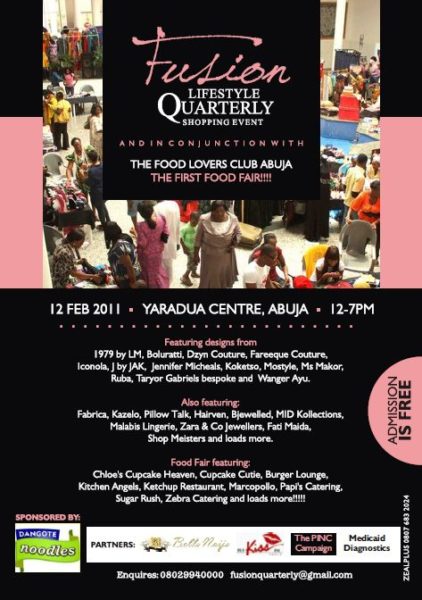 The Fusion Lifestyle team is coming to the Capital City with a new addition to their previous events, something new to keep their loyal participants and guests well entertained. Aside from the usual lifestyle event in the main hall, a Food Fair will hold in the garden of the same venue in conjunction with the Food Lovers Club Abuja providing a fun day out for the whole family.
The Lifestyle Shopping Event will have the best of fashion accessories, clothes, furniture and utensils for the home, health and beauty products and more from 70 participants including; Adanna's Collection, Adela's Haven, Belle d' Jour, Beyond Indulgence Spa, Dzyn, Fabrica, Fabulous Bags, Head Art by Pepe, MoStyle, Murjan Accessories, Pinc Crystals, Ruba Couture, Sarait & Sophiat, Shukr, Silver & Gold, SO Abayas, Taurus Travels and Tours, The Source, Thots on Tees , Zahra and so much more.
The Food Fair will feature 30 participants including: Burger Lounge, Chloe's Cupcake Heaven, Cupcake Cutie, Delish, Kay's Special Events, Ketchup Restaurant, Kitcken Angels, MJ Catering, Marcopolo, Monte Carlo Bistro, Papi's Catering, Sugarush and Suhjuiced offering pastry, desserts, barbecue, Nigerian & continental dishes, grills and more!
A bouncy castle, face painters, games and music will be available to keep the kids entertained.
The first edition of the Fusion Lifestyle Business Directory will be launched on the day and available to all guests  – Free! It's a fantastic booklet filled with details of our participants and other businesses in Abuja and Lagos.
The Pinc Campaign will be offering free clinical breast exams and giving away breast examination kits and Medicaid Diagnostics will be offering discounted pap smears at the event!
So save the date for your entire family for excellent shopping, great food and loads of fun. The event is sponsored by Dangote Noodles.
See you there!
Fusion Quarterly Shopping Event and the first Fusion/Food Lovers Club Abuja Food Fair
Date: Saturday 12th February, 2011
Venue: Yar'Adua Center, Abuja
Time: 12Noon  to 7PM
Gate Fee: FREE!
Enquiries: 08029940000 /[email protected]
SPONSORED BY: Dangote Noodles
Partners: Bella Naija, Kiss FM Abuja, Pinc Campaign and Medicaid Diagnostics
___________________________________________________________________________________________
Sponsored Content