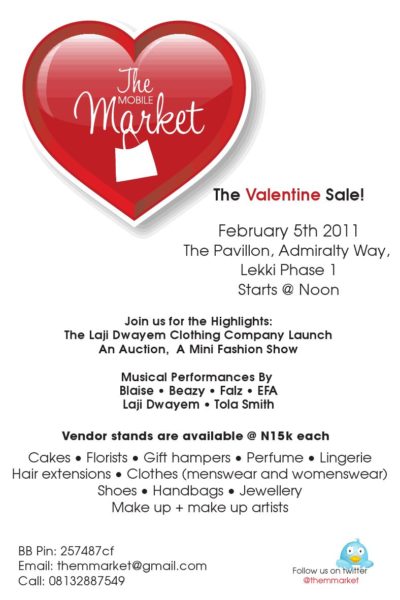 The Mobile Market is an affordable retail solution to fashion and lifestyle needs. The Mobile Market retails menswear and womenswear including shoes, handbags, jewellery, perfume, shirts, t shirts, ties, sunglasses, beauty essentials and a lot more….
The aim of the Mobile Market is to provide affordable fashion for the Nigerian youth; From Made in Nigeria goods to International Designer & High Street Labels. Rather than host events in a single location, the Mobile Market hosts periodic sales in strategic locations all around Lagos with the plan to expand beyond Nigeria's commercial capital to major cities and campuses around the country.
The Mobile Market – Valentine Sale Event will be taking place on the 5th of February 2011 at The Pavillon, Lekki Phase 1, Lagos.
This Valentine themed shopping and music event has been organized to give people a chance to do their Valentine's Day shopping. Apart from regular clothing, shoe and jewellery vendors; Specially selected vendors including bakeries/cake vendors, florists, card and gift hamper vendors will be at the event.
Celebrities including Blaise, Beazy, Falz, EFA, Tola Smith and 'Laji D'wayem will be at the event, also watch out for special performances by some of these stars. The Laji Dwayem Clothing Company, a new clothing company which offers exclusive custom made t-shirts will launch at the Mobile Market Valentine event and there will be a mini fashion show and auction.
The point of the event is to shop; you can buy your beloved some presents on the day and also place orders in advance for gifts that can be delivered on Valentine's Day (Remember Valentine's Day falls on a Monday). If you are not celebrating Valentine's Day this year, you can come to shop for yourself, enjoy the musical performances and sip yummy cocktails by the seaside…
The Mobile Market – Valentine Sale Event
Date: 5th February 2011
Venue: The Pavillon, Lekki Phase 1, Lagos
Time: 12 Noon
Contact Information:
Email: themmarket@gmail.com
Phone Number: 08132342373 and 08132887549
Facebook: Search for "The Mobile Market" on Facebook
Twitter: @TheMMarket – www.twitter.com/TheMMarket Blackberry Messenger: PIN 257487CF
Interested in a stall? Call 08132342373. Stalls cost N15,000
___________________________________________________________________________________________
Sponsored Content