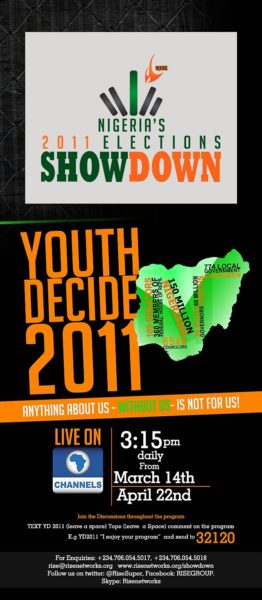 A leading youth development firm in Nigeria, RISE Networks has concluded plans for a Television Program tagged Nigeria's 2011 Elections SHOWDOWN with the slogan, "Anything About Us – Without Us – Is Not For Us" to be aired on Channels daily at 3.15pm – 4pm on weekdays from March 14th to April 22nd 2011.
The focus of the programme is for young Nigerians to match advocacy with action through a peaceful revolutionary platform and the pivotal role of RISE is to inform and enlighten young people on their fundamental rights as major determinants of winners and losers in the electoral process while also demanding accountability from elected office holders at all levels of government. The ignominious state of Nigeria as a nation of educated illiterates, jobless graduates,c rime, poverty and an unstable economy is as a result of the hitherto abysmal failure of leadership in Nigeria and its attendant saddening impact on the citizenry, especially the most significant voting bloc, the youth who form 55percent of the entire nation's population.
Speaking at the press briefing, Toyosi Akerele, the Executive Director of RISE Networks explained that one of the major purposes for conceptualizing and hosting the television program is to institutionalize credible and accountable leadership at all levels of government through mass sensitization using all available media, online and offline, local and international.
Reacting to the fears and speculations expressed by other community leaders during the conference that politicians in Nigeria are not responsive to young people except when they need to use them to perpetrate vices, Toyosi expressed vehement confidence that as a result of the unprecedented political consciousness on the part of young Nigerians, the 2011 Elections will not be business as usual. She also said that the level of awareness is evident in the increased percentage of registered voters for the forthcoming elections and that young people are now aware that once they sell their vote, they will be helpless for another 4years during the time which most of our leaders will spend amassing wealth and writing the next script for their story telling exercise on reasons why they should be re-elected, though without providing any succor nor transformational leadership for their people. If those politicians plan to win any election, they had better start speaking with the youth not to themselves.
The Program will be anchored by Chinedu Chidi, winner of the 2010 Debaters Reality TV Show and Lami Phillips, United Nations Youth Ambassador.
Participate
Participate in the SHOWDOWN Election Poll. Go to www.risenetworks.org.You can also vote through by sending us SMS through our short code. Daily results will be announced and shown on Channels Television
SHOWDOWN invites objective and change driven young people who are non-partisan guests on the Program, if you are interested or know anyone, send a mail containing your name, phone, state of residence to [email protected] Please note that if you are coming on the Show from outside Lagos, you wil be responsible for your travel and accommodation expense.
Send ideas on anti-rigging measures to be implemented during the forthcoming elections
For your Showdown Advocacy Materials, visit www.risenetworks.org/showdown or call 0706.054.5017, 0706.054.5018 or email [email protected] or [email protected]
Use SHOWDOWN LOGO as your Blackberry, Facebook and twitter profile photos and status updates.
Airtime
SHOWDOWN airs on Mondays till Fridays, daily from 3.15pm- 4pm.
Nigerians in Diaspora can also watch this program LIVE on the Internet via www.channelstv.com
Connect with SHOWDOWN:
• Blackberry PIN: 21676f3E
• Twitter #RiseSuper
• Facebook: RISE GROUP
• Youtube: www.youtube.com/rise
• Skype: Risenetworks
• Website: www.risenetworks.org/showdown
• Send Comments on the program and vote for your Presidential Candidate by SMS to short Code – 32120
• Hotlines: 0706.054.5017, 0706.054.5018
SHOWDOWN Topics:
• An analysis of the preparedness of INEC for Nigeria's 2011 Elections
• The role of community leaders in the electoral process
• Why are Ministers of Youth Development always Older People?
• Niger Delta Crisis and the Youth
• Demystifying political parties for youth participation; discuss why party youth leaders are not youth
• Youth organizations and their influence and interest in free and fair elections e.g. NANS, National Youth Council of Nigeria; their roles as election rigging machinery and political thugs
• Youth Parliament discussion and engagement with Presidential and Vice Presidential Candidates
• Youth Representatives go head to head in a debate to convince other young Nigerians to vote their candidate as Nigeria's President
• Performance appraisal of Governors across the 6 Geo Political Zones of Nigeria
• Specific Demands; Energy and Power, Value Re-orientation, Education Advancement, Employment Generation, Wealth Creation and Access to Funding!
• Security Personnel such as State Security Service, Police etc. on Kidnapping, Thuggery, Assassinations, bombings etc.
• Power Holding Company of Nigeria
• National Youth Service Corps and its relevance or waste of useful time
• Youth as tools for perpetrating major religious crisis such as Boko Haram etc.
• Do or Die Politics; why are our leaders glued to their Seats despite their inability to offer effective and transformational Leadership?
• Why do our leaders disappear after winning elections?
• Civil Society Organizations like R2K, OSIWA, UNDP, Ford Foundation etc.
• Youth Led and Micro Credit / Small and Medium Enterprises
• New Media, Social Networking, Use of Technology in Electoral Process
More About SHOWDOWN
Showdown is a media-driven, social consciousness advocacy platform for youth to demand accountability from elected office holders. It is based on constructive engagement where the ideas and solutions proffered by young people are brought to the fore to help our Leaders deliver good governance and transformational leadership! An initiative of RISE, Nigeria's leading youth development centre, it is hinged on a historic footing as the first and only youth-focused program on Nigerian television for the 2011 Elections!
Visit us on www.risenetworks.org/showdown!; www.facebook.com/rise group and follow us – @risesuper on Twittter