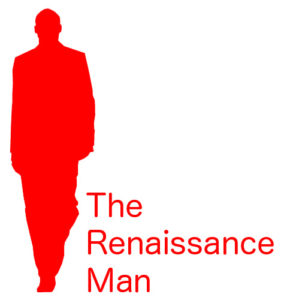 Here is the finale of "The Friday Track" special from the 2011 ARISE Magazine Fashion Week. After flooding BN with fashion content during the week of the event, we decided to take a break last week. This week, we will conclude our AMFW 2011 coverage by completing the upload of the full collections, the final part of the "Friday Track" series, plus a very special surprise!
***
Kilon Sparkles!
Day 4 and indeed the last day of the 2011 Arise Magazine Fashion Week started with a slight guilt as my typical routine consisted of getting to Church in my overstarched white Atiku Lace…
But today, instead of my praise worship, I was singing Bunmi Koko hymns; instead of giving offering, I was giving vague description of Alexander Amosu's blinged-out car keys to someone equally as clueless as me.
First on the agenda was a Group Show scheduled for 12Noon – Sorry my fellow Redeemed worshippers but it be like say na Church of Fashion we dey go today.
I snuck backstage for the first time to do "research" and see if we might see better shoes on the runway than previous days. After my gbeborun and essentially been walked out by the bouncer after wandering aimlessly, I headed to the hotel bar for a 12Noon mojito. I was charged to go and first up was Grey.
Grey: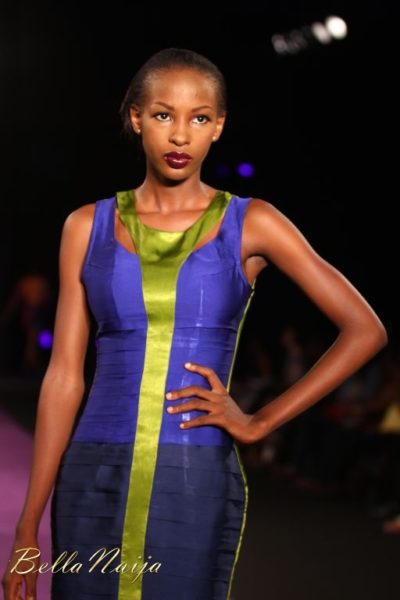 The collection consisted of short, colourful, beautifully fitted feminine pieces. The dynamic trio also surprised us with some new cutting patterns and a few daring ruffles.
The collection was eye-catching and the models looked very comfortable in each piece.
Every single piece was desirable and I'm not sure if their pieces actually made it back to the racks with the thunderous applause they received at the end.
If you want to bag yourself an Aliko ladies, oya oya order yourself some GREY.
Kastle Designs & Treasure Chest: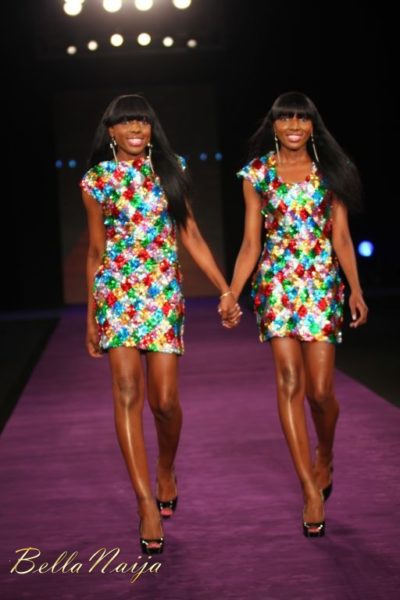 This collection was fun and sparkly. For a second, I thought my mojito had me seeing double but alas the designers are twins.
Zed Eye: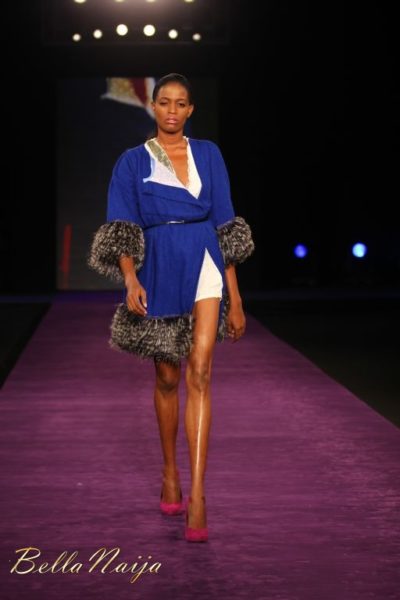 I've been familiar with Zed Eye creations since the early noughties but the closest I'd gotten to her designs were in the pages of UK fashion magazines so this was always going to be a treat for me.
Her collection featured beautiful floral prints. Her mix of summery colours and textures made me want to order a glass of Pimms & Lemonade.
Her hot jumpsuits sizzled and let's not forget what looked like her tribute to the Eddie Murphy classic 'Coming to America' – her fabulous feather lapels – King Zumunda style.
Odio Mimonet: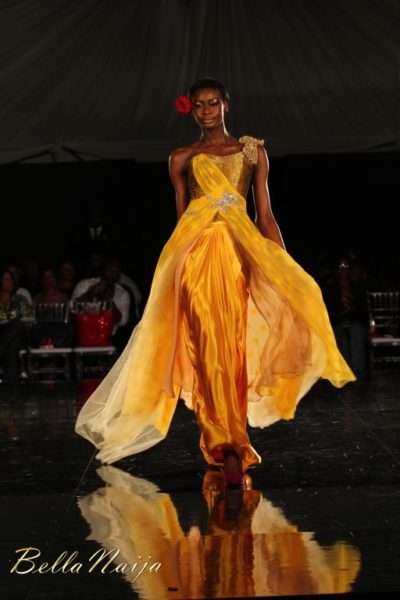 Odio is an institution and you could tell by her cheerleading team whom were dotted across the front row of her showing. As expected, Odio demonstrated that she understood tailoring. Her choice of fabric though daring were beautiful under the tent's lights.
She brought zebra prints back! It was a refreshing collection and indeed one which pushed the envelope with its innovative jacket pockets and sleeves.
Samantha Cole: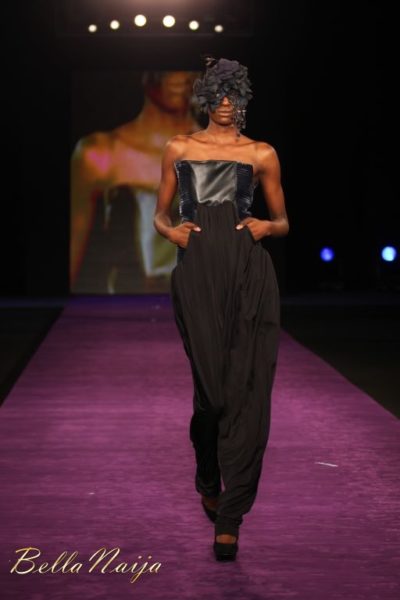 I really liked this collection. I won't go on about it as we'd be here tomorrow and I might have to order a Gulder and Suya before I'm finished but just think black asymmetric shapes.
This couture collection made leather hot again and I would like to see one of our numerous Lagos "style icons" rock one of these on a red carpet.
Angelo Van Mol: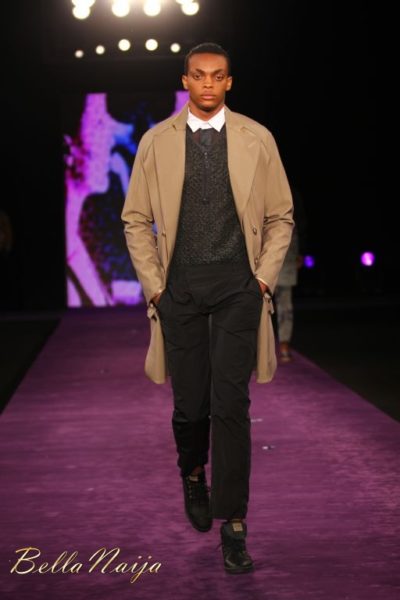 Hallelujah o, I'm always happy to see something that I could possibly wear myself and I can just about "rock" everything in Angelo's collection, so when I come to your house, make you na open the door for me.
Pierre-Antoine Vettorello: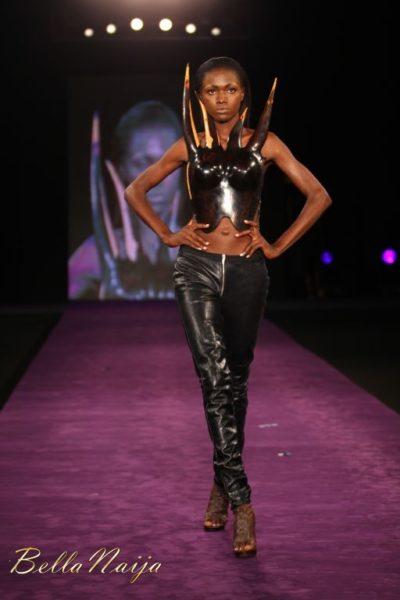 This one na winchcraft swag o. The styling on this collection is impeccable, even though my mother would say anyone who likes anything in this collection is a 'child of darkness', this was definitely innovative design at its finest.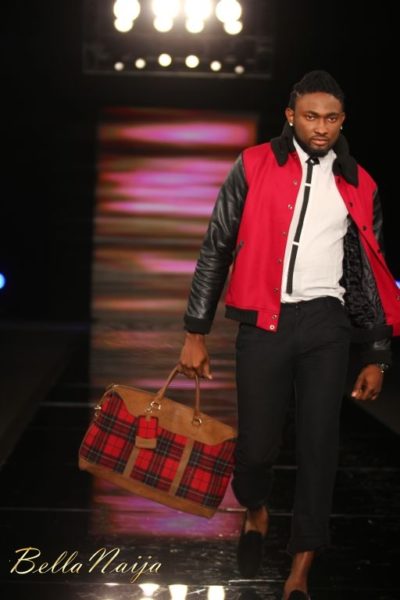 B-Side by Wale Adeyemi:
This could be considered the most fun walk for the models. The models seemed relaxed and took turns in playing up to the camera. Even the Big Brother winner did the sunglasses on-and-off move…..hmmm.
The styling was great, big ups to Arieta Mujay.
The B-side collection had everything really – cardigans, cargo pants, rolled-up trousers, bow-ties, velvet shoes. It was a great fashion editorial but under the lights.
The boy didn't get an MBE for nothing
So there you have it. I'm exhausted, this 4-day crash course in fashion has been fun and Lord help the next woman I see in a badly sewn dress….I might have to bring out my diploma in AMFW on ya a**.
Until the next episode….E Senpe!