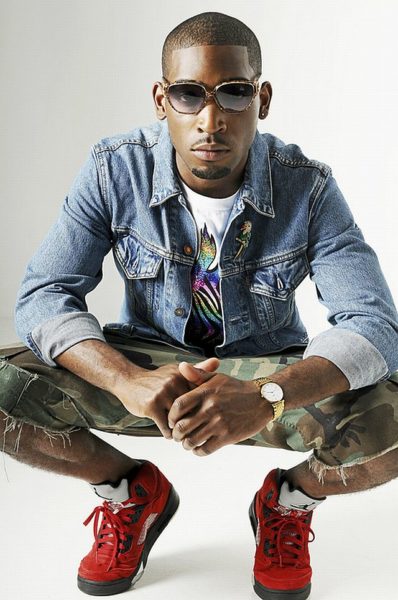 The buzz, the speculation, the lobbying, the drama, the preparation, the collections…
The ARISE Magazine Fashion Week is at the top of the priority list for just about every African fashion designer based at home and in Diaspora.
It has been about two months since BellaNaija.com exclusively confirmed that the event would be taking place from the 10th to 13th of March 2011 in Lagos, Nigeria.
Now ARISE has released the complete list of designers and schedule for the fashion week via their parent company's website – www.thisdaylive.com
It is set to be a thrilling fashion experience "spiced" with music from international stars including D'banj, Naeto C, Darey alongside Estelle (who is of Sierra Leonean parentage) and finally Tinie Tempah who will close the show – Tinie Tempah is one of the hottest musicians on the UK scene, he recently scooped 2 BRIT awards and has scored a series of No 1 singles on the UK Charts. Tinie (Real Name: Patrick Chukwuemeka Okogwu) is of Nigerian parentage and this will be his first performance in Nigeria.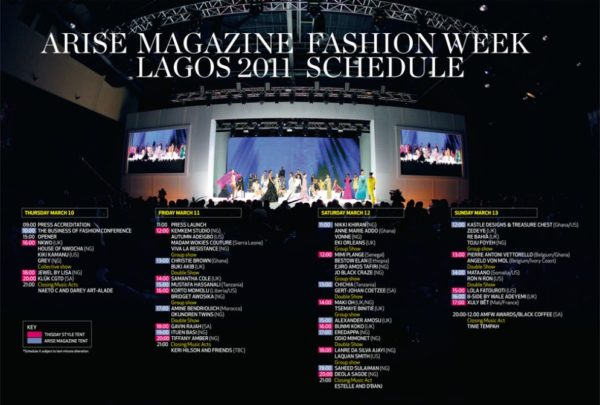 Based on the list, there will be a dynamic mix of shows from designers based all around the world. ARISE also took the added step of encouraging promising new talent by including "new generation" designers including Ejiro Amos Tafiri, Bridget Awosika, Vonne, House of Nwocha, Ré Bahia, Toju Foyeh, Maki Oh and Tsemaye Binite as part of the AMFW.
There were some revelations on the list; Saheed Sulaiman who up until now has provided bespoke services to his clientele will be debuting his label on the ARISE stage, knitwear designer – Buki Akib and South African design wunderkind Gert-Johan Coetzee whose pieces are coveted by the young Hollywood set including Kourtney Kardashian and Kristin Callavari are among the designers who will be showing at AMFW.
As expected, the African fashion "institutions" including Tanzania's Mustafa Hassanali and South Africa's Black Coffee will also be presenting during the fashion week.
The ARISE Magazine Fashion Week will open with a "Business of Fashion" conference on the 10th of March 2011 and close with an awards ceremony including a final runway show by Black Coffee and musical performance by Tinie Tempah.
Updated – March 03 2011: Keri Hilson announced via twitter that she will not be performing at the AMFW
ARISE Africa Fashion Week 2011 – Schedule – UPDATED
___________________________________________________________________________________________
Thursday March 10 2011
Press Accreditation – 9AM
Press Launch – 12.30PM
The Official AMFW Welcome Dinner/Business of Fashion Africa Conference – 7PM
Closing Music Acts – 9PM
Naeto C & Darey Art-Alade
___________________________________________________________________________________________
Friday March 11 2011
Group Show – 11AM
House of Nwocha (Nigeria)
Kiki Kamanu (Nigeria/USA)
House of Farrah (Nigeria)
Viv La Resistance (Nigeria)
Group Show – 12Noon
Nikki Khiran (Nigeria)
Toju Foyeh (Nigeria)
Madam Wokies Couture (Sierra Leone)
Ejiro Amos Tafiri (Nigeria)
Double Show – 1PM
Christie Brown (Ghana)
Eki Orleans (Nigeria/UK)
Double Show – 2PM
Maki Oh (Nigeria/UK)
Buki Akib (Nigeria/UK)
Show – 3PM
Ituen Basi (Nigeria/UK)
Double Show – 4PM
Korto Momolu (Liberia/US)
Bridget Awosika (Nigeria)
Double Show – 5PM
Amine Bendriouich Couture & BS (Morocco)
Okunoren Twins (Nigeria)
Show – 6PM
Jewel by Lisa (Nigeria)
Show – 7PM
Mustafa Hassanali (Tanzania)
Show – 8PM
Tiffany Amber (Nigeria)
Closing Music Acts – 9PM
TBD
___________________________________________________________________________________________
Saturday March 12 2011
Double Show – 11PM
Vonne (Nigeria)
Jil (Ghana)
Group Show – 12Noon
Jo Black Craze (Nigeria/UK)
Tsemaye Binite (Nigeria/UK)
Mataano (Somalia/USA)
Double Show – 1PM
Chichia London (Tanzania/UK)
Gert-Johan Coetzee (South Africa)
Group Show – 2PM
Lanre DaSilva-Ajayi (Nigeria)
Laquan Smith (US)
Show – 3PM
Alexander Amosu (UK)
Show – 4PM
Bunmi Koko (Nigeria/UK)
Double Show – 5PM
Ere Dappa (Nigeria)
Bestow Elan (Ghana/UK)
Show – 6PM
Kluk CGDT (South Africa)
Double Show – 7PM
Kemkemstudio (Nigeria)
Autumn Adeigbo (Nigeria/USA)
Show – 8PM
Deola Sagoe
Closing Music Acts – 9PM
Estelle & D'banj
___________________________________________________________________________________________
Sunday March 13 2011
Group Show – 12Noon
Grey (Nigeria)
Kastle Designs & Treasure Chest (Ghana/USA)
Re Bahia (Nigeria/UK)
Zedeye (Nigeria/UK)
Show – 1PM
Odio Mimonet (Nigeria)
Group Show – 2PM
Samantha Cole (Nigeria/UK)
Angelo Von Mol (Belgium/Ivory Coast)
Pierre Antoni Vettorello (Belgium/Ghana)
Double Show – 3PM
Nkwo (Nigeria/UK)
Lola Faturoti (USA)
Show – 4PM
Gavin Rajah (South Africa)
Show – 5PM
B-Side by Wale Adeyemi (Nigeria/UK)
Show – 6PM
Xuly Bet (Mali/France)
ARISE Magazine Fashion Week Awards – 8PM
Show
Black Coffee (South Africa)
Closing Music Act
Tinie Tempah
Tickets will go on sale soon. Click back to BellaNaija.com for details.
Photo Credit: Cafe Maroon