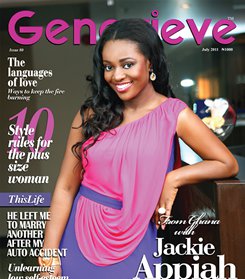 The July 2011 issue of Genevieve Magazine features Ghanaian actress Jackie Appiah on the cover.
The edition features one of our favourite photo spreads featuring Jackie – for the photoshoot, Jackie was styled by Genevieve Magazine fashion editor Ohimai Atafo. Ohimai selected glam pieces from the Duchess Boutique and Nigerian designer, Lanre DaSilva-Ajayi. Jackie's interview covered all facets of her career and her life journey from Canada to Nigeria. The only "off-limit" topic was Jackie's husband and son.
Here is an excerpt from the feature;
Jackie Appiah – Rocking Her Roles
Jackie Appiah is a tough-skinned and vastly talented actress who has been riding the crest waves of career success since winning AMAA Best Actress in a supporting role in 2007. Yet off screen she is a surprisingly reluctant diva.

"I'm a shy person and don't like talking a lot. But once the director says 'action', a whole new me comes to surface," she confesses.

Unlike most actresses, she says her dreams are less about breaking Hollywood than boosting the African movie industry through her acting talents and brand the continent positively.
Genevieve Making the Cover with Jackie Appiah from Diaspora Marketing on Vimeo.
There are lots of interesting features and articles in this issue of Genevieve. One of our faves is the "Impersonation" style feature.
Styletitude recreated the signature looks of 5 Nigerian musicians – Nneka, Sasha, Asa, Goldie and Omawumi. How many seconds did it take you to figure out who is who?

Genevieve Magazine hosted a "Relax, Refresh, Rejuvenate" Spa Day at the B Natural Spa in Lagos. Guests including celebrities, business executives and entrepreneurs enjoyed the luxurious spa treatments at B Natural and then mini-lectures by nutritionist – Sherese Ijewere and Cardiovascular Specialist – Dr Adeyemi Johnson.
Photos below.
All Photos by Oladipo Oladapo
___________________________________________________________________________________________________________
Also check out the new Genevieve Magazine website – www.genevievemagazineng.com