Planning a wedding is not a walk in the park.
There are so many decisions to be made and so many details to organize.
One of the major wedding decisions is picking colours!
While family members might help to pick colours for your traditional wedding, choosing colours for the white wedding is usually the bride's decision.
There are several "rules" (we wonder who came up with them) that apply when it comes to choosing colours for the wedding party (bride, groom, bridesmaids, groomsmen etc…)
Today, we explore these "rules", check out examples of brides who have broken them and YOU let us know if you would join the train and dare to break these wedding colour rules!
Rule 1 – The bride must wear white
Note that in the bridal world, white includes off-white, ivory, soft-ivory etc…
Some brides say yes! While white is the traditional choice for most brides, a growing number of brides are bucking the trend and choosing elegant colours including soft pink and icy blue. Some brides go even bolder with metallics including gold and silver while some go all out with showstopping colours such as red.
Check out Ibiso Giwa's beautiful pink dress from her wedding in 2009. Also see Cynthia Bailey from the "Real Housewives of Atlanta" in her amazing silver wedding dress. Finally, this stunning icy blue wedding dress from the recent Elie Saab Couture Show.
Would you dare wear another colour on your wedding day?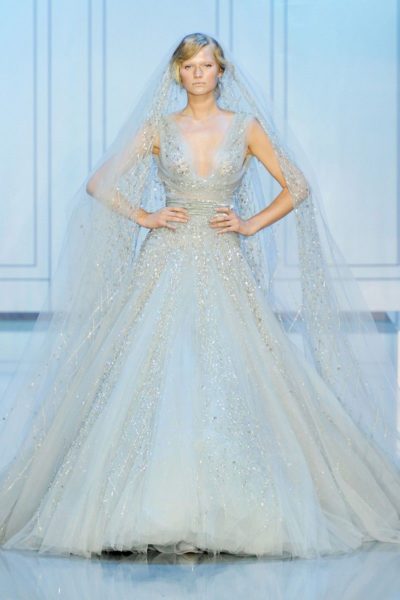 Rule 2 – Bridesmaids should wear the same colour
In most cases, the only exception is the maid of honour/chief bridesmaid who might wear a different shade or colour. Well, some brides are taking things to the next level by letting each bridesmaid's unique personality shine through by letting each lady wear a dress in a unique colour.
Check out the beautiful "jewel box" mix of colours at Zebra Living CEO, Ugoma Adegoke's wedding in Jamaica. All dresses are by Zebra!
Rule 3 – No Black for the ladies
People seem genuinely shocked when a bride drops the "B-Word" – Black that is.
Wedding traditionalists believe that the bride, bridesmaids, mother of the bride, siblings of the bride and even guests should not wear black.
That is totally changing! These days, wedding guests rock black dresses and a few bold brides choose uber-flattering black dresses for their bridesmaids. The ultimate rulebreakers are brides such as actress Sarah Jessica Parker who choose black dresses for her own wedding – yes, some brides wear black! That said, Sarah has publicly stated that she regrets wearing black on her big day and would choose something more traditional if she were to do it all over again.
Check out Lola Abiodun-Ashafa's wedding train with their elegant black dresses and Adaeze Yobo at her wedding with her bridesmaids all in unique black dresses.
Rule 4 – The Cardinal Rule! – Only the Bride in White
We have seen several comments on BellaNaija over the years including "If anyone should wear white to my wedding, I will walk them out"…
This is definitely changing!
International Brides such as Catherine, Duchess of Cambridge and Kim Kardashian have famously broken this rule and have sparked a new wave of guests and bridesmaids in white. Catherine's sister and sole bridesmaid wore a white dress by Alexander McQueen for the British Royal Wedding earlier this wedding while Kim Kardashian took things a step further by having all her sisters in white plus her guests as well!
Trust Nigerians to be ahead of the trends! The first time we saw a bridal train (bridesmaids) in all white was a few years ago at Idowu Mohammed's wedding. The beautiful bride wore a stunning white and gold dress while her bridesmaids were all in white.
So…Would you dare break the wedding colour rules?