When beauty meets poise, it = class! This professional and personal make-up workshop brings an interestingly innovative twist to the art of beauty.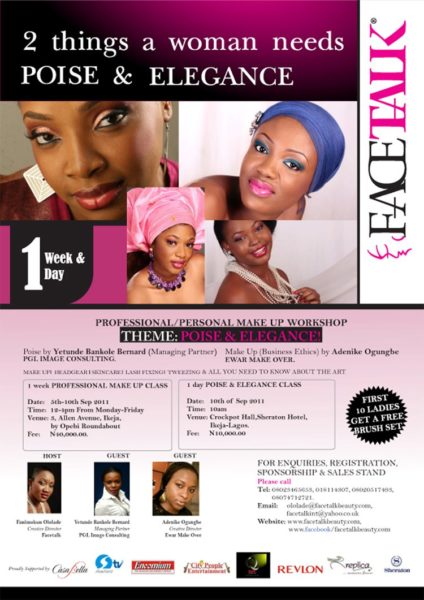 Tagged:
Poise & Elegance
. The workshop is for every woman desiring to step up her class and also an empowering platform for entrepreneurs. The highlights of the workshop are going to be Make-Up | Headgear | Skincare | Lash Fixing | Tweezing and all you need to know about the art.
You may ask what are the benefits of coming for this workshop? Well, participants should be ready for a detailed poise and make-up class from leading experts in the field, in the most relaxing and friendly atmosphere. You will hear secrets to stepping up your beauty, elegance and perfection in general will be revealed & also secrets to  financial freedom.
All participants would get a one on one session during practical, 2 tea breaks and a fully served buffet lunch, a friendly & relaxed learning environment, lots of goody bags and follow up after the event.
The guests coming for this workshop are Yetunde Bankole Bernard (Managing Partner Pgl Image Consulting) who is going to be taken you on Poise &  Adenike Ogungbe of Ewar Make Over taking you on Make Up (Business Ethics).
Date: Saturday 10th September 2011
Time: 10 AM- 5PM
Venue: Crockpot Hall, Sheraton Hotel, 30 Mobolaji Bank Anthony Way, Ikeja, Lagos
Course Fees: #10,000 (The 1 week pro class is #40,000, which includes participation for the poise & elegance class)
How to Register for the workshop:
Step 1: Book now by texting your full name to our SMS hotline 08023465653 to hold your reservation
Step 2: A confirmatory SMS will be sent to you, confirming your booking
Step 3: Payments should be made on or before the 2nd of September, 2011 to Facetalk International GTBank Acc. 217/806175/110, as this will enable Facetalk prepare the participants customized training materials & certificates.
This workshop is a must attend for every woman and there are limited spaces available, the 1st 10 ladies to register get a free brush set. So what are you awaiting for?!
Contact: For further enquiries on registration, sponsorship & sales stand booking, Call 08023465653 | 018114307 | e-mail [email protected] |  [email protected] | log on to their website: www.facetalkbeauty.com | visit their facebook page www.facebook.com/facetalkbeauty.
______________________________________________________________________________________________________
Sponsored Post