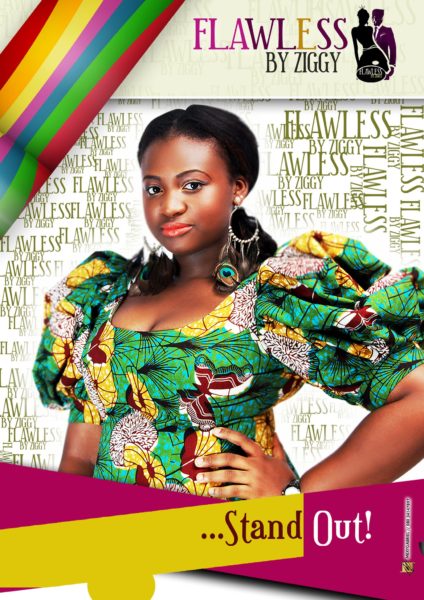 BN is constantly on the lookout for enterprising young Nigerians around the country. As we know, there is life and talent outside Lagos and Abuja. Flawless by Ziggy began as the creative brainchild of Ezinne Chime. Ezinne nursed her talent by transforming her ideas into sketches which she put on paper.
By 2009, Ezinne had transformed Flawless by Ziggy from an idea to an exciting hobby and then a full-fledged profession. And so the concept of Ziggy's Fashion House was born.
According to Ezinne "Juxtaposing an intricate interplay of African ankara and Western designs as her trademarks, the brand Ziggy's Fashion House is today a one stop centre for designer wears, cosmetics and beauty consulting. In 2011 and beyond, Ziggy's Fashion House is poised to become a household name not just in Nigeria but as a global competitor."
A few weeks ago, the official launch event for Flawless by Ziggy and Ziggy's Fashion House took place in Enugu. There were performances by Lynxxx, I.H.S, 2CanTalk and 4EvaDPreacher then the guests were entertained as they enjoying mini-fashion shows by Flawless by Ziggy, L Venjo & Lui Pearl.
On Stage
Performances
Flawless by Ziggy
Address: Ziggy's Fashion House at No. 10 Bisala Road, (Citi-Center), Enugu State
Call: 08165582902 | 08180782920
Visit their Facebook page: http://www.facebook.com/pages/Flawless-BY-Ziggy/185734901480735
___________________________________________________________________________________________________________
Sponsored Content