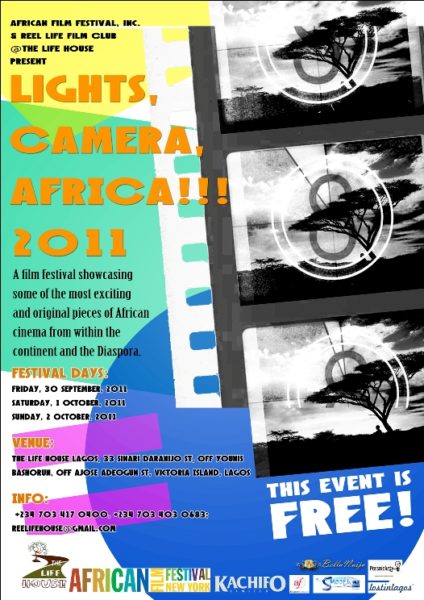 For the first time ever, the African Film Festival Inc, New York (AAF) and The Reel Life Club at The Life House are partnering to host Lights, Camera, Africa! 2011, a film festival showcasing some of the most exciting and original pieces of African Cinemas from within the continent and Diaspora.
The Lights, Camera, Africa! 2011 Film Festival aims to stimulate discourse on issues & experience that are rooted in the African experience.In this way, African stories will be consumed by those who live them.
This year's inaugural theme is centred around the heady days of Colonial Africa and the continent's response to post colonial challenges in more recent times.The line up of films include documentaries, features and short stories. The work comes from all over the continent & the Diaspora and it addresses a wide range of issues including the environment, traditionalism, spirituality, immigration, entrepreneurship and independence.
The Films  to be shown at the event with their schedules are
Day 1- Friday 30th September 2011
Introduction- 5 PM | Epilogue ( Nigeria), AVA (Nigeria), White Wedding- 6:30 PM
Day 2- Saturday 2nd October 2011
Ousmane- 1 PM |Soul Boy- 1:30 PM |Pumzi- 2:30 PM |Burning In The Sun-3 PM |One Way Touareg, Journey – 4:30 PM |Cuba: An African Odyssey- 5:30 PM | Clouds Over Conakry-7:30 PM
Day 3- Sunday 3rd October 2011
The Lunatic-5 PM | One Small Step-5:10 PM | A History Of Independence-6 PM | Sex, Okra & Salted Butter-6:30 PM
The 3 Day Film Festival which is starting today is going to be a spectacular & thought provoking one and it is free to attend and BellaNaija.com readers that attend this event are going to be given a 10% discount off wines and smoothies, all you have to say is LifeHouse and the Lights Camera Africa film festival are amazing!
Date: Friday 30th September – Sunday 2nd October 2011
Time: 5 PM
Venue: The Life House, 33 Sinari Daraniji Street, Victoria Island, Lagos.
Contact: For info on sponsorship, participation & general enquiries Call 07034170400 | 07034030683 | E-mail reelifehouse@gmail.com
________________________________________________________________________________________________________
BellaNaija.com is a Media Partener for the 2011 Lights, Camera, Africa! Film Festival