MTN Lagos Fashion and Design Week recognise fashion as one of the components of design. MTN LFDW is providing a perfect opportunity for the entire design community to present their collections before a focused target audience – a vital tool for the creative development of the Nigerian design industry in enlightening the country as a whole about the significance of the design industry on the economy.
MTN LFDW is providing a commercial platform for the finest Nigerian designers in the following design sectors – fashion, furniture, visual (photography, arts); to display their work to the local and ultimately, global markets. The MTN LFDW Exhibition stands will be set up permanently throughout the entire 4 day period at our dedicated event venue – Eko Convention Centre – Eko Hotel, offering members of the public and press, unrestricted all day access to a variety of design all under one roof.
Watch out for Colours in Africa, Svengali, Kelechi Amadi Obi, Sunny Rose, Koketso Chiepe, CODA by Lanre Lawal, Anita Quansah, Leather Designers Association of Nigeria – Zashadu, Pitter Patter, Eden by Didi Isah, Mona Mathews, DOT and more.
MTN Lagos Fashion and Design Week Exhibition
Date: Wednesday 26th October 2001 to Saturday 29th October 2011
Time: 10AM – 5PM
Admission: FREE
MTN LFDW BlackBerry Shuttle Buses are available from 9am, 11am and thereafter every 2hours from University of Lagos, SilverBird Galleria and Palms Shopping Mall.
See you soon!
Also check out the official schedule for the 2011 MTN Lagos Fashion and Design Week.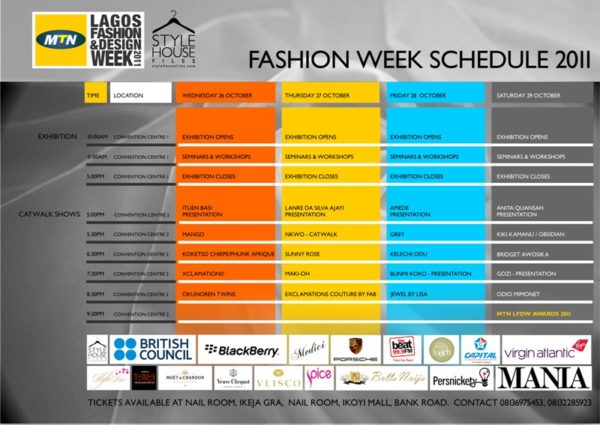 FOR MTN LFDW Runway Show Tickets, Kindly Contact – 08132285923 AND 08136975453
MTN LFDW is a Style House initiative title sponsored by MTN and co-sponsored by British Council, Capital Oil, Virgin Atlantic, Blackberry, Moet & Chandon, Veuve Clicquot, Medici, Vlisco, Beat FM, Porsche, Spice TV, Nature's Gentle Touch, House of Tara, Sleek Hair, Mania, Bella Naija and MyPerSnickety.