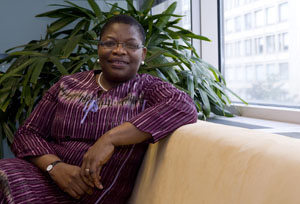 In January 2012, The Future Project in conjunction with EnoughisEnough Nigeria will hold the inaugural edition of a new leadership platform tagged "The Nigeria Symposium for Young & Emerging Leaders".
According to the Director of The Future Project – Adebola Williams, "The Symposium is driven by and centered around the next generation of Nigerian leaders between the ages of 25 and 40 and the discussants for the Symposium are all young and emerging leaders," and further said "However, it is also useful to have accomplished Nigerians from various sectors to share their practical perspectives and set the tone for the conversation."
The Nigeria Symposium for Young & Emerging Leaders is expected to garner people of power in various sectors of our society. The headlining speaker of this event is Obiageli Ezekwesili (World Bank Vice-President for Africa)
Other Speakers include;
Dr Kayode Fayemi (Executive Governor of Ekiti State)
Bishop Matthew Kukah (Bishop of the Sokoto Diocese of the Catholic Church)
Prof Pat Utomi (Director, Centre for Applied Economics, Lagos Business School)
Biola Alabi (MD M-Net Africa)
Nasir el-Rufai (Former Minister, Federal Capital Territory)
and a host of others.
Winner of the The Future Award for Professional of the Year and current Director of The Future Awards Alumni Network – Dayo Osholowu pointed out that for Nigeria to make leaps forward, this generation has to be different from the last. He said "So we want to bring these leaders together and find out, what exactly is the problem? We want to speak honestly with people in and out of government as to why our leadership is the way it is, we want to understand practically the issues involved and the pitfalls to avoid and we want to now chart a course for how our own leadership will be different, purposive and truly transformative for Nigeria,"
Each year's Symposium will be driven by a question confronting emerging leaders – "How do we work with government: Engage or Fight?". The Symposium is structured into 'Plenary' and 'Break-Out' Sessions with stimulating conversations about Nigeria's leadership crisis and the way forward for a new generation.
The Themes for the break-out sessions are;
Emerging Leaders: Public/Civil Servants – Is it Possible to Stand Out in Government?
Emerging Leaders: Technocrats – Understanding the Problem: Politics or Competence?
Emerging Leaders: Politicians – The Matter of Mud
Emerging Leaders: Professionals – The Degrees of Separation
Emerging Leaders: Entertainers – When Is It More Than A Job?
Emerging Leaders: Entrepreneurs – Building an Alternative
Resource-Base to Affect Governance
Emerging Leaders: New Media Commentators – Questioning the Effectiveness of Arm-Chairs
Emerging Leaders: Issue Advocates/Activists – How to Drive a Genuine Agenda
Emerging Leaders: Traditional Media – The Challenge of Responsible Influence
This event will see many participants invited based on their track record of leadership in various sector, a percentage of the seats have been opened for public nomination.To nominate an individual in any sector or yourself, Click Here
The Symposium is a precursor to the launch of the 7th  Season of The Future Awards, set to take place on Monday 26th August 201, for more info on The Future Awards, Log on to their Website
For more details on "The Nigeria Symposium for Young & Emerging Leaders", keep refreshing BellaNaija.com

Photo Credit: The World Bank
______________________________________________________________________________________________________
BellaNaija.com is an official media sponsor of The Nigeria Symposium for Young & Emerging Leaders