Yeah! It's Thursday. Don't we all just love this day of the week when you get to see for yourself the hottest places, hangouts and venues to be spotted with your loved ones this weekend.
Well,it has sure been a busy week for us all and yours truly –BN, the pace setters in Africa for all things Entertainment, Fashion, Lifestyle, Music and more have compiled a list of events to make this weekend simply your best one yet.
Happy New Month and have yourself the best weekend in the month of February! See you all next week for another edition of BN's ETW and be safe.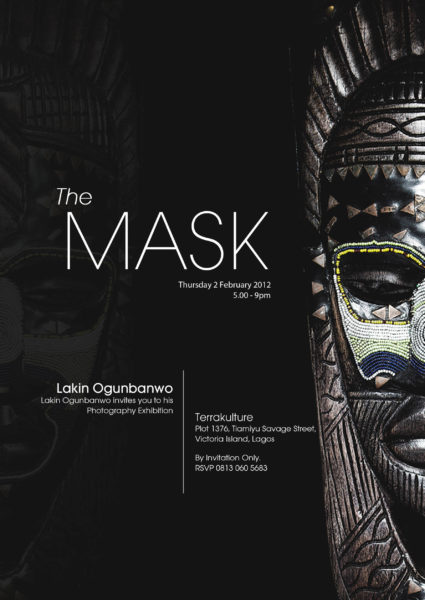 The Mask: A Presentation by Lakin Ogunbanwo
The Mask is a 20 piece exhibition by Lakin Ogunbanwo and it is his very first exhibition in Sub-Saharan Africa. It is a one day display of twenty photographic works taken in celebration of the mystery of the human mind and face. His subjects for this exhibition include the First Lady of Lagos – Abimbola Fashola, presenter Funmi Iyanda, Pastor Femi Paul, singer – Omawumi and many others. Log on to his Website to see his works. Admission to this event is strictly by invitation, to attend RSVP by Calling 08130605683.
Date: Thursday 2nd February 2012
Time: 5 PM – 9 PM
Venue: Terra Kulture, Plot 1376, Tiamiyu Savage Street, Victoria Island, Lagos
_____________________________________________________________________________________________

Newton & David presents My Love No get Subsidy
Newton & David Events has officially opened their Valentine Room. You can come in and take a look at their 2012 selection valentine gift packages on offer which includes a fun and creative array of flower bouquets, cakes, chocolate boxes, fruits and cute stuffed animals.The Valentine room is open for you to come in, look around and make early bookings. Their team of floral designers are already coming up with distinctly creative arrangements to delight you. On display are their 2012 valentine stock of vases, baskets planters and samples of gift packages for you to make a choice from.
Date: Thursday 2nd – Tuesday 14th February 2012
Time: From 9 AM
Venue: Newton & David Lagos Office, 27 Oduduwa Way off Isaac John Street, GRA Ikeja, Lagos | Newton & David Abuja Office, Ceddi Plaza 264, Tafawa Balewa Way, Central Business District, Abuja
Contact: For more info and general enquiries Call 018169972 | 012700894 | +44(0) 7030059833 | 08023880211 | 08074101330 | E-mail [email protected]  | Check out their Facebook Page | Follow them on Twitter @newtonanddavid | Log on to their Website

_________________________________________________________________________________________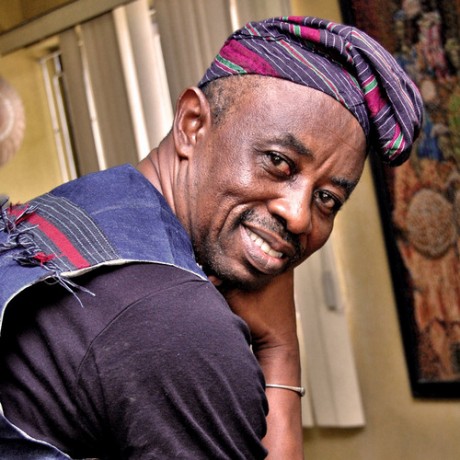 Reel Life Club Presents Cinema by Tunde Kelani
This February, Reel Life Club will screen a month of Nigerian cinema by pioneer cinematographer – Tunde Kelani focusing on the theme – Cinema of Conscience. Tunde Kelani will provide a window into Yoruba culture through his films. There will be a Question & Answer session as well as discussion with him. His classic – Saworide will be screened this Thursday by 6 pm, English subtitle by 7:30PM. Admission is free for all!
Date: Thursday 2nd February 2012
Time: 6 PM
Venue: The Life House, 33 Sinari Daranijo Street off Ligali Ayorinde Street, Victoria Island, Lagos
_____________________________________________________________________________________________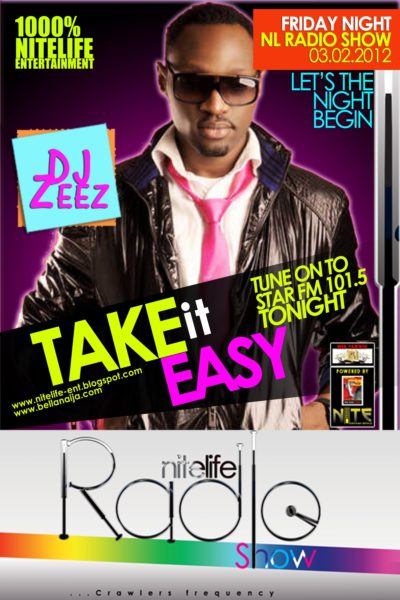 Nitelife Radio Show presents DJ Zeez
This Friday, Nitelife Radio Show will host one of Nigeria's most sought after music act – DJ Zeez. Listeners will get to be up-close and personal with him and also hear the top 7 best club hits. The Nitelife Radio show team will also like to use this opportunity to introduce the Rap & Nitelife as Nitelife Flag off Bullet Proof (Throwback) at Corner Lounge. For more details Log on to www.nitelife-ent.blogspot.com and www.giglinke.com. You can also call these numbers 08033255404 | 08039225857 to book your contests date.
Date: Friday 3rd February 2012
Radio Station: Star FM 101.5 FM
_______________________________________________________________________________________________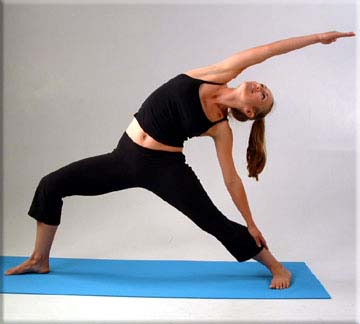 DaYoga Studio X-treme Fitness Bootcamp
Get in shape this February at Da Yoga Studio as DaYoga launches its first studio bootcamp, a vigourous 2-hour Xtreme multi-styled class.The themes are endurance, strength, fat burn and flexibility and the class will feature aerobic exercises, jogging, mixed martial arts (kick-boxing, taekwondo), yoga, pilates and body conditioning. Register today by Calling 07034030683 and sending an E-mail to [email protected], the fee is N 5000 per head and includes a light meal and refreshing drink.Pilates start by 12 Noon.
Date: Saturday 4th February 2012
Time: 9 AM
Venue: The Life House, 33 Sinari Daranijo Street off Ligali Ayorinde Street, Victoria Island, Lagos
_________________________________________________________________________________________________
The Mobile Market presents The Valentine Sale 2012 Edition
Another fabulous edition of the monthly affordable retail shopping experience – The Mobile Market is here again.  This edition tagged "The Valentine Sale 2012 Edition", will see attendees shop for clothes, shoes, jewellery, lingerie, hair extensions, accessories, art, food, drinks, beauty supplies and much more from over 25 vendors.The Mobile Market team has organised this special event to give shoppers an opportunity to not only shop for themselves but get that special someone, a priceless gift this Valentine season.So what ever you want to buy this February, The Mobile Market's Valentine Sale 2012 Edition has got it all plus you get a 50% discount off every item you buy.
Date: Saturday 4th February 2012
Time: 12 Noon – 6 PM
Venue: Rodizzio, 29 Isaac John Street, G.R.A. Ikeja, Lagos
Contact: For more info and general enquiries  Call or Text 08139288777 | 08132887549 | BB Pin 257487cf |E-mail [email protected]gmail.com | [email protected]themobilemarket.com.ng | Follow them on Twitter @themmarket | Log on to their Website
______________________________________________________________________________________________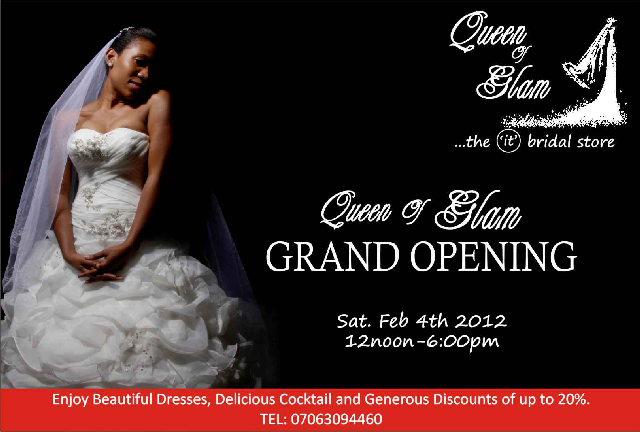 The Grand Opening of Queen of Glam
This Saturday, Abuja will see the grand opening of a new bridal store – Queen of Glam. Admission to this event is free and attendees will get a 10% discount on wedding gowns, 20% discount on all bridal accessories while sipping on chilled cocktails and munching mouth watering delicacies.
Date: Saturday 4th February 2012
Time: 12 Noon – 6 PM
Venue: The Valley, Suit B17, Plot 215 Koloko Crescent, off Adetokunbo Ademola Crescent, Wuse II Abuja. Opposite Eko Bank
Contact: For more info and general enquiries call 07063094460
__________________________________________________________________________________________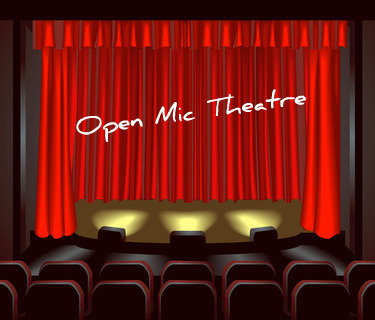 Open Mic Theatre presents The Valentine Edition
In the spirit of the season, Open-Mic Theatre will be holding its 4th edition tagged "Passion". This edition will see performances by Gideon Okeke, Najite Dede, Joseph Benjamin, Lala Akindoju, Omonor Somolu, Uzo Osimkpa, Ifeanyi Dike, Moyo Lawal,Zara Udofia, Ihuoma Ejiofor, Lizz Njagah, Okey Uzoeshi, Omoye Uzamere and many more. Come and experience dramatic performances by some of your loved artistes this Saturday. Admission is free for all and music act Evaezi will also be around to open the show with a selection of her hits.
Date: Saturday 4th February 2012
Time: 6 PM
Venue: The Life House, 33 Sinari Daranijo Street off Younis Bashorun off Ajose Adeogun, Victoria Island Lagos
_________________________________________________________________________________________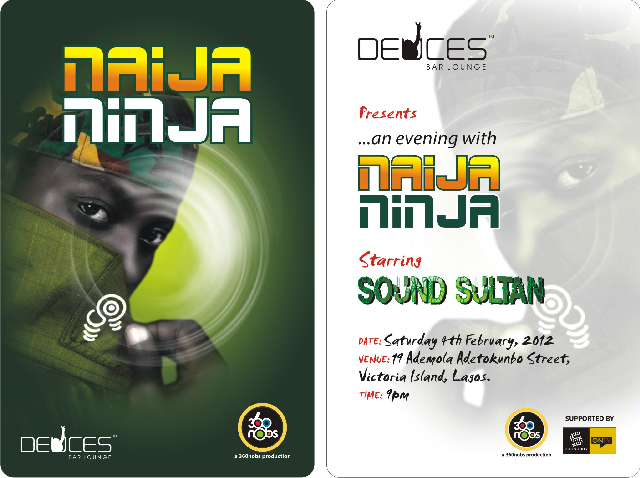 An Evening with Sound Sultan
Deuces Bar & Lounge presents an evening with the one and only Naija Ninja – Sound Sultan. It promises to be a night of excitement, meeting new people and fun plus you get to hang out Sound Sultan himself. Admission is free.
Date: Saturday 4th February 2012
Time: 9 PM
Venue: 19 Ademola Adetokunbo street Victoria Island, Lagos
_________________________________________________________________________________________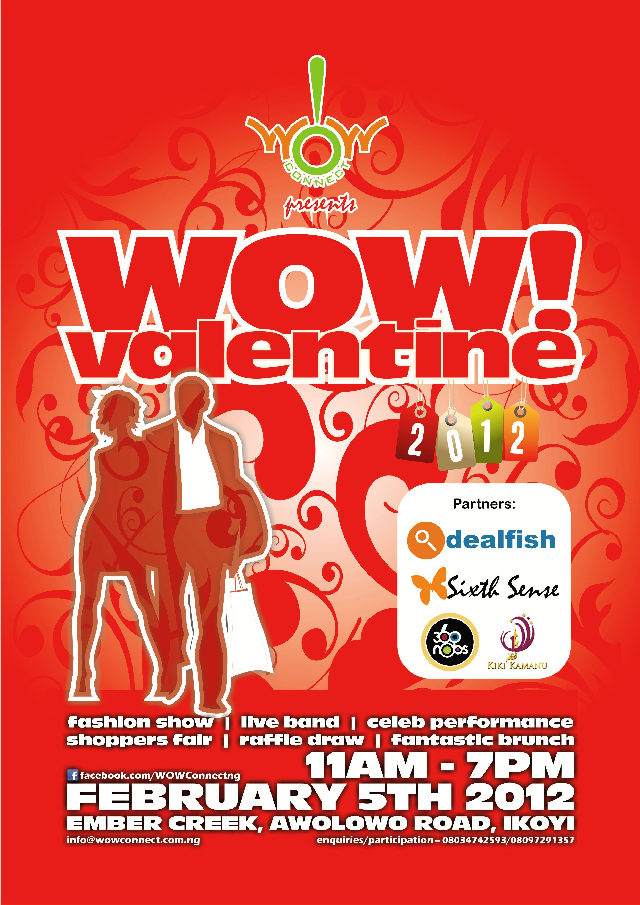 WOW! Connect presents WOW! Valentine 2012
Trend conscious event and marketing company – WOW! Connect, on Sunday 5th February 2012 will hold the anticipated WOW! Valentine 2012 event. The event will be a mix of networking, performances by three surprise guests, autograph signing by Praiz, Ese Peters, Ibiyemi and Goldie, a fashion show as well as sales of various valentine gifts and accessories. There will also be giveaways by Sixth Sense, Kiki Kamanu, Qonot, BhEERHUGZ and more.
Date: Sunday 5th February 2012
Time: 11 AM – 7PM
Venue: Ember Creek, Awolowo Road, Ikoyi, Lagos
Contact: For more info and general enquiries  Call 08034742593 | 08097291357 | 08099914114 | Check out their Facebook Page | Follow them on Twitter
__________________________________________________________________________________________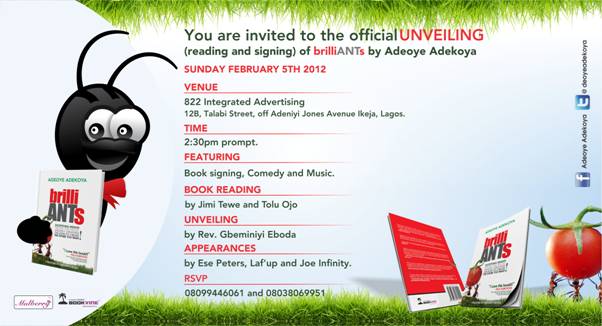 The Official unveiling of brilliANTs by Adeoye Adekoya
Join Adeoye Adekoya this Sunday as he reads from his book – brilliANTs. Joining Adeoye to read this book will be Jimi Tewe (Career Strategist and author of Free from Corporate Slavery), Pastor Tolu Ojo and Rev. Gbeminiyi Eboda. Also scheduled to attend are Ese Peters, Laf'up and Joe (of Infinity) treating guests to soulful and hilarious phases of music and comedy. This event promises to be fun and exciting all through. Admission is free but to attend, Call 08038069951.
Date: Sunday 5th February 2012
Time: 2:30 PM
Venue: 822 Integrated Advertising, 12B Talabi Street, off Adeniyi Jones Avenue, Ikeja, Lagos
___________________________________________________________________________________________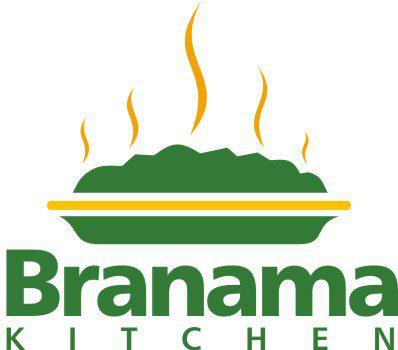 The Opening of Branama Kitchen
This Sunday, a new restaurant Branama Kitchen owned by music act – Kefee will officially open its doors to the general public. This restaurant  launch which is also the birthday of Kefee will serve a wide variety of African and continental dishes. Admission to this event is free.
Date: Sunday 5th February 2012
Time: 3 PM
Venue: 11, Ajose Street, Mende, Maryland, Lagos
_______________________________________________________________________________________________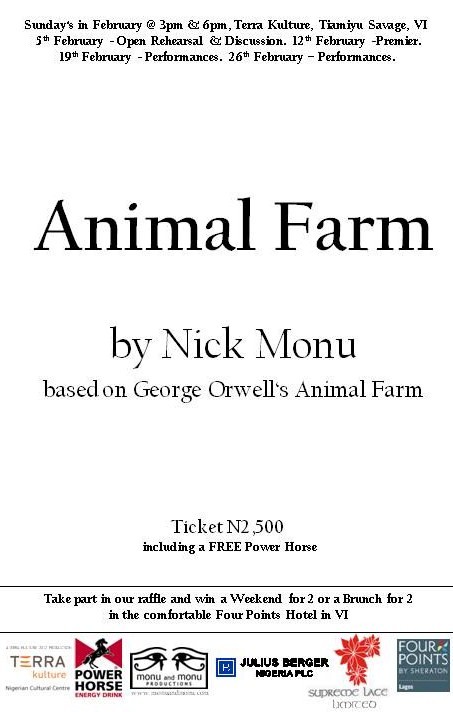 Open Rehearsal & Discussion of Animal Farm at Terra Kulture
Terra Kulture is pleased to invite the general public for its rehearsal session for their on going drama – Animal Farm, adapted  from the best selling book by George Orwell. There will also be open discussions and admission to this event is free for all.
Date: Sunday 5th February 2012
Time: 3 PM & 6 PM
Venue: Terra Kulture, 1376 Tiamiyu Savage Victoria Island, Lagos
Contact: For more info and general enquiries E-mail [email protected]
________________________________________________________________________________________________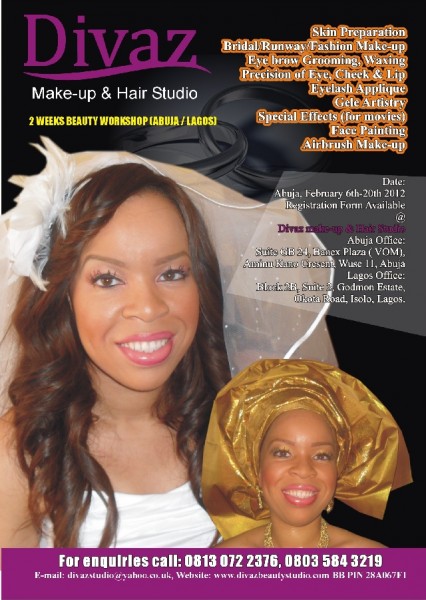 Divaz Make-Up and Hair Studio presents Divaz 2-Week Beauty Workshop
Divaz Make-Up and Hair Studio presents "Divaz 2-Week Beauty Workshop" set to begin training this February. Attendees will be taught by skilled professionals on Skin Preparation, Bridal/Runway/Fashion Make-Up, Eyebrow Grooming and Waxing, Knowledge of Sculpting (Contour and Highlight), Precision of Eye, Chick and Lip, Eyelash Appliqué, Gele Artistry, Special Effects Make-Up for movies, Face Painting and many more. For registration details, be sure to contact them.
Date: Monday 6th – Monday 20th February 2012
Venue: Divaz Make-Up and Hair Studio, Suite Gb 24 Banex Plaza (Vom), Amino Kano, Crescent, Wuse II, Abuja
Contact: For more info and general enquiries Call 08186191760 | 08130722376 | 08035843219 | BB Pin 28A067F1 | E-mail [email protected] | Follow them on Twitter – @kofoworolah | Log on to their Website |Visit Divaz Makeup and Hair Studio, Suite Gb 24 Banex Plaza (Vom), Amino Kano, Crescent, Wuse II, Abuja
_____________________________________________________________________________________________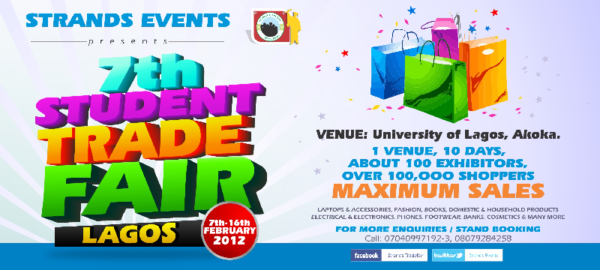 Strands Events presents 7th Student Trade Fair Lagos
Be a part of the biggest youth shopping event – 7th student trade fair event taking place this Tuesday at UNILAG. There will be over 100 exhibitors and 1000 shoppers.
Date: Tuesday 7th – Thursday16th February 2012
Venue: University of Lagos, Akoka, Lagos
Contact: For more info and general enquiries on stand bookings Call 07040997192-3 | 08028514587
__________________________________________________________________________________________________________
BellaNaija.com is not responsible for the organization or further promotion of these events, neither do we have a stake in their sales or popularity. Inclusion in "Events This Weekend" is Free. Contact – adsales @bellanaija.com if you will like your event to be included. Note that BN reserves the right to choose which events are featured. "Pay to attend" parties attract a fee