Good Morning Nigeria and Happy Thursday!
We at BN are glad to see you all here once again. Believe it or not the weekend is here and trust us to keep you updated with very best of events to make you have a fun filled weekend.
The season of love still continues and if you would like to show more love to the special people in your life and you don't have a clue on where to take them. Never mind because BellaNaija.com has got you covered as we have compiled a list of the hottest, places, hangouts, venues and events to be spotted this weekend.
Be sure to have fun, stay safe and show someone that you care.
See you all next week!
Storm 360 presents Olo Mi Concert with Tosin Martins
On Sunday, Oriental Hotel will play host to Olo Mi Concert with Tosin Martins. The event will be hosted by Sasha and will feature performances by Ms Jaie, Waje, Tiwa Savage, Lara George, Omawumi and Ego. Music icon – Onyeka Onwenu will also make a special guest appearance.
Date: Sunday 19th February 2012
Time: 6 PM
Venue: Main Hall, Oriental Hotel, Lekki, Lagos
Ticket Price: Regular N 5,000 | Double N 7,500 | V.I.P N 10,000
Ticket Locations: The Palms Mall, Lekki, Lagos | Terra Kulture, Plot 1376, Tiamiyu Savage,Off Ahmadu Bello Way,Victoria Island, Lagos | Oriental Hotel | At the Venue
________________________________________________________________________________________________
Reel Life Club Presents Cinema by Tunde Kelani
Through out this February, Reel Life Club will screen a month of Nigerian cinema by pioneer cinematographer – Tunde Kelani focusing on the theme – Cinema of Conscience. Tunde Kelani will provide a window into Yoruba culture through his films. There will be a Question & Answer session as well as discussion with him. His classic – Campus Queen  will be screened this Thursday by  7:30 PM. Admission is free for all!
Date: Thursday 16th February 2012
Time: 7: 30 PM
Venue: The Life House, 33 Sinari Daranijo Street off Ligali Ayorinde Street, Victoria Island, Lagos
_____________________________________________________________________________________________________________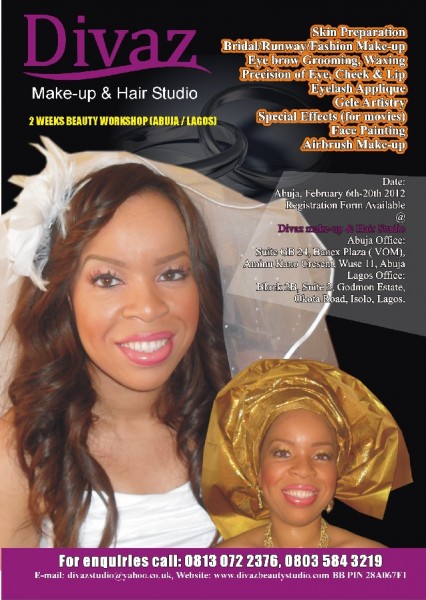 Divaz Make-Up and Hair Studio presents Divaz 2-Week Beauty Workshop
Divaz Make-Up and Hair Studio presents "Divaz 2-Week Beauty Workshop" set to begin training this February. Attendees will be taught by skilled professionals on Skin Preparation, Bridal/Runway/Fashion Make-Up, Eyebrow Grooming and Waxing, Knowledge of Sculpting (Contour and Highlight), Precision of Eye, Chick and Lip, Eyelash Appliqué, Gele Artistry, Special Effects Make-Up for movies, Face Painting and many more. For registration details, be sure to contact them.
Date: Thursday 16th – Monday 20th February 2012
Venue: Divaz Make-Up and Hair Studio, Suite Gb 24 Banex Plaza (Vom), Amino Kano, Crescent, Wuse II, Abuja
Contact: For more info and general enquiries Call 08186191760 | 08130722376 | 08035843219 | BB Pin 28A067F1 | E-mail [email protected] | Follow them on Twitter – @kofoworolah | Log on to their Website |Visit Divaz Makeup and Hair Studio, Suite Gb 24 Banex Plaza (Vom), Amino Kano, Crescent, Wuse II, Abuja
_____________________________________________________________________________________________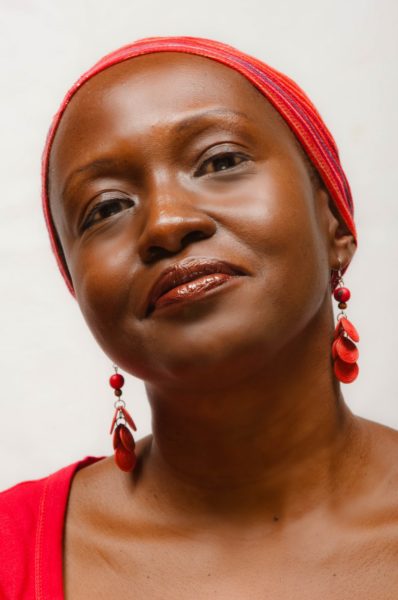 Doreen Baingana Reads from Her Book Tropical Fish
Ugandan short story writer –  Doreen Baingana will read from her Commonwealth Writers Prize award winning book – Tropical Fish at the Life House this Friday. Be sure to attend and experience Doreen live and direct. Admission is free for all!
Date: Friday 17th February 2012
Time: 6 PM
Venue: The Life House, 33 Sinari Daranijo Street, off Younis Bashorun Street, off Ajose Adeogun Street, Victoria Island, Lagos
Contact: For more info and general enquiries E-mail [email protected]
__________________________________________________________________________________________________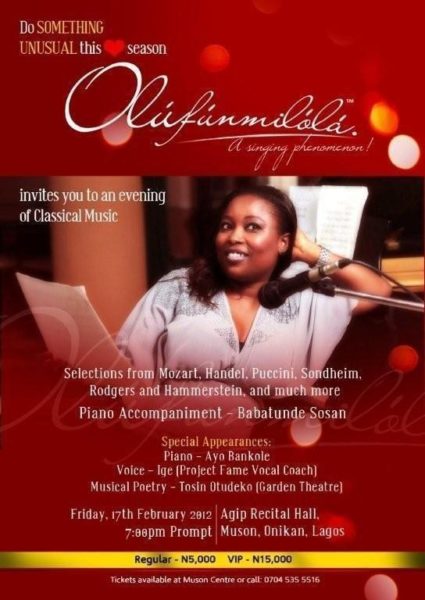 Presenting Oluwafunmilola – A Singing Phenomenon
Enjoy a night of never ending classical music with Oluwafunmilola. This event taking place at the MUSON Centre will see selections from Mozart, Handel, Puccini, Sondheim, Rodgers and Hammerstein, Babatunde Sosan will be the piano accompaniment of the night. There will also be appearances by Ayo Bankole (Piano), Ige (MTN Project Fame Coach), Tosin Otudeko (Musical Poetry)
Date: Friday 17th February 2012
Time: 7 PM
Venue: Agip Recital Hall, MUSON Centre, Onikan, Lagos
Ticket Price: Regular N 5,000 | VIP N 15,000
Ticket Locations: MUSON Centre, Onikan, Lagos | Simply Call 07045355516
_______________________________________________________________________________________________
Nitelife Radio Show with Tosan Scott
Join Tosan Scott this Friday on Star FM for the Nitelife Radio Show's "Sugar Friday". Expect fun from start to finish with DJ Mat Unbeatable as he reveals his Top 7 club hits. For more info log on to their blog – www.nitelife-ent.blogspot.com
Date: Friday 17th February 2012
Time: 9;30 PM
Radio Station: Star FM 101.5
_______________________________________________________________________________________________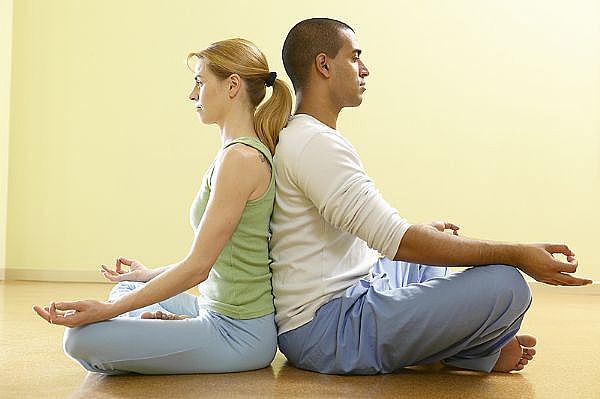 Stay fit and healthy at DaYoga Studio
Treat your self to a day of non stop exercise at DaYoga Studio this Saturday.
Date: Saturday 18th February 2012
Time: Beginners Yoga 9 AM | Intermediate DaYoga Classic 10 AM | Pilates 12 PM
Venue: DaYoga Studio, The Life House, 33 Sinari Daranijo Street off Ligali Ayorinde Street, Victoria Island, Lagos
Contact: For more info and general enquiries Call 07034030683 | E-mail [email protected] 
_______________________________________________________________________________________________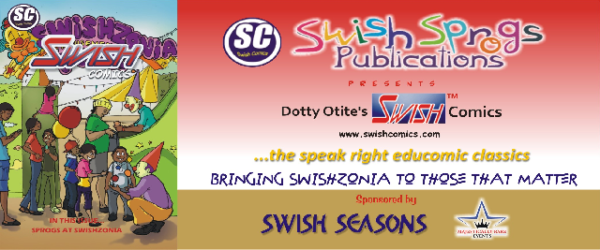 Swish Comics heads to Yaba
This Saturday, Dotty Otite's Swish Comics will be having a launch party themed "Bringing Swishzonia to those that matter" for the children at the Red Cross Orphanage, Yaba, Lagos. To attend, send an E-mail to [email protected]
Date: Saturday 18th February 2012
Time: 12 Noon
Venue: Red Cross Orphanage, Yaba, Lagos
_______________________________________________________________________________________________
Reading & Conversation with Dr. Tony Marinho
Nigerian gynaecologist and obstetrician  – Dr. Tony Marinho will read from his book – Hope's Wristwatch (an anthology of short stories and poems) this Saturday at the Life House. Dr Tony who has written  several children's books will be live and direct at the Life House. Admission is free for all but you must RSVP by Calling 07034030683 or E-mailing [email protected]
Date: Saturday 18th February 2012
Time: 6 PM
Venue: The Life House, 33 Sinari Daranijo Street off Ligali Ayorinde Street, Victoria Island, Lagos
____________________________________________________________________________________________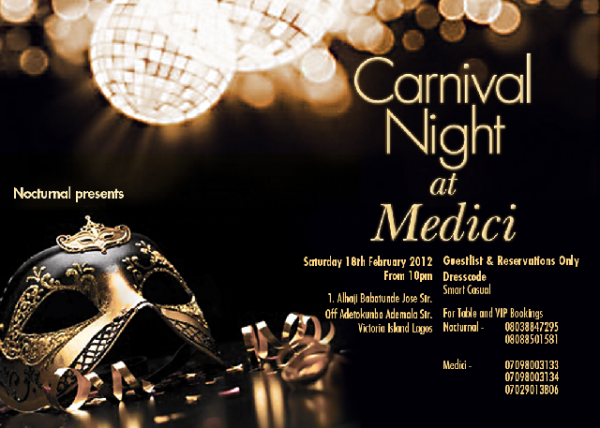 Nocturnal Entertainment & Veuve Clicquot Ponsardin present Carnival Night
This Saturday, Nocturnal Entertainment & Veuve Clicquot Ponsardin will be throwing an exclusive VIP party at the Medici.The event tagged "Carnival Night" will surely be a splendid and fabulous one for all as attendees will get discounted Veuve Clicquot Champagne and complimentary shooters as well as Hors d'œuvres from the acclaimed Medici kitchen. Guests can bring along a date or dates and are advised to dress their best as a strict dress code will be enforced – Men (Business Casual or Traditional) | Ladies – Glam Up nicely.The Membership club and guest list continues to grow, so to attend this guest list only party send an E-mail with your full name and phone number to [email protected] and follow them on Twitter @i_am_nocturnal and be sure to arrive early.
Date: Saturday 18th February 2012
Time: 10 PM
Venue: Medici, No 1 Festival Road (Former Alhaji Babatunde Jose) Off Ademola Adetokunbo, Victoria Island, Lagos
Contact: For more info and general enquiries Call 08038847295 | 08088501581| 08162808545 | 07098003133 | 07098003134 | 07029013806
_________________________________________________________________________________________________________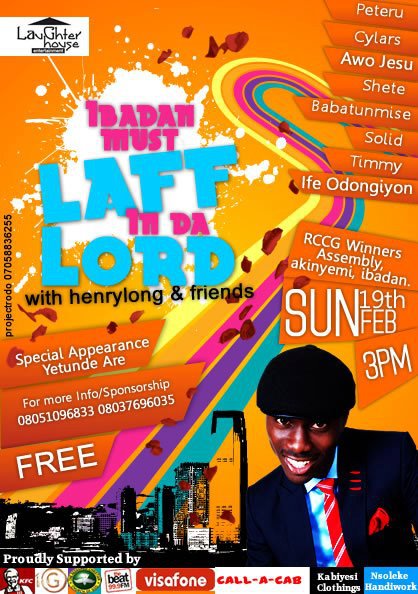 Ibadan Must Laff In Da Lord with Henrylong & Friends
Ibadan get ready to laugh in the lord as Laughter House presents Ibadan Must Laff In Da Lord with Henrylong & Friends. Scheduled to attend are Peteru, Cylars, Awo Jesu, Shete, Babatunmise, Solid, Timmy, Ife, Odongiyon and many others. There will also be a special appearance by Yetunde Are. For more info and general enquiries 08051096833 | 08037696035
Date: Sunday 19th February 2012
Time: 3 PM
Venue: RCCG, Winners Assembly, Akinyemi Area, Ibadan, Oyo
__________________________________________________________________________________________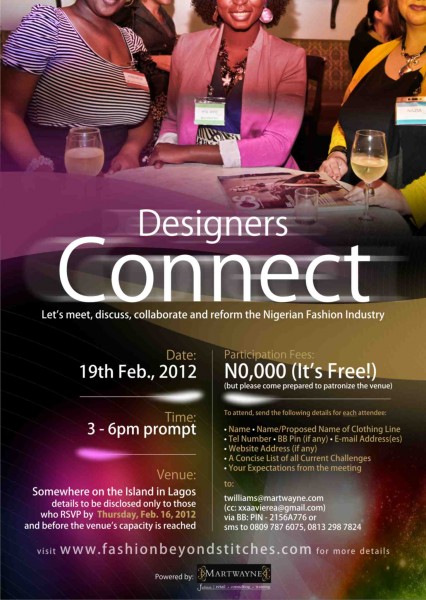 Designers Connect
Designers Connect – a  gathering for all aspiring, up-coming and practising fashion designers will take place this Sunday. The event which is aimed for networking, will also see attendees discuss on current challenges faced in the Nigerian Fashion Industry with a view to developing practical solutions to them and finding a way to sanitize and move the industry forward. Admission is free for all! For details on how to attend, be sure to contact them as only invited attendees will know the venue.
Date: Sunday 19th February 2012
Time: 3 PM – 6 PM
Contact: For more info and general enquiries Call 08097876075 | 08132987824 | BB Pin 2156A776 | E-mail [email protected] | Log on to their Blog
________________________________________________________________________________________________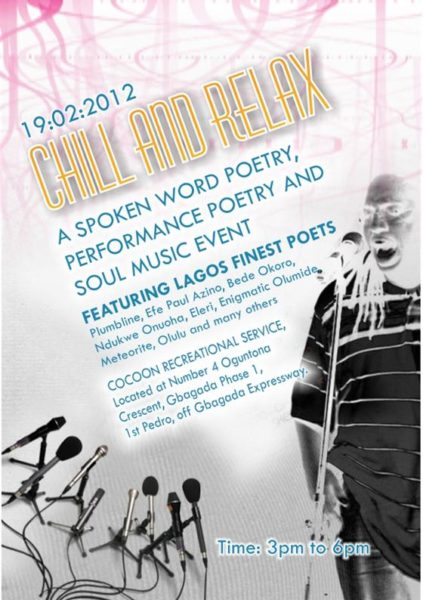 Chill And Relax
A Spoken Word, Performance Poetry and Soul Music Event – Chill and Relax will be taking place this Sunday at Cocoon Recreational Service, Gbagada. The event will also feature some of Lagos finest poets – Plumbline, Efe Paul Azino, Bede Okoro, Ndukwe Onuoha, Eleri, Enigmatic Olumide, Meteorite, RezDaPoet, Torpedo and Olulu. Admission is free for all!
Date: Sunday 19th February 2012
Time: 3 PM – 6 PM
Venue: Cocoon Recreational Service (Sports Bar) 4 Oguntona Crescent, Gbagada phase 1, 1st Pedro off Gbagada Express Way, Gbagada, Lagos
__________________________________________________________________________________________________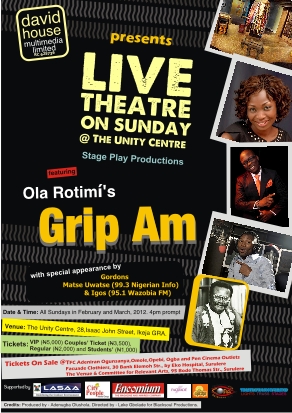 David House Multimedia Limited presents Live Theatre on Sunday featuring Ola Rotimi's Grip AM
Catch Ola Rotimi's Grip Am at the Unity Centre this Sunday. The stage production is sure to impress from the beginning to the end. This event will see appearances by Gordons, Matse Uwatse of Nigerian Info and Igos of Wazobia FM
Date: Sunday 19th February 2012
Time: 4 PM
Venue: The Unity Centre, 28 Isaac John Street, Ikeja, G.R.A
Ticket Price: Students N 1,000 | Single N 2,500 | Couples N 3, 500 | V.I.P N 5,000
Ticket Locations: At the Venue | Tastee Fried Chicken Outlets | Simply Call 08108156335 | 08038279873
_________________________________________________________________________________________________
Onos presents For the love of the season
For the love of the season is a concert to celebrate the Valentine season and it is organised by Gospel act – Onos. Scheduled to attend and perform their hit tracks are Waje, Timi Dakolo, Jodie, Eric, Gaise, Segun Obey, Ese Peters and many others. Fashion labels – Kiki Kamanu and Byge will also be around to showcase their label's collection. Comperes of the event are Julius 'The Genius' Agwu and Titi of Inspiration FM. There will also be comedy by MC Abbey and Jedi. For tickets Call 08163736632 | 08022222575 | 08034928557 | 08037277904
Date: Sunday 19th February 2012
Time: 5 PM
Venue: The Grand Ball Room, Eko Hotel & Suites, Victoria Island, Lagos
_________________________________________________________________________________________________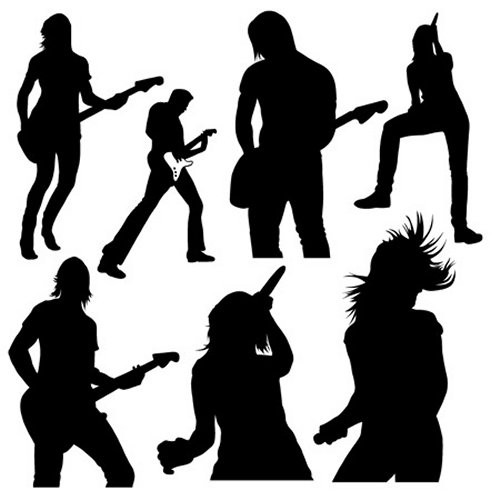 British Council presents Jazz Jam With the Invisible
Join British band – The Invisible (2009 Mecury Prize Nominees for eponymous debut album) at the Jazzhole, Ikoyi for an evening of live jazz music. Admission is free for all!
Date: Sunday 19th February 2012
Time: 6 PM – 9 PM
Venue: Jazzhole, 168 Awolowo Road, Ikoyi, Lagos
___________________________________________________________________________________________________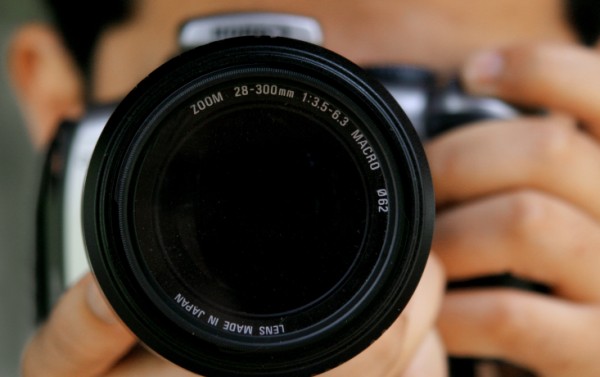 Photography Master Class with Marc C
Do you want to be a professional photographer? Then sign up today for a photography class taking place at The Life House with Marc C – an experienced amateur/semi-professional photographer practicing photography for well over 10 years. This photography class costs N 4,000 and you can register by Calling 07034030683 | Send and E-mail to [email protected]
Date: Monday 20th February 2012
Venue: The Life House, 33 Sinari Daranijo Street off Ligali Ayorinde Street, Victoria Island, Lagos
____________________________________________________________________________________________________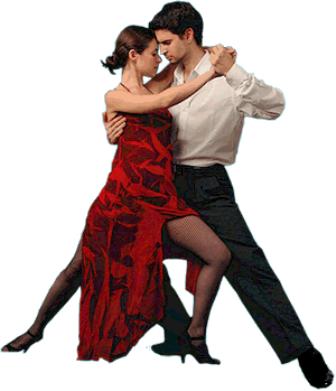 Introducing Dance Sweats
Sweat, Jump and Work it at the Life House this Tuesday. At 6:30 PM, the Zumba Dance Class will start and by 7 :30 PM, a brand new class – Afrodancerobics will kick off, where you will get to experience Rhumba, Afrobeat Dance, Hip Hop, African, Samba, Salsa, Bata, Dundun and Royal Benin Dance. Both classes are N 2,000 per person. For more info and general enquiries Call 07034030683
Date: Tuesday 21st February 2012
Time: Zumba Dance Class 6:30 PM | Afrodancerobics 7:30 PM
Venue: The Life House, 33 Sinari Daranijo Street off Ligali Ayorinde Street, Victoria Island, Lagos
_______________________________________________________________________________________________________
BellaNaija.com is not responsible for the organization or further promotion of these events, neither do we have a stake in their sales or popularity. Inclusion in "Events This Weekend" is Free. Contact – adsales @bellanaija.com if you will like your event to be included. Note that BN reserves the right to choose which events are featured. "Pay to attend" parties attract a fee