Yippee! We made It!
We are so sorry for keeping you waiting on your favorite slot where Africa's pace setter for all things Entertainment, Fashion, Lifestyle, Music and more – BellaNaija.com keeps you updated on the hottest places, venues, hangouts and events to be spotted with friends and family this weekend, we just wanted to make sure we fully compile a list of the best most-go-to events.
Check out all  the glamorous, sophisticated, fun loving and simply exciting events taking place in Lagos, Abuja, Jos and the UK.
Have yourself a wonderful Thursday and see you all next week and be sure to stay safe!
Ciao!
Reel Life Club Presents Cinema by Tunde Kelani
This Thursday marks the end of Reel Life's Club Cinema by Tunde Kelani series. His classic – Arugba will be shown to mark the end of a whole month of films by Tunde Kelani.There will be a question & answer session where you can ask the pro himself all you want. Admission is free for all!
Date: Thursday 9th February 2012
Time: 6 PM
Venue: The Life House, 33 Sinari Daranijo Street off Ligali Ayorinde Street, Victoria Island, Lagos
_____________________________________________________________________________________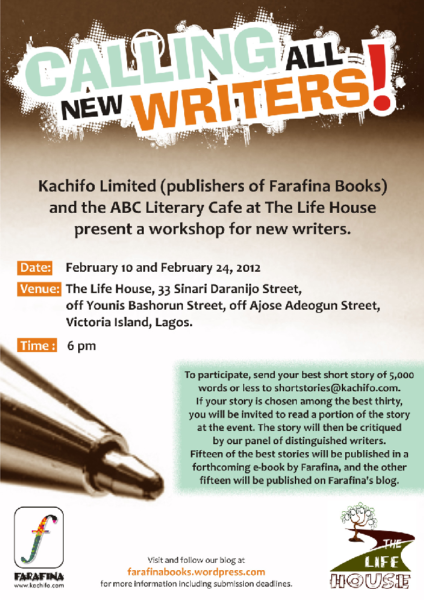 An Evening of Readings
Kachifo Limited and the ABC Literary Cafe of The Life House present an evening of readings. This event is aimed at showcasing the works of selected new African writers in which a panel of esteemed writers critic the stories. Admission is free for all!
Date: Friday 24th February 2012
Time: 6 PM
Venue: The Life House, 33 Sinari Daranijo Street, off Ligali Ayorinde Street, Victoria Island, Lagos
Contact: For more info and general enquiries E-mail info@kachifo.com | info@thelifehouselagos.com
______________________________________________________________________________________

Cedar Events presents the Inspire 101 Workshop
You are cordially invited to join Cedar Events for a champagne reception at  Harrods Store to celebrate the first night of the 3 day Inspire 101 series of workshops with their VIP dream team of award winning wedding industry experts such as Yemi Osunkoya (Creative Director, Kosibah Bridal Wear), Pippa Mackenzie ( Pippa Mackenzie Photography), Elizabeth Solaru (Elizabeth's Cake Emporium) and one of London's best florist – William Clarke Flowers.This event will also see in attendance wedding industry experts, fashionistas, bridal editors, bloggers, brides, grooms and futurologists. For tickets, send an E-mail to inspire@cedar-events.co.uk
Date: Friday 24th February 2012
Time: 6:30 PM
Venue: Harrods Store, United Kingdom
______________________________________________________________________________________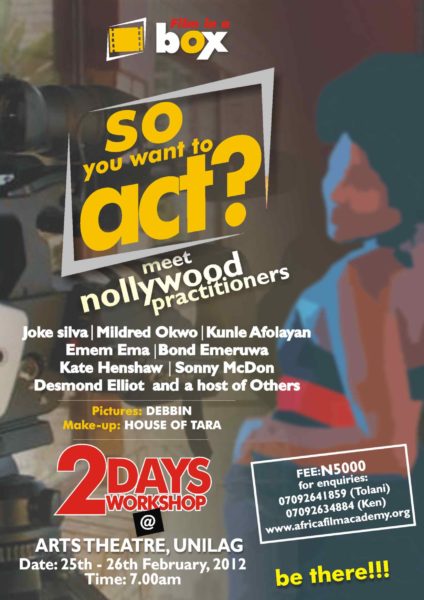 So You Want To Act?
Do you love to be an actor? Then get yourself ready as Africa Film Academy – the curator of the annual AMA Awards is organizing a workshop this weekend. This workshop is targeted at young Nigerians seeking a career in the film industry.The fee is N 5000 and it is worth every penny as you'll get to see  movie stars like Joke Silva, Desmond Elliot, Kate Henshaw and a host of others. For more info and general enquiries Call 07092641859 | 07092634884
Date: Saturday 25th – Sunday 26th February 2012
Time: 7 AM – 5 PM Daily
Venue: Arts Theatre, University of Lagos, Sabo, Yaba, Lagos
Fee: N 5000
_____________________________________________________________________________________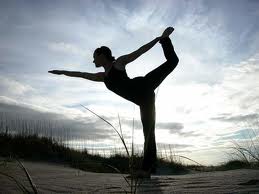 Stretch your muscles this Saturday at DaYoga Studio
Get ready to get in shape with DaYoga instructors for a brand new week.Be sure to arrive early. Admission is free for all!
Date: Saturday 25th February 2012
Time: Beginners Yoga 11 AM | Intermediate DaYoga Classic 12 PM | Pilates 1.15 PM
Venue: DaYoga Studio, The Life House, 33 Sinari Daranijo Street off Ligali Ayorinde Street, Victoria Island, Lagos
Contact: For more info and general enquiries Call 07034030683 | E-mail wellness@dayogastudio.com 
______________________________________________________________________________________
Art Space Round Up: The Art Space of Public Opinion
A presentation about Art and Space of Public Opinion organized by Goethe-Institut Nigeria will take place this Saturday.This event will see discussions centered around the recent use of public spaces in Nigeria, presenters include Aderemi Adegbite, Gbenga Sesan, Jelili Atiku, panelists are Segun Adefila, Dapo Oyewole, Theo Lawson and the event will be moderated by Deji Toye. Admission is free for all!
Date: Saturday 25th February 2012
Time: 11 AM
Venue: Goethe-Institut Nigeria, Lagos City Hall, 3rd Floor, 30 Catholic Mission Street, Lagos Island, Lagos
______________________________________________________________________________________
Fashion Entrepreneurship Course
Turn your love for Fashion into a viable business this February as fashion retail, consulting and training outfit – Martwayne presents its "Fashion Entrepreneurship Course" (Vol 1) taking place on Saturday 25th February 2012 at Planet One, Ikeja, Lagos.The course which comprises of series of lectures on the fundamentals of running a fashion business will see attendees thought by skilled professionals on understanding the Fashion industry and its related fields, the design and production process and discovering the designer in you. The registration fee is N 10,000, be sure to contact them for payment info.
Date: Saturday 25th February 2012
Time: 12 Noon
Venue: Planet One Hospitality, Maryland, Ikeja, Lagos
Contact: For more info and general enquiries Call 08097876075 | 08132987824 | 08191420983 | BB Pin 2156A776 | E-mail twilliams@martwayne.com
______________________________________________________________________________________
X-Media & Ayana Events present Street Kings
The anticipated street kings musical festival will finally take place this Sunday at TBS. Attendees will enjoy non stop entertainment as some of Nigeria's most sought after musical acts – Femi Kuti, Terry G, Naeto C, DIL, Eldee, Cupa Stonce, MI, Sound Sultan, Durella, Goldie, Omawumi, Yemi Alade, Davido, JJC, Shina Peters, Justina, Kween, Skales, So Sick, Benny, AQ, Double Vision and many others will perform some of their biggest hits and Gbenga Adeyinka will host the show. The event promises to be the talk of town long after it is gone.
Date: Saturday 25th February 2012
Time: 2 PM
Venue: Tafawa Balewa Square, Lagos
Ticket Price: Students N 500 with I.D | Regular N 1,000
Ticket Locations: Tantalizers Outlets | Tafawa Balewa Square, Lagos | Beat FM, 26 Keffi Street, off Awolowo Road, Ikoyi, Lagos | Swe Bar & Lounge, 2nd Floor Citymall Onikan, Lagos | African Shrine | Rita Lori Hotel, Surulere, Lagos
Contact: For more info and general enquiries Call 07052981428 | 08033677383 | Follow them on Twitter @ Mystreetkings
______________________________________________________________________________________
Book N Gauge IX: Nine & Still Counting Featuring El Nukoya
The author of Nine Lives – El Nukoya will be at the 9th edition of the Book N Gauge this Saturday.Come and see El share his in depth reason for writing his book. Also scheduled to be at this event are singing sensation – Nayo Soul and spoken word artiste – Razaq Ivori. Be sure to arrive early as it will be an exciting event. An attendee who brings along 5 friends will win a book. Admission is free for all!
Date: Saturday 25th February 2012
Time: 2 PM
Venue: Debonair Bookstore, 294, Herbert Macaulay Way, Sabo, Yaba, Lagos
______________________________________________________________________________________
Unhinged: Surviving Jo'burg
This Saturday, Goethe-Institut Nigeria will screen a documentary film titled – Unhinged: Surviving Jo'burg. The movie which was directed by Adrian Loveland is one to watch and promises to thrill from beginning to the end. Admission is free for all!
Date: Saturday 25th February 2012
Time: 3 PM
Venue: Nigerian Film Corporation,Lagos Branch, Old Film Unit Opposite Ikoyi Cemetery,Ikoyi, Lagos
Contact: For more info and general enquiries Log on to their Website | Follow them on Twitter @ GoetheNigeria
______________________________________________________________________________________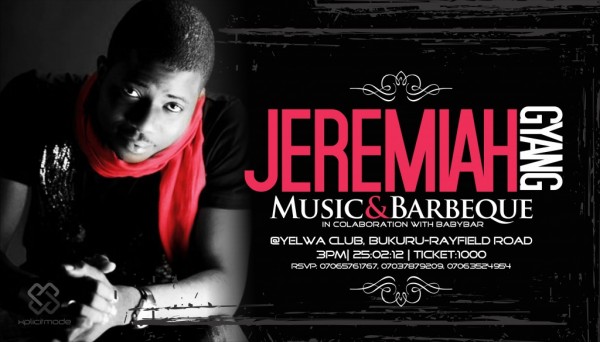 Jeremiah Gyang & Baybar present Music & Barbeque
"Na Ba Ka" star – Jeremiah Gyang in conjunction with Baybar present Music & Barbeque – an event which will feature live performances by Jeremiah Gyang himself, Bezalel, Bob Wayas and Jah Device. Attendees will also munch on most tasty barbeque the town of Jos has to offer.To RSVP, Call 07065761767 | 07037879209 | 07063524954
Date: Saturday 25th February 2012
Time: 3 PM
Venue: Yelwa Club Garden, Bukuru-Rayfield Road, Jos, Plateau
Ticket Price: N 1,000
______________________________________________________________________________________
Party with the Bachelors
Make it a date this Saturday at Q Lounge to party with some of Africa's most eligible bachelors like Lynxxx, Chris Attoh, Uti Nwachukwu, Bryan Okpara and many others. Admission is free for all!
Date: Saturday 25th February 2012
Time: 10 PM
Venue: Q lounge, Lagos
____________________________________________________________________________________
Bloke Magazine presents Bloke Lounge Music for the pair of you
One of Nigeira's highly rated publicated – Bloke Magazine is having an event Music for the pair of you at Saffron Restaurant this Sunday. This event will see a gathering of beautiful people who will like to listen to great music and some of our loved celebrities will give renditions of the greatest love duets ever made. The celebrities include Eric Arubayi, OC Ukeje, Jodie, Geraldine iheme, Pheel, Ebisan, Onos, Amaika, Vixen, and Uche Nnaji, they will all be directed by a South African based producer – Joel J'adore Wilson. Others stars making special appearances are Warebi Martha, Joseph Benjamin, Ibiyemi, Andre Blaze, Alex, DJ Sose, Eva and many others. There is also going to be a special magazine signing by Warebi Martha and Joseph Benjamin.
Date: Sunday 26th February 2012
Venue: Saffron Restaurant, Silverbird Galleria, 133 Ahmadu Bello Way, Victoria Island, Lagos
_____________________________________________________________________________________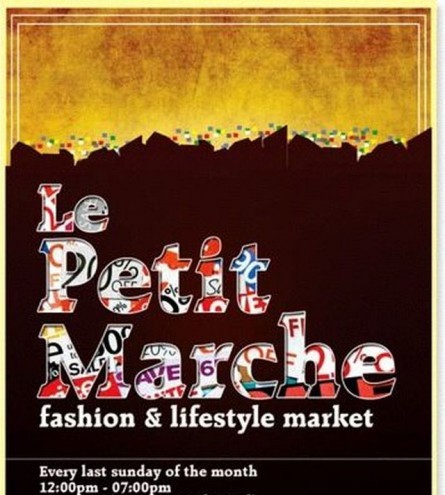 The February 2012 Edition of Le Petit Marche
LPM is back again and we are super excited. The LPM Team has pulled all necessary stops to ensure that this edition is better than the last edition. Attendees will get to buy items from over 20 vendors stocked with items from Nigeria and beyond. So if you missed the last edition, now its the time to get yourself prepared for this one.
Date: Sunday 26th February 2012
Time: 12 Noon – 7 PM
Venue: L'Espace, 19 A Olosa Street, off Karimu Kotun, Victoria Island, Lagos
___________________________________________________________________________________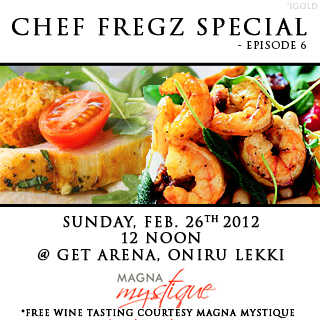 Chef Fregz Special Episode 6
Another mouth watering edition of Chef Fregz Special is here again. Expect the very best of world class cuisine this Sunday at the Get Arena as there will be lots of finger licking foods to munch on from the Chef Fregz Menu.Vanity Oils and Virtue Clothing would also be at the venue and they'll give out Discount Coupons for meals purchased on their products and attendees will enjoy free tasting of Magna Mystique. Admission is free for all!
Date: Sunday 26th February 2012
Time: 12 Noon
Venue: GET Arena, Lekki, Lagos
______________________________________________________________________________________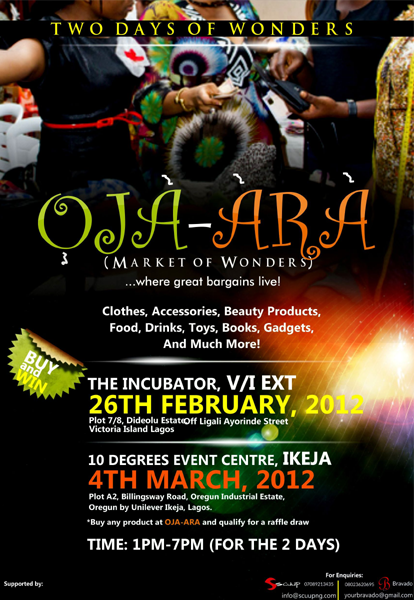 Oja Ara
Saturday will see another edition of the superlative shopping experience – Oja Ara but this edition comes with double the action, double the bargains and of course, double the fun and excitement as the organizers have promised to surpass your expectations and make the shopping event one not to forget with "2 Days of Wonders". On sale will be women, men and children's apparel, accessories, beauty products, lingerie, home wares, cookware, soft furnishing, gadgets, books, fitness and health products, fabrics, mouth watering delicacies, drinks and loads more.Attendees will also get the chance to enter for the Oja-Ara "2 Days of Wonders" raffle draw, where you could be lucky and go home with various prizes from their sponsors.
Date: Sunday 26th February 2012
Time: 1 PM – 6 PM Daily
Venue: The Incubator, City of David Church Road, Plot 7/8 Dideolu Estate, Oniru, off Ligali Ayorinde Street, Victoria Island, Lagos
Contact: For more info and general enquiries Call 08023620695 | E-mail info@scuupng.com | Follow them on Twitter @ojaara
______________________________________________________________________________________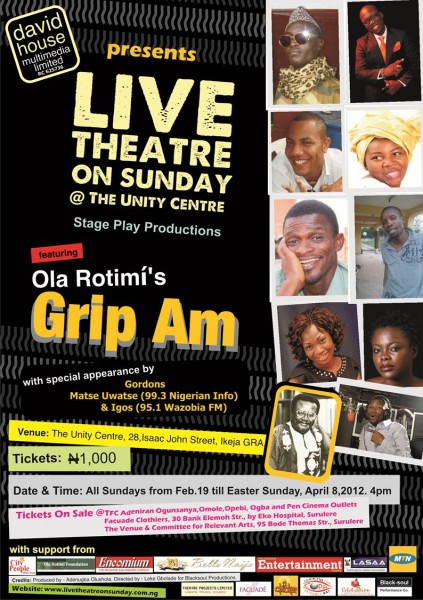 David House Multimedia Limited presents Live Theatre on Sunday featuring Ola Rotimi's Grip AM
Catch Ola Rotimi's Grip Am at the Unity Centre this Sunday. The stage production is sure to impress from the beginning to the end. This event will see appearances by Gordons, Matse Uwatse of Nigerian Info and Igos of Wazobia FM
Date: Sunday 26th February 2012
Time: 4 PM
Venue: The Unity Centre, 28 Isaac John Street, Ikeja, G.R.A
Ticket Price: Students N 1,000 | Single N 2,500 | Couples N 3, 500 | V.I.P N 5,000
Ticket Locations: At the Venue | Tastee Fried Chicken Outlets | Simply Call 08108156335 | 08038279873
______________________________________________________________________________________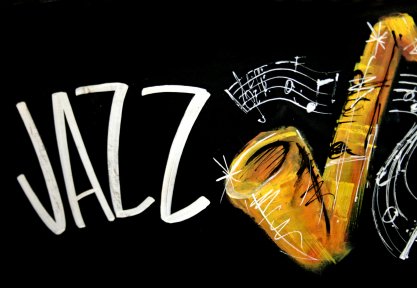 Ayinke Martins at The Life House
UK based Nigerian Jazz Singer – Ayinke Martins will be at the Life House this Sunday. Ayinke Martins who fuses Yoruba and English idioms with Jazz to produce her brand of Afro jazz will perform some of her songs and the show promises to be nothing short of fun and excitement.
Date: Sunday 26th February 2012
Time: 6:30 PM
Venue: The Life House, 33 Sinari Daranijo Street off Ligali Ayorinde Street, Victoria Island, Lagos
Fee: N 1, 500
______________________________________________________________________________________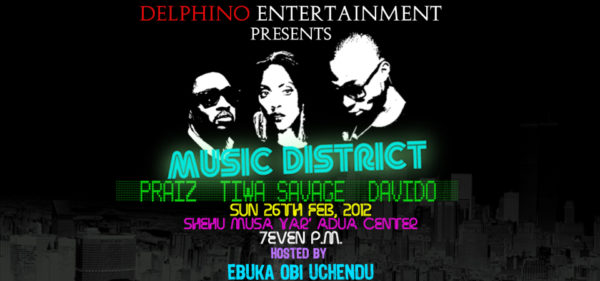 Delphino Entertainment presents Music District
Abuja get ready to witness a night of style, fun, networking and non stop entertainment as Delphino Entertainment presents a first of its kind quarterly music concert – Music District.This edition which promises to thrill from start to finish will be hosted by the dapper Ebuka Obi-Uchendu and will feature performances by some of the most sought after music sensations in Nigeria right now such as MTN Project Fame Alumnus – Praiz, Kele Kele Love star – Tiwa Savage and the man that cannot be stopped – Davido. These artistes who have recently redefined the art of Nigerian music are bringing nothing short of their A-game.Nigerian acclaimed photographer – Aisha Augie-Kuta who will be covering the event.To attend,  send your full name and phone number to mail@delphinoent.com or simply call 0810 518 2673.
Date: Sunday 26th February 2012
Time: 7 PM
Venue: Shehu Musa Yar'Adua Centre, One Memorial Drive Central Business District Opposite Sheraton Hotel and Towers, Federal Capital Territory (F.C.T.), Abuja
Contact: For more info and general enquiries Call 08105182673 | E-mail mail@delphinoent.com | Follow @onojadelphino and @delphinoent on Twitter | Log on to their Website 
____________________________________________________________________________________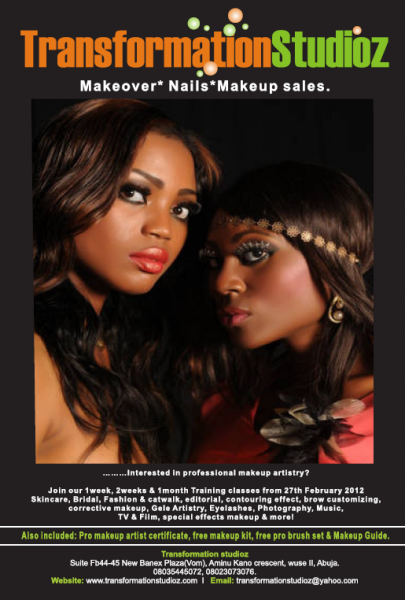 Transformation Studioz Training
Abuja based Make-Up outfit – Transformation Studioz is set and ready to train anyone and everyone that desires to be a professional make-up artist this February. Classes which are for a week, 2 weeks and a month depending on your choice, will see attendees being taught on different aspects of the beauty world by top professionals. For Registration details, be sure to contact them as classes start on Monday 27th February 2012
Date: Monday 27th February 2012
Venue: Transformation Studioz, Suite FB 44 – 45 New Banex Plaza (Vom), Aminu Kano Crescent, Wuse II, Abuja
Contact: Call 08035445072 | 08023073076 | E-mail transformationstudioz@yahoo.com | Log on to their Website – Transformation Studioz
______________________________________________________________________________________
BellaNaija.com is not responsible for the organization or further promotion of these events, neither do we have a stake in their sales or popularity. Inclusion in "Events This Weekend" is Free. Contact – adsales @bellanaija.com if you will like your event to be included. Note that BN reserves the right to choose which events are featured. "Pay to attend" parties attract a fee